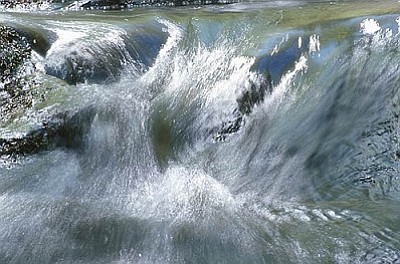 Originally Published: March 18, 2010 10:29 a.m.
FOSSIL CREEK -- A swollen river claimed another life Wednesday. A man was swept into the Verde and drowned near the Child's Power Plant. The man reportedly attempted to cross the swollen Verde River to access Verde Hot Springs. The plant is in the Fossil Creek area between Camp Verde and Strawberry.
The drowning victim is identified as 22-year-old John Fisher II of Tempe, a student at Arizona State Unversity. Fisher's body was transported to the Yavapai County Medical Examiner's Office after yesterday's recovery.
A witness told the Sheriff's Office that the man lost his footing while crossing the river from rock to rock. The victim's friends tried to help, but couldn't reach him. They say the man tried to hang onto a tree, but lost his grip in the swift current.
A DPS Ranger helicopter was summoned to help find the man. About 4:30 p.m., while the Ranger Crew was flying south, they located the man hung up against a tree midstream and submerged about one quarter mile from the hot springs.
The Ranger crew completed a low hover over the victim and assessed that he was dead. The Ranger crew landed near the Child's Campground to assist ground crews.
The Sedona Fire District Swift Water Rescue Team was called in, completed a long line, short haul recovery of the body just before nightfall.
YCSO Rescue personnel continue to stress the dangers of river waters throughout Yavapai County. With snow melting above the rim, river banks are swollen and the current is five times greater than its normal rate in some areas. Rescues across Arizona recently have filled the news.
Rescue experts recommend staying out of swift waters regardless of how calm they seem. The same also goes for vehicle travel across river areas.
More like this story