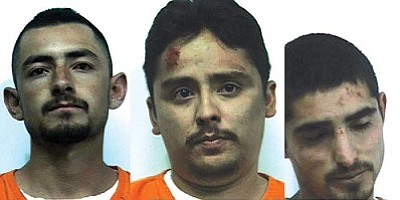 Originally Published: May 27, 2010 4:18 p.m.
MCGUIREVILLE - Yavapai County Sheriff's deputies were patrolling Lake Montezuma area last Thursday attempting to a locate a subject with a warrant when a deputy noticed a vehicle with three men, including one that matched the description of the wanted fugitive. When the cop pulled behind the vehicle, it increased speed and drove to the Beaver Hollow Mini-Mart in Rimrock.
The deputy spotted a handgun magazine on the back seat of the blue Ford Explorer, according to the report. The deputy ordered the driver out but the front-seat passenger began running. The driver, Victor Alfonso Mejia-Terrazas, 23, was allegedly uncooperative but eventually was detained. The backseat passenger, 26-year-old Jesus Urias, was also called uncooperative. The deputy located a small caliber handgun on next to Urias.
While deputies were arresting Terrazas and Urias, another deputy chased the fleeing passenger toward Cornville Road. The suspect ran full speed into a barbed-wire fence and continued to try to run after getting free again. He was identified as 22-year-old Alejandro Donis only after a fingerprint check. He had said he was 17 and used a false name.
Donis was transported to the Verde Valley Medical Center for injuries from the fence barbs and a cactus. He was charged with failure to obey a law officer, providing a false name, obstructing a police officer, and criminal damage. Urias was charged with failure to obey a law officer. Terrazas was charged with driving on a suspended license and failure to obey law officer. Donis and Terrazas remain in custody on an immigration hold. Urias has bonded out.
Deputies are in the process of identifying the owner of the recovered handgun. All suspects claim Camp Verde area residences. The warrant subject was not located.
More like this story