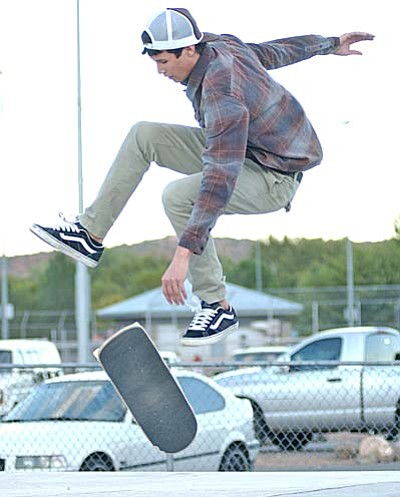 Originally Published: November 2, 2010 4:10 p.m.
COTTONWOOD-Skateboarders put their skills to the test Saturday at Riverfront Park as Sidewalk Skater hosted their first skate competition since reopening earlier this year.
Concurrently the Dirty Verde Roller Derby hosted a bout against a team from Lake Havasu and three rock bands played metal and punk music. A costume contest was also conducted-Edward Scissorhands won.
Sidewalk Skater owners Bret and Helena Hamilton have hosted plenty of skate competitions in years past, but Saturday was the first in about four years.
"I think the turnout was great. We had kids from Prescott and all over the Verde Valley show up to compete. For the first one in four years, it was a great turnout and the next one will be even more," said Bret Hamilton.
A lot of young talented skateboarders displayed very technical skills akin to experienced riders. One of them was Elijah Clark who walked away with the first place trophy for his age group.
"I think I won because I stay consistent the whole time. I tried to do every trick that I know how to do. Everybody did a good job though. It was a lot of people's first contest," said Elijah Clark.
His father Eric Clark was very proud of him after the competition, but he's also just happy his son decided to be skateboarder. Eric used to be a rider too.
"Elijah has been skating since he was three, so he's been skating for about nine years," said Eric Clark. "It made me very proud that he carried on the legacy of something I was already into."
For parents of skateboarders, having a local shop means less driving out of town for skateboard parts.
"I think it's great Sidewalk Skater is back because before Cottonwood didn't have a skate shop to buy skateboarding products, so now that there's a shop locally based, that's a plus," said Eric Clark. "This is the first contest at this skate park in a long time. This is really going to be a positive step for the community and skateboarding in general. Hopefully we'll be able to do another one and keep everybody getting along and moving forward in skating."
Elijah Clark definitely has goals in the sport, but he's not banking on them coming true. He's got his head in the right place.
"I would like to go pro and have it be my job, but there's not that good of a chance it will happen to everybody, so I have to get school work done. It'd be awesome to have it as a job, but you always have to have a back up plan," said Elijah Clark.
As the competition went on and the older riders competed the tricks got bigger and more dangerous.
Emmanuel Gomez skated with fluidity, just moving from one trick to the next, attacking the park with confidence.
Jacob Phellps had a wide array of tricks, landing a good amount of grinds, flip tricks, plus he utilized the entire park.
18-year-old Mark McCoy was doing his patented back flip out of the bowl and his twin brother Michael was landing some intricate grind combinations.
Nearly every rider had something to offer the crowd.
"I thought the level of skill at the competition was really good, especially the older kids with some of the tricks they do out of the bowl," said Bret Hamilton. "As far as rails, a lot of the kids were pulling them off, so I thought they did very well. Usually in the competition all the kids get excited to sign up, but when the comp starts the stress levels go up and they get scared; their confidence level goes down. I just tell them to think positive and block everybody out of their heads as they do a premeditated run."
Overall the event was a success and a lot of skaters got the recognition they crave, recognition they'll be getting more often as Sidewalk Skater looks to host more competitions.
"It's just something we do, it's part of the business. Ever since we opened up kids have been asking when we were going to host a competition," said Bret Hamilton. "It just takes a while to get something set up, you just can't put it together in two weeks, you have to have permits, insurance, prizes. To have a good event it takes time, and we always want to have good events."
Sidewalk Skater would like to thank Marcus Pommering, Lash LaRue, Sally's Mesquite B.B.Q., Factor 54 Skate Team, Pulsic, Sidewalk Saints, Corporal Limits, Carl's Jr., Planet Video, Games Plus, Inxon Tattoo, Legacy Tattoo, Jerome Tattoo Co., and Pizza Hut.
More like this story