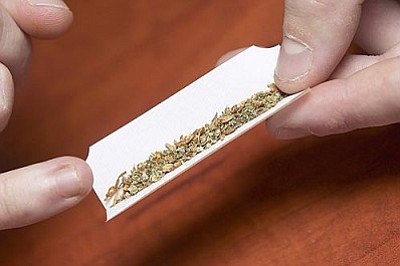 Originally Published: November 12, 2010 7:38 p.m.
PHOENIX -- Arizona appears on the verge of finally getting a law that actually will allow patients to obtain marijuana legally.
Figures released late Friday show Proposition 203 ahead by 4,421 votes out of more than 1.6 million cast.
Maricopa County Recorder Helen Purcell, whose office has the last of the ballots to be counted, told Capitol Media Services she has only about 10,000 ballots yet to be tallied.
That includes about 2,000 provisional ballots, largely those which were cast by voters at the polls on election day by people who had previously requested and been mailed an early ballot. Purcell said her office needs to make sure they had not voted twice.
Purcell noted the trend in the provisional ballots has been running close to 2-1 in favor of the measure.
That leaves just 8,000 early ballots from voters who over-inked their marks, resulting in a bleed-through to the other side of the paper.
Among early Maricopa voters, the measure is losing by a 48-52 percent margin. And County Elections Director Karen Osborne said the last of these early ballots being counted are running virtually the same as those already tallied.
If that pattern holds, there would be fewer than 4,200 additional votes against the measure and more than 3,800 in favor, making it virtually impossible to bridge that 4,421-vote edge plus any others added to that from the remaining provisional ballots --
Among Maricopa County voters who went to the polls on election day as they had planned, the "no' votes exceeded those in favor. But all of those ballots already have been counted.
Proposition 203 actually won in only Pima, Coconino and Santa Cruz counties. But the big margin of victory in Pima -- more than 43,000 votes out of nearly 306,000 cast -- was enough to cancel out opposition elsewhere, especially with the measure losing overall in Maricopa County by fewer than 4,000 votes.
Carolyn Short, who chairs Keep AZ Drug Free, said it could have been worse.
"We were predicted to lose by a landslide,' she said. And Short said foes could have killed the measure if they had more time and more money.
Overall, she said opponents had less than $20,000. By contrast, supporters had spent close to $740,000 by mid-October, the last report available, though the lion's share of that was to hire paid circulators to get the measure on the ballot.
This is actually the third time Arizona voters have approved a law allowing doctors to give them the legal go-ahead to obtain marijuana.
An initiative approved in 1996 and re-ratified two years later allowing doctors to prescribe otherwise illegal drugs to patients never took effect. That's because the U.S. Drug Enforcement Agency threatened to revoke the prescription-writing privileges of any physician who wrote such an order.
This year's version got around that problem by saying a patient needs only a written "recommendation' by a doctor, a model copied from successful medical marijuana measures from other states. And the Obama administration has said it does not intend to bring federal drug charges against patients in states with medical marijuana laws.
The vote is a defeat for county prosecutors and sheriffs who lined up against the measure, as did Gov. Jan Brewer. It also comes over the concerns expressed by state Health Director Will Humble who said he fears the measure will lead to abuse, as it has in other states.
But Andrew Myers, the campaign director for Proposition 203, said this initiative is different.
"We've been talking throughout this entire campaign about what this industry needs to look like and how we want to be a model for the rest of the country,' he said. Myers said it was crafted "so it doesn't create the kind of problems we've experienced in places like California and Colorado.'
California in particular has been a poster child for those arguing against the measure.
The law there allows doctors to recommend marijuana for not only cancer, AIDS, glaucoma and migraines but for "any other illness for which marijuana provides relief.' That, in turn, has created a cottage industry of walk-in doctors and dispensaries who provide the necessary certification.
By contrast, the Arizona law has a specific list of conditions which would let a doctor write a recommendation. And the number of dispensaries is limited to one for every 10 pharmacies around the state, a figure that currently computes out to about 125.
Short, however, said people were willing to vote for the measure because they "didn't know about it.'
"Many, many Arizonans are simply not fully informed,' she said.
She also said that the Marijuana Policy Project, which financed the Arizona campaign, has had more than a dozen years to perfect its campaign in other states before bringing the issue to Arizona.
Matthew Benson, press aide to Secretary of State Ken Bennett, said only Maricopa County has outstanding provisional and early ballots.
The only thing left after that, he said, are some ballots with write-in candidates. But Benson said that won't affect the initiative because there is no write-in option on the yes-no question.
More like this story