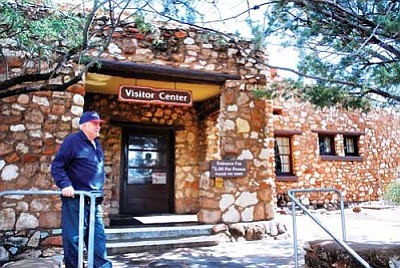 Originally Published: October 12, 2010 4:05 p.m.
CLARKDALE - It has been 73 years since the museum at Tuzigoot National Monument opened to the public.
Its opening marked not only an opportunity for the public to see what the four-year excavation had uncovered, but also the first attempt to plug the drain of archaeological artifacts from the Verde Valley to museums around the country.
Little has changed over the ensuing years as far as the ancient ruin is concerned, but much has changed in both the interpretation of Tuzigoot and the technology used to tell its story.
And although the artifact drain has continued over the last 70 years, more than what was put on display was stowed away for safe keeping at the National Park Services Western Archaeological Conservation Center in Tucson.
Knowing all this, the National Park Service is embarking on a $483,000 upgrade of the museum building to allow for new displays, the use of new technology and, while they are at it, bring some of the long-gone artifacts out of storage and into the public view.
"This will be the first substantial renovation of the museum building in the last 50 years or more," says Facilities Director Bill Osterhaus, "We will be putting in a new fire sprinkler system, upgrading all the electrical, installing data and telephone lines, repairing plaster, painting and installing new carpet."
But perhaps just as significant, the parks service will also give the display area of the museum a complete makeover.
"We will put a lot of thought into what we do," says Sue Fischer NPS exhibit specialist, "For instance we will replace the display that shows how Tuzigoot was built, because we know it's not accurate, with an accurate depiction of the building techniques that were used."
Most significantly, according to Fischer, is that there will be more items on display than before, including 40 large ceramic water vessels that were pulled from the ruins and pieced together by a team of local women during the excavation.
"They are huge ... massive," says Fischer, "They have been completely taken apart and reassembled by modern methods that will make them far more stable."
To facilitate the construction and museum makeover, the museum building at Tuzigoot will close later this month. The exact date has yet to be set.
"As soon as they give us the 30-day notice we will get started packing up the old displays so they can get started," says Superintendent Kathy Davis.
The project is scheduled to take six months. During construction a temporary museum display will be established on site, likely in a trailer.