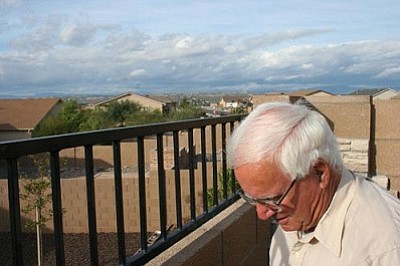 Originally Published: October 28, 2010 3:56 p.m.
VERDE VALLEY - When Camp Verde resident John Stephens received a letter from his mortgage company in early September, stating he needed flood insurance, he thought it was some kind of a joke.
Stephens lives in the Views subdivision, a neighborhood that got its name from the fact it sits atop a small hill.
The letter stated that his mortgage company, Bank of America, had received notification from the Federal Emergency Management Agency that his home had recently been determined to be in the federally designated floodplain.
The letter also stated he had 45 days to prove otherwise or the bank would secure flood insurance for him.
It took two months of back-and-forth among FEMA, his lender and the county's flood control district and a threat to go to the media with all the sordid details before the matter was straightened out.
How Stephens' letter came about has never been explained. Bank of America has not returned calls from The Bugle, and Stephens says that although the bank has notified him he does not need flood insurance, he was never given an explanation.
"I have never seen anything so screwed up in all my life," Stephens says.
However, Stephens is not alone.
According to Lynn Whitman, manager of the county's floodplain unit, her department has received several inquiries recently from residents who have received letters from their lenders requiring flood insurance.
On Sept. 3, new FEMA floodplain maps for Yavapai County went into effect. However, according to a Whitman, there were only minor changes in the maps.
"I'm not sure if the inquiries we have been getting are related to the new maps or something related to foreclosures," she says.
Both the county and FEMA have suggestions for those who have receive such a notification.
"Folks are more than welcome to come in and look at the maps to see where they are at," Whitman says. "If your house is outside the floodplain we can print out a copy of a FIRMette, an official FEMA document, and give you an application for a Letter of Map Amendment that comes from FEMA."
Some lenders may require different documents, so Whitman suggests contacting the lender first.
Ed Curtis, a civil engineer for FEMA, has one other piece of advice to help ensure you don't lose any money as a result of any mistakes made by the lender.
"First off, I suggest calling the FEMA map information center at 1-877-FEMAMAP and talk to a specialist," Curtis says. "This happens from time to time and they are good at getting you the information you need.
"Then you need to understand that the process can take sometimes take more than 45 days and that your mortgage company doesn't always go about buying insurance in the most cost effective way. So go to your personal insurance agent and get federal flood insurance. If your agent doesn't handle federal flood insurance, visit www.floodsmart.gov, and they will provide a list of agents that do," he says. "If you purchase a National Flood Insurance Program policy, and it is determined later that it was not necessary, you will be refunded. Some private insurance policies do not have that clause."
For additional information on flood insurance and floodplain designation visit www.fema.gov.
"I have never seen anything so screwed up in all my life."
--John Stephens
More like this story