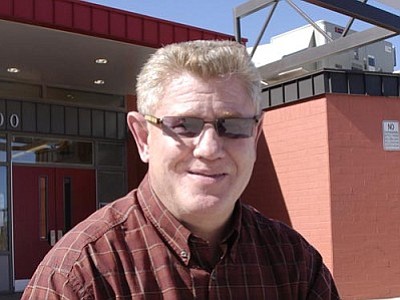 Originally Published: September 7, 2010 4 p.m.
COTTONWOOD - Counting back to Mingus Union School Superintendent Sharyl Allen, who resigned in June 2007, the district has had three superintendents and two interim superintendents in less than four years. Now, current Superintendent Tim Foist has asked the school board to release him from his contract a year early so that he can resign effective June 30.
The item is on the board's meeting Thursday night.
School Board President John Tavasci did not know until Tuesday morning that Foist had requested to be let out of his contract. Because Foist has two years remaining on his contract, the board would have to vote to release him early. That would mean another search for a new superintendent.
"I do not know at this time without a decision on Tim's resignation from the board and direction from the board how we would proceed with a search," Tavasci said Tuesday.
Foist said he does not know about the search for a new superintendent. "But here we go again, back to that Mingus revolving door," Foist said.
"For that, I am disappointed in myself," Foist said, "and yet I find myself not being able to lead, so I believe it is time to let someone else with new ideas come in and continue working with some very talented teachers."
Foist said the staff at Mingus might be the best high school staff he has been associated with.
"I will stay in education," Foist said. "Most likely in Arizona."
Foist said he isn't getting along with board member Mike Mulcaire. "But that is more about CTE (career and technology education) and time on task," he said.
"I am always amazed at the list of good things that get overshadowed by a personal agenda item," Foist said. "I am also saddened that it takes almost 80 percent of our energies fighting something like a class schedule or lunch. This time should be spent supporting instruction, students, staff and parents."
Foist said he gave his word that when a board member felt he needed to go that he would. "I try very hard to keep my word," he said. "I still like completing a deal with a handshake."
Goals that Foist has before he leaves include putting in a solar energy system for the entire campus that will lock in costs.
More like this story