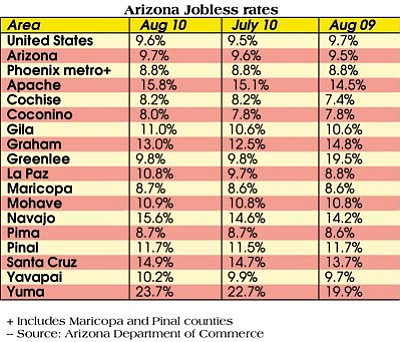 Originally Published: September 18, 2010 3:17 p.m.
PHOENIX -- Arizona's jobless rate ticked up a tenth of a point in August to the highest level it has been in nearly three decades.
The 9.7 percent unemployment figure is just 0.1 percent below what it was in August of 1983. That was at the end of a recession that actually shot the state jobless rate as high as 11.5 percent.
It also compares sharply with the state's 3.6 percent unemployment rate in mid 2007, just before the Arizona economy peaked, the real estate bubble burst and companies began shedding workers.
In fact, the only reason the rate wasn't worse than 9.7 percent is that the decline of 800 jobs between July and August by private employers was more than offset by a sharp hike in the number of people working for the government. That includes 33,000 in public education.
But Aruna Murthy, director of economic analysis for the state Department of Commerce, said that jump was expected: These are the people in non-teaching jobs: clerks, cafeteria workers, janitors, bus drivers and crossing guards who were technically "unemployed' over the summer but were expected to be rehired when classes resumed.
That private sector job loss, she said, is surprising. In fact, Murthy said, the number of people working in private industry has increased between July and August every year going back more than a decade.
"Things haven't picked up as we expected,' Murthy said.
The situation was mirrored in the state's two big metropolitan areas, where private sector employment was stagnant but was offset by those education jobs.
In the Phoenix metro area, which includes Maricopa and Pinal counties, the seasonally adjusted jobless rate remained at 8.8 percent; it was 8.7 percent for Pima County.
Murthy said the problem remains lack of consumer confidence.
"For things to pick up, people need to spend a lot more than they have been spending historically,' she said.
But there's a problem making that happen.
"In order for the public confidence to come up, we need to see gain in job numbers,' Murthy said.
Some sectors of Arizona's economy did better than others. For example, construction employment actually increased by 1,900 jobs. Murthy said that industry "seems to be stabilizing.'
But the number of people working in construction is still 9,000 less than the same time last year. And it is just 47 percent of what it was at its peak in June 2006.
And the leisure and hospitality industry, which normally gains workers each August, actually shed 4,000 jobs month over month. It remains at less than 90 percent of its historic peak. Manufacturing employment also is down, as are financial activities. Murthy, however, said she sees something positive in the latest figures, at least on a longer-term basis.
She said Arizona lost only 2,000 jobs between last month and August of 2009. That's the smallest number since the year-over-year job losses started to be posted in early 2008.
More like this story