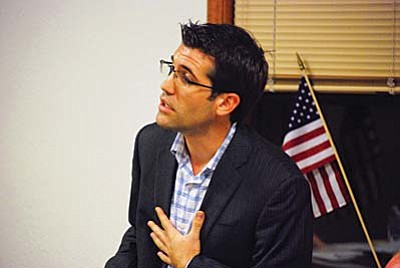 Originally Published: September 27, 2010 7:15 a.m.
COTTONWOOD - A crowd of mainly Democratic Party members Thursday parsed the words of two advocates, one who supports and one who disparages Proposition 203, the Medical Marijuana initiative.
Ivan Anderson works for the Verde Valley Fire District and for three years has been an educator for MATForce, the non-profit organization to discourage various types of drug abuse.
Andrew Myers is one of the five people who drafted Proposition 203, the "medical marijuana" initiative before voters in November. MATForce has published a number of talking points that became the structure of the debate. Anderson told the group he would not debate the medical merits of marijuana.
"The Marijuana Policy Project is a Washington D.C.-based organization whose mission is to legalize marijuana," according to Anderson. The medical marijuana initiative is to "get its foot in the door" in Arizona. Anderson said, "If you talk to people in these 14 states that have already approved medical marijuana, they will tell you about the baggage these laws bring. California and Colorado are suffering from wide-spread abuse."
Myers responded by saying, "Proposition 203 provides a safe and legal access to marijuana. In Arizona, marijuana is only available to patients from their criminal market. Thousands of patients who are now using it for chronic pain now have to go to criminal market."
"The California Medical Marijuana system is broken," according to Myers. "It was the first measure passed in 1996, before it was known how to regulate the market. It is now just an avenue for anyone to get marijuana. Los Angeles has reached a peak of 1,000 dispensaries, more than Starbucks or Subway outlets. Anyone in California can get a recommendation without qualifying. We have learned a lot about how to regulate since then."
"Ivan is right that among the missions of the Marijuana Policy Project in Washington is to approve medical marijuana and to legalize marijuana nationwide. But, nothing in this initiative would pave the way to marijuana legalization. The Arizona initiative was written by Arizonans. The Marijuana Policy Project in Washington sponsored our signature drive, but it is a locally-controlled campaign. We did a poll in 2009 and found that Arizona voters would approve the use of medical marijuana by 65 percent, but only 25 percent said they would support legalization of marijuana."
Anderson protested that minors also can be card-holders under the Arizona initiative. "That is an avenue for abuse," he said. "There is a recent report that a 2-year old in Montana is also a card holder. And the initiative says that a card-holder may not be cited for endangering children."
"There is good reason for that," Myers said. "A 15-year-old leukemia patient who is going through chemotherapy is having the same nausea issues as an adult cancer patient. Currently, we provide narcotic painkillers to children that are far more dangerous than marijuana. The initiative requires two separate physicians to provide a recommendation plus a parent's approval. When I was 14, I had to have my knee reconstructed after an accident, a very long painful process. I was prescribed strong narcotic painkillers. We do this all the time. There is no reason to deny medicine to patients who need it. Medical marijuana has less toxicity than any other painkiller. You can overdose on water, but you cannot on marijuana."
Other key points
of the debate
Anderson: "According to the initiative, the allowable amount of marijuana is 2.5 ounces in 14 days. That is a lot of marijuana, even for a recreational user. And those who do not live near a dispensary may grow up to 12 plants. Twelve plants could supply a lot more marijuana than five ounces a month. A grower may also provide for five other card-holders and grow up to 60 plants."
Myers: "The initiative would allow for one dispensary for every 10 pharmacies. But in a rural area like Arizona, some patients may live a distance from one. Not every patient will be able to grow his own supply. A caregiver may grow for a that patient."
"Medical marijuana is especially effective in cases of nausea, muscle tremors and neuropathy, where there is pain from nerve damage. Most patients currently take a high amount of opiates to suppress the pain. A patient who uses the vaporization for medical marijuana will need a greater volume to be effective."
"But, the initiative provides stiff penalties for 'diversion' outside the medical marijuana system of regulated card-holders. If you sold to a non-card holder, that would be a Class 2 felony, the same as manslaughter. There needs to be a sufficient stick."
Anderson: "No school or landlord may refuse to enroll or lease, based on the status as a cardholder."
Myers: "There should be no discrimination for card-holders for use of a medication in the same way that schools or landlords would not discriminate if your were prescribed oxycodone. We want rights that are the same as any other medication that has psychoactive ingredients."
"The same is true with employees rights. But, that is not to say that if you were caught impaired on the job, you could not be fired. It also does not allow use of marijuana on school grounds. In that case, law enforcement would become involved. The initiative says a person may not abuse marijuana on campus. If they fail a field sobriety test, they can still be incarcerated under the law."
Myers: "Most cancer patients do not smoke their marijuana. They ingest it or use a vaporization process, which releases the beneficial ingredients below a temperature in which it burns and creates carcinogens and other toxins. In Canada and Europe, they have approved a Binaca-type mouth spray for medical marijuana.
"Marinol is a synthetic form of Tetrahydracanabinol (THC), the substance in marijuana that makes a person high. It is taken in pill form, but not recommended by oncologists. It takes an hour to take effect, before you know if the dosing is correct. It contains only one of the 13 beneficial agents of marijuana and not the best one. It also costs $400 a bottle."
Myers: "The initiative is already very long at 35 pages now. It could have been up to 700 pages. But, we wanted to allow the Department of Health the leeway to identify patient examinations and enforcement and other specifics. The DHS will have to create an enforcement arm. But the Joint Legislative Budget Committee says the initiative will be self-supporting with revenue of $6 million to 9 million annually, assuming the legislature repeals the prohibition against taxing marijuana."
Ivan Anderson of MATForce is available at ianderson@verdevalleyfire.org. The Arizona Medical Marijuana Policy Project is at www.stoparrestingpatients.org. Andrew Myers can be reached at Andrew.a.myers@gmail.com.
Also on the Web:
Former DEA agent weighs in on medical marijuana measure
http://verdenews.com/main.asp?Search=1&ArticleID=37535&SectionID=1&SubSectionID=1190&S=1
More like this story