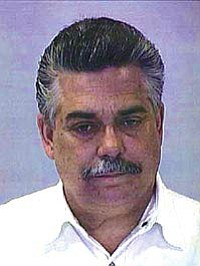 Originally Published: September 28, 2010 3:13 p.m.
CAMP VERDE - Douglas Frances Dishon, who for years had been a suspect on America's Most Wanted, has been returned to Yavapai County to face charges of molestation of a young child.
Dishon, 59, was recently released from the Maricopa County Jail where he had been held on charges there since he was returned to Arizona.
Dishon pleaded not guilty in Maricopa County Superior Court in February after he was returned from Mexico. He was wanted for a January 2006 case of continuous sexual abuse of an 8-year-old boy in Peoria. He was to be tried in the Maricopa County case prior to pending charges in Yavapai County dating from 2004, where Dishon is alleged to have abused another child.
The Maricopa County court has now dismissed its case and Dishon is back in the Yavapai County jail in Camp Verde.
When originally arrested on the 2004 charges, Dishon reportedly posted $300,000 against a $10 million bond, but then fled to Mexico with his wife five years ago. They had been living under aliases of Ben and Sonnie Waller in the "gringo" Playa del Carmen community in Quintana Roo, Mexico, until recently.
In December, 2009, neighbors of the Dishons or "Wallers" went to police when they suspected foul play in the disappearance of Vicki or "Sonnie" Waller
Mexican police say in June 2009, Vicki apparently suffered a blow to the head and. according to forensics, the blow was not the cause of her death. Her death was caused by asphyxiation.
The woman was found dressed in boxer shorts and a t-shirt wrapped in material, with duct tape covering her nose and mouth and shackled hand and foot.
Mexican homicide investigators believe that there is a probability that she was buried alive, as she was found under 16 inches of concrete that was the floor of the storage building.
Earlier reports suggested that Yavapai County and Peoria would attempt to bring murder charges against Dishon.
More like this story