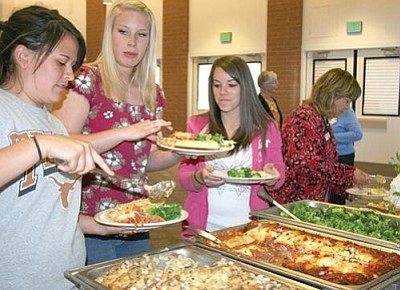 Originally Published: April 12, 2011 2:54 p.m.
From older women to younger, the same sort of advice emerged during the annual Sister-to-Sister luncheon Thursday at Yavapai College offered by members of the American Association of University Women to 13 high school students from Mayer and Camp Verde high schools.
One thing to remember is that not knowing what to study should not interfere with the decision to go to college.
"What you major in, in college, does not necessarily link you to the job or the money you earn," said member Ruth Forshee. Other AAUW women agreed, and said the degree one ends up with may not be the one chosen at the beginning of one's studies.
Tiffanie Oium, CVHS junior, said she had a boyfriend for three years and thought she had her life all planned out.
" I thought we'll graduate and get married, and it will be so perfect," she said. "Now I want to make sure I have a profession." She is looking into pediatric nursing.
AAUW member Deb McCasland said the best advice she heard during high school was from her mother.
"'Get your degree so you can support yourself,' and it was the best thing she told me," McCasland said. She added that she pursued college, not necessarily to get a degree, but because she was waiting for her boyfriend to propose and because she didn't want her learning to end. She's glad she earned a degree before marriage, and has had a long career with Yavapai College.
Reavan Martinez, CVHS sophomore, said her parents divorced when she was 7. Watching her mother struggle for independence has made going to college an important goal in her life.
"I'm already getting college credits in fire science, " she said, adding that her dream is becoming a firefighter.
An organization called Educational Talent Search identified the girls from their program at each school, and gave the names to AAUW. ETS serves about 700 middle and high school students in Yavapai County each year by helping them prepare for ACT/SAT college entrance exams; apply for scholarships and write application letters; and visit Arizona universities and community colleges.
Ricardo Hernandez, ETS counselor/instructor, said he promotes the AAUW luncheon every year with the girls. He calls the opportunity to interact with AAUW members "an empowering field trip."