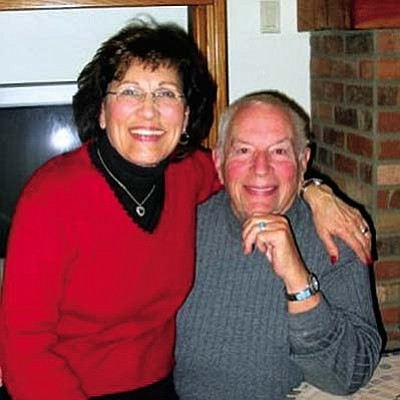 Originally Published: April 16, 2011 12:50 p.m.
Buddy and Minnie Moeck of Dewey, are celebrating their 50th wedding anniversary.
Buddy and Minnie (Tagle) Moeck first met as sophomores in high school in 1948 in Edinburg, Texas. Buddy had just moved there from Austwell, Texas (pop 297). Minnie was born in Edinburg. They didn't date in high school but knew each other. They graduated together in '51. In 1959 they met again and started dating and married in Pharr, Texas April 5, 1961.
They moved to Banning, Calif., in '62. Buddy worked for the Deutsch Company as a test engineer. In '66 they moved to Tempe, when buddy accepted a test lab manager position with ITT Cannon (13 years). They have lived in Arizona ever since - 5 years in Tempe, 3 times in Rio Rico (Buddy worked in Mexico for 15 years), 20 years in Camp Verde (Buddy commuted every day to work from Camp Verde to Phoenix, in a small airplane), Yarnell, and in 2000 he retired to Dewey. In '93 Buddy and Minnie formed their own engineering consulting company. Their clients were in Europe, Mexico and the U.S.
They have 4 children, all in Arizona, Melba of Prescott, Suzy of Flagstaff, Ernie, of Glendale and Cathy of Peoria, 7 grandchildren and 4 great-grandchildren.
Both Buddy and Minnie are active in community services. Minnie is a volunteer for the American Legion Auxiliary in Humboldt. Buddy is a volunteer at the VA hospital in Prescott, YRMC east and west campus and the Mayo hospital in Phoenix. Buddy plays 20-25 piano gigs a month in the Prescott area.
Buddy and Minnie celebrated their 50th anniversary with their friends and family in Dewey. They came as far away as Hawaii.
They will be returning to Edinburg, Texas, in October to celebrate their 60th high school reunion.
More like this story