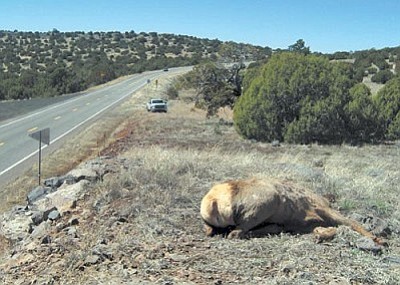 Originally Published: April 16, 2011 4:28 p.m.
CAMP VERDE - The Arizona Elk Society has contributed an additional $1,500 to the reward pot to prosecute the person who poached a pregnant cow elk near Camp Verde.
Coupled with the initial reward of up to $1,500 by the Arizona Game and Fish Department's Operation Game Thief Program, an individual can now earn up to $3,000 for information. Operation Game Thief pays for information leading to an arrest while the Arizona Elk Society pays upon conviction.
On the night of March 27-28, the pregnant cow elk was poached and left to waste on a rise above the westbound lane of Highway 260, about 21 miles east of Camp Verde in Unit 6A.
"This was definitely an unlawful killing and not a vehicle collision," said Scott Poppenberger, an Arizona Game and Fish Region III wildlife manager. "The elk was completely healthy and was carrying a healthy, late-term calf at the time it was illegally killed. We need someone to help us with information leading us to those responsible."
Poppenberger said the elk was only visible from the eastbound lane of Highway 260.
"We lost two elk with one act of criminal behavior," Poppenberger said. "It is a theft of our vulnerable wildlife resources."
"We need is a good starting point," Poppenberger said. "If someone saw or heard anything, I encourage them to call the OGT hotline with information."
Anyone with information regarding this case, or any wildlife violation, should call the OGT hotline at (800) 352-0700. Web submissions can be reported via the Internet by going to.www.azgfd.gov/thief Identities remain confidential.
More like this story