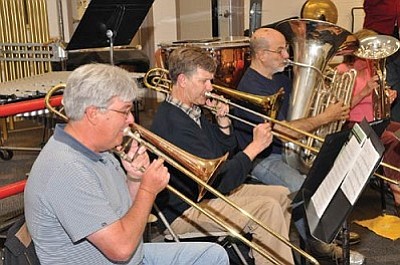 Originally Published: December 1, 2011 3:25 p.m.
Holiday Gatherings is the theme of the Cottonwood Community Band concerts to be held in Cottonwood and Sedona this Christmas Season. The Cottonwood concert is Sunday, Dec. 4, 3 p.m. at the Cottonwood Recreation Center, 150 S. Sixth St. The Sedona concert takes place on Monday, Dec. 12 at 7 p.m. at the Rock of Ages Lutheran Church, 390 Dry Creek Road. Both concerts are free and open to the public although donations to support the band's activities are requested.
The concert theme reflects the different ways people celebrate the holiday season. Many times they gather in large groups and other times they gather in more intimate settings. The full band playing many holiday favorites including Leroy Anderson's "A Christmas Festival" and James Curnow's "A Christmas Party" represent the large group gathering. Several small ensembles will represent the more intimate gatherings. A flute ensemble will play "Silent Night" and a brass ensemble will play "Joy to the World", "Deck the Halls", and "The Hanukkah Song", all arranged by one of the band's baritone horn players, Dave Baptist.
The gathering idea is also present in the titles of some of the selections. John Williams wonderful musical score to the movie "Home Alone" reflects the story of a young boy inadvertently left alone in New York for the holidays. "A Charlie Brown Christmas" has selections from the popular television animated special featuring the Peanuts gang.
One of the most unique arrangements on the concert is David Lovrien's "Minor Alterations." Lovrien takes familiar Christmas favorites and puts them in minor instead of major, thus giving them a unique flavor. An arrangement of "Angels We Have Heard On High/Ding Dong Merrily On High" by Arizona Centennial Composer and tuba player in the band, Sy Brandon, will have you guessing which carol you are hearing as he combines the two.
Other appearances by the Cottonwood Community Band during the holiday season will be at the Chocolate Walk in Old Town on Dec. 3 from 4-5 p.m. and at the Verde Valley Voices Concert at the Verde Baptist Church in Cottonwood on Dec. 17 at 3 p.m. The band plays a prelude to this concert beginning at 2:30 p.m.
Julie Smith, music teacher at Daniel Bright Elementary School, is now in her fourth year as conductor of the band. The Cottonwood Community Band consists of instrumentalists from the Verde Valley and Sedona. The members range in age from middle school students to retirees. The band rehearses on Monday evenings 7-9 p.m. at the Mingus Union High School Band Room and presents two sets of concerts each year as well as performing at community events. New Members are always welcomed. Visit the Cottonwood Community Band on the web at http://cottonwoodcommunityband.org.
More like this story