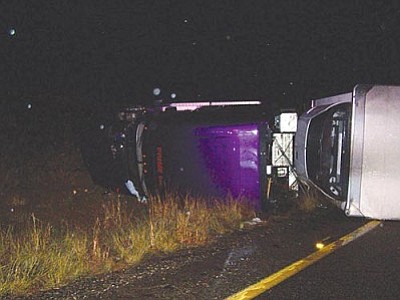 Originally Published: December 13, 2011 9:22 a.m.
INTERSTATE-17--Slick conditions may have gotten the best of a semi tractor trailer that rolled over and blocked I-17 on Copper Canyon this morning at 4:20 a.m.
Both occupants of the big rig were out before emergency crews arrived and have refused medical treatment.
However, most of the highway was closed to southbound traffic after the accident at the SR 260 Interchange. It has begun moving since then, with one lane re-opened at 8:45 a.m.
Motorists should remain cautious in the poor driving conditions.
A stretch of State Route 260 east of Payson is closed as a major winter storm makes its way across Arizona. SR 260 is closed between Star Valley and Heber (mileposts 258-303) due to snow-packed and icy conditions, according to the Arizona Department of Transportation. Crews have also reported downed power lines in the area.
Here's a rundown on other major highway conditions in the Flagstaff region this morning:
Interstate 17: Open between Sedona Turnoff (SR 179 Junction) and Flagstaff. However, snow and ice are on the highway.
Interstate 40: Snow and ice are on the highway in areas between the US 93 junction (east of Kingman) and Walnut Canyon (east of Flagstaff).
Elsewhere in the state's high country:
State Route 87: Open between the Phoenix area and Payson. However, snow and ice are on the highway in areas south of Payson, including near Mount Ord Road.
State Route 87: Snow and ice on the highway between Payson and Interstate 40.
State Route 260: Snow and ice on the highway in the Show Low area.
ADOT snowplows are working around the clock to clear highways across northern Arizona. Drivers should consider delaying travel into areas affected by this storm until conditions improve. Highway condition information is available at www.az511.gov or by calling 5-1-1.
More like this story