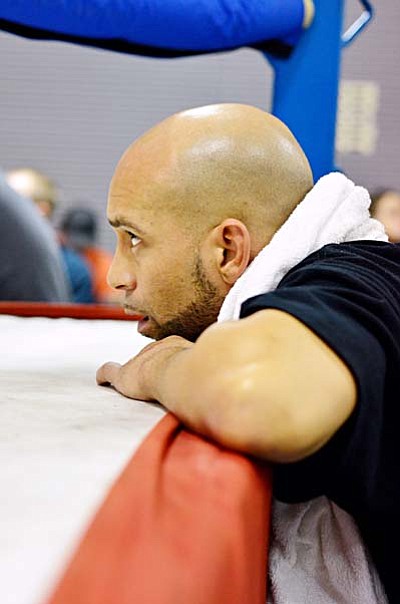 Originally Published: December 17, 2011 2:29 p.m.
COTTONWOOD -- Small-town Arizona boxing gym Golden Cobra believes International Kickboxing Federation Chief of Officials Dan Stell deliberately broke the rules to help his fighter, Nemo Vier, KO 17-year-old Jesse Duran.
But don't take their word for it -- Golden Cobra really doesn't like Stell and they're obviously biased. Instead, take it from Chris Mack, a man that was in Vier's corner Dec. 10 for the fight at the Verde Valley Steve Coury car dealership.
"He knows better. He knows the rules and he 100 percent broke the rules," Mack said in a phone interview Monday after the title fight.
The belt on the line was an IKF amateur 135/140 International Rules Southwest Regional title. Golden Cobra is protesting the outcome of the bout because of rules violations.
Mack is a Sensei at Blended Arts Dojo in Youngtown, AZ. He's been involved in fighting for many years. Dan Stell asked him to help corner Nemo Vier before the fight because he didn't have anyone else and Mack obliged.
"When Dan got to the event he asked if I would help corner because he was there by himself, and I said 'yeah.' because we're all amateurs and we're all friends," said Mack. "I didn't help wrap [Vier's] hands or put his gloves on. When we walked out to the ring I noticed he had Fairtex gloves on. I know, since I've been doing this for a long time, the difference between a Mexican-style glove and an American-style glove. The Fairtex is more of a Mexican-style glove where there is [less] padding in the hand, but there is also padding in the wrist. It's a professional-style glove. It's more of a puncher's glove."
Several people at the event said the Fairtex brand gloves Vier wore were Mexican-style, but they actually come from Thailand. The Fairtex gloves Vier wore had less padding in the area of the glove that makes contact with an opponent during a punch -- that means more energy upon impact and more knockout power.
Mexican-style gloves also fit tighter, further adding to the energy transfer efficiency from a punch to an opponent's face.
"I was literally peeling those gloves off of him when I was taking them off [after the fight]. Usually when you have to peel someone's gloves off you do that to a big guy, a heavyweight, because the gloves are tiny on their hands," said Mack.
The Cottonwood fighter, Jesse Duran, wore Fighting brand amateur-style gloves. Golden Cobra President Richard Williams promoted the fight, and just like any other IKF event host trying to follow the rules, he provided gloves for every fighter at Southwest Title Fight Showdown Fiesta Dec. 10 except Nemo Vier.
The KO happened in round 3 of Vier vs. Duran, the main event of the evening. Vier got Duran backed into a corner and threw a spinning back fist, then a flurry of hooks to get the KO. Duran tried to stand up, but he couldn't. The fight was over.
Duran received medical attention and when he regained consciousness he repeatedly congratulated Vier for the KO. Duran got caught and he knew it. He was disappointed in himself, but respected the fact he lost.
Promoter Richard Williams of Golden Cobra declared Vier winner by KO into the microphone. Duran strapped an IKF belt around Vier's waist and a group photo was taken of the fighters and trainers in the ring.
Shortly after that, Duran's father and trainer Robert Gonzales noticed Vier's gloves weren't the brand provided by the promoter.
Gonzales confronted Stell about the violation and an argument ensued. At that point, Richard Williams tried to diffuse the situation, but he couldn't.
Williams had been through a tough couple weeks. Nov. 26, his brother, Kevin Williams, was found dead from a gunshot wound to the face. He laid him to rest Dec 1. Williams couldn't handle one of his best friends and a high-ranking IKF official yelling at him and each other. The situation wasn't resolved and Gonzales, among others, left Steve Coury upset.
"It's mandatory that you wear the gloves provided by the promoter. You cannot wear your own gloves, whatsoever," said Gonzales. "Stell's excuse for why his fighter didn't wear the gloves we gave him was that they were wet inside. Chris Mack got them from his room after the fight and they were not wet. Dan Stell already had his fighter laced up in his own gloves when I brought him our gloves. He had no intention of changing his gloves. The bad thing is he's the Chief of Officials for the IKF -- he helps write and make rules and he broke one of the biggest rules you could possibly break. It's an automatic disqualification."
Richard Williams called IKF President Steve Fossum the Monday following the fight to tell him Golden Cobra wanted to protest the bout. Fossum told Williams the fight would be reviewed.
The following day, an informal report appeared on the IKF website with glaring inaccuracies about what transpired Dec. 10.
In the report, Robert Gonzales is referred to as Robert Duran. Jesse is Gonzales' adopted son -- he's been with him since he was 1 year old. It doesn't surprise Gonzales when someone gets his name wrong -- it has happened before -- but Gonzales was surprised by the one-sided representation of the facts in the post. Fossum and Stell co-founded the IKF together and they have a long-standing relationship.
Among many inaccuracies, the post states, "Vier's camp claimed that upon their inspection of the fight gloves they were, as they say, "Soaking wet." This was confirmed by one of Nico Fernandez's trainer's after the bout."
Chris Mack works as a trainer at Nico Fernandez's Blended Arts Dojo. He said the opposite is true: the gloves were not soaking wet after the fight.
"They weren't soaking wet, but if they were, Stell still shouldn't have let his fighter wear the pro-style gloves. We had plenty of other pairs he could have used," said Gonzales.
Another inaccuracy in the post, Stell claims they were rushed to the ring and didn't have time to change gloves.
"While warming up, Vier's camp was given notice that 'They were up in 1 minute' which they say gave them no time to get other gloves," the post states.
Todd Wolf was present when Gonzales delivered the gloves to Stell and he says that's absolutely not true. Wolf is the manager of Denny's in Cottonwood. He was at the fights to support his employee, Shawn Rojas, and his brother, Anthony Rojas, who both fought in Muay Thai matches before the main event.
"I went to see Shawn in one of the back rooms after his fight to see how he was and congratulate him because he won his fight," said Wolf. "I was standing by the door of the room that Nemo was in with his trainer. Robert knocked on the door and handed him the set of gloves. At that time, Richard walked in the door, too, and let the trainer know how much time they had until the fight. Anthony was standing next to me -- he hadn't fought yet. Richard told the trainer a fight got scratched and they would fight after Anthony's fight and a 10-minute intermission. Just assuming Anthony's fight took 20-25 minutes, plus the 10-minute intermission, there was about half an hour of time between when they were told they had to fight until the fight started."
Gonzales and Williams back up Wolf's description of the glove exchange.
The informal IKF report post brings to light the fact that the gloves provided by Richard Williams were not up to IKF standards for a title fight. The Fighting brand gloves Jesse Duran wore attach with Velcro and they needed to be lace-up gloves to adhere to IKF rules for a title fight. However, the Fighting brand Velcro-attach gloves are the same brand used in the Orlando IKF championships and many other high-profile IKF tournaments.
Williams has provided fighters with the same Fighting brand gloves for many IKF events, including a title fight between Cecil Tudor and Frank Bamford. Dan Stell was the ring official for that bout and he never said anything to Williams about the gloves not being fit for a title fight.
Regardless, under IKF rules, the Velcro-attach gloves were not supposed to be worn.
The post on the IKF website also briefly mentions headgear.
"Adding to this, Duran wore headgear because he was under 18 (17), and Vier (18) did not," the post states.
But what the post doesn't tell you is Dan Stell tried to get Duran to remove headgear moments before the opening bell. If Duran took his headgear off, he would have been breaking the rules.
According to IKF rules, "ALL Amateur Fighters under the age of 18 in an IKF Sanctioned bout MUST WEAR Headgear."
Vier is 18 years old and elected not to wear headgear, but the rules state no fight can have one fighter with headgear and one without.
"There can be no mix-matching during a contest however so that if one fighter opts for headgear then both fighters are required to wear it," the rules state.
That rule was broken Saturday. When Jesse put on headgear, Stell didn't like it. He made it known he thought Jesse should take the headgear off to Williams, Gonzales, and referee Deddie Freemyer.
Gonzales refused to remove Duran's headgear.
Vier fought without headgear. This was a disadvantage for Vier, but nonetheless a violation of the rules.
The rules further state, "ANY IKF Promoter seeking approval to have an IKF Sanctioned Amateur bout on their event where the competitors do not wear headgear, must have the fighters who wish not to wear headgear fill out the Official 'IKF AMATEUR OPTIONAL HEADGEAR APPLICATION' Form."
Golden Cobra President/promoter Richard Williams never submitted an application because he had no idea Vier wished to fight without headgear. Williams tried to get Vier to wear headgear before the fight started, but Stell flicked his hand at Williams and said Vier would not wear it.
IKF President Steve Fossum has a different interpretation of the IKF rules.
"[Vier] didn't have to wear it because he's over 18 and he had more than three bouts," said Fossum. "Before you think it's some kind of conspiracy, we didn't know Jesse was 17. We weren't informed of that until the night of the bout. There was no issue of who should wear headgear and who should not. It was our understanding that it was a title fight and both were not going to wear headgear."
Fossum claims they didn't know Jesse is 17, but he is in fact listed as 17-years-old on the IKF website. The IKF also had all of Jesse's information for the title fight months ago.
Gonzales said Stell tried to use the fact that Jesse wore headgear against him in the argument about the gloves after the fight.
"Dan's response to me when confronted about the gloves was, 'Your fighter fought with headgear and mine didn't. What does it matter what the gloves were?' and that's wrong. As long as my fighters are amateurs, they will always wear headgear," said Gonzales. "This is entertainment, this is recreation, and these guys aren't getting paid for this. There's a reason why headgear is made and it's for safety. Plain and simple. I can't believe he let his fighter go without headgear. And he wanted me to take my son's headgear off! I said 'no, absolutely not.' Can you imagine what would have happened if he wasn't wearing headgear? My son might have been in the hospital right now."
Gonzales was not contacted by the IKF before the informal report came out. Neither was Chris Mack.
"The fact that a co-founder and current Chief of Officials can train and corner fighters is a conflict of interest," said Gonzales. "They're the judge and the jury in this case and our voice needs to be heard. Those pro-style gloves were worn for one purpose -- to KO my son. I'm not saying Jesse would have won the fight, but we'll never know. I'm not mad at Nemo. He's a good fighter and still just a kid. I feel bad for him that Dan Stell is his trainer."
The IKF post ends with, "The IKF has demanded a rematch of this title bout. "The rematch will be held in California, under the regulatory oversight of the California State Athletic Commission and the IKF. The bout will be held on February, 19th, 2012, at the Oakland Marriott in Oakland, California, USA. An event promoted by Johnny Davis' AK Promotions. BOTH fighters will wear headgear since Duran is 17 years old. The IKF is still reviewing whether or not this will be a Vacant Title or a Title 'Defense' for Vier."
Gonzales said there is no way he would take Jesse to California for a rematch.
"I would be a fool to take Jesse to California for a rematch after what happened. Dan Stell works with many sanctioning bodies and is an official with the California State Athletic Commission," said Gonzales. "We want a rematch, but not in California."
Bradley Williams MD, PhD (no relation to Richard Williams) is the doctor present at most of Golden Cobra's events in the Verde Valley. He too thinks it would be unwise for Jesse to fight Feb. 19 because of the concussion he suffered Dec. 10.
No fighter may fight in the IKF for 45 days after a KO.
"My greatest concern is about Jesse's condition with two concussions in less than 12 months time. Older brains actually recover more quickly and with less damage than younger brains. Jesse is a wonderful kid with his whole life ahead of him. Having a rematch as early as February may be allowed under the IKF rules, but would be against my expert opinion as a sports medicine orthopedic surgeon. I am very concerned about the health of this young man," Williams wrote in an email to the IKF.
Duran will not be fighting in Oakland this February and Golden Cobra feels disrespected. They want an apology from the IKF and Dan Stell reprimanded.
Dan Stell did not return voicemail messages asking for comment.
Online reports that Nemo Vier has fought in pro bouts are false.
More like this story