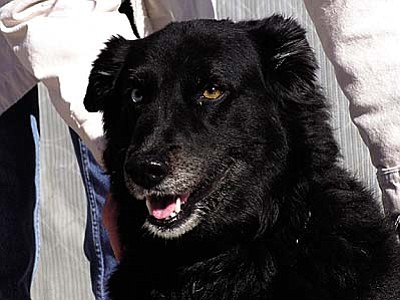 Originally Published: February 10, 2011 1:28 p.m.
In today's Pet Column I would like to first make an important announcement. Mark your calendars for Saturday, March 19th for our first annual "Adopt and Shop."
VVHS "Adopt for Life" Center for Animals and our thrift store, the Good Buy Shoppe will merge together at the Good Buy Shoppe for our first live broadcast with Yavapai Broadcasting.
Many of you aren't aware of our thrift store. It is the oldest thrift store in Cottonwood. It is located on the corner of 89A and Sixth St. in the Clemenceau Plaza across from the beautiful Country Bank.
The Good Buy Shoppe is what provides VVHS the extra money it needs to give the animals the longest life possible. It also helps provide the best care possible.
Most shelters have thrift stores for exactly the same reason. It's so important to shop, donate and volunteer at the stores. You help save animals lives every day.
On that Saturday we will have animals from the shelter ready for adoption and available to go home with you that day.
We will also offer storewide specials and of course there will be lots of food and fun for all ages.
Our thrift store is under new management and has new pricing. You will also be able to meet our board of directors since they will be volunteering with us for the event.
As March 19 draws closer I will give you more information. Make sure you save that date for the homeless animals of the Verde Valley.
As we all know spring is right around the corner and that means many things to animal shelters all over the United States.
The one most prevalent event will be the birth of many animals. It happens each and every spring, so we prepare early.
What it means to you is that you just might be ready for a new addition to your family. If so please keep reading.
Let me rephrase that; please keep reading even if you aren't looking to adopt. Maybe you can help a friend or family member that is trying to make that difficult decision.
Are there times that your heart feels like it has an empty space that needs filling? Do you ever feel like there is just something missing in your life?
I know that many of you are feeling that way and are thinking about adopting a new furry friend to help fill that void.
Many of you have visited VVHS and are having great difficulty choosing between a cat and a dog. I hope today's' Pet Corner will help you decide.
Make sure that you are well aware that adopting an animal means giving not only your care but also vet care.
Animals are like children in many ways, they need vaccinations, checkups and many other types of care that need to be given by a professional.
Some people just know that they are cat people and others just know that their love is for dogs.
Many of us adore both types of animals and yet there are many people that have no idea who they would prefer.
Research states that your personality type may reflect your pet choice. Let's see how this plays out for you.
What's your personality assessment? Are you exuberant, full of life and energy and just maybe an extrovert?
Do you spend your time outdoors enjoying the Arizona beauty? How about hiking, camping and traveling, is that how you like to spend your free time?
On the other hand are you quiet, somewhat aloof and like your lifestyle on the quiet side with things under control?
Is your time off used for relaxing around the house? Maybe reading a book while enjoying the warm spring days? Do you enjoy your quiet times more than active busy times?
I find it very interesting that is said poets, writers and artists have a history of being cat people.
It makes a lot of sense doesn't it? These very interesting people are deep in thought much of the time, much like cats appear to be.
So naturally it doesn't surprise me that research states that movie celebrities, singers and other very outgoing people choose dogs. This also makes sense; they are always on the go and headed somewhere.
If you feel as if you are a combination of both types of people your decision may be a little more difficult. In that case, how about adopting one of each?
Selecting your new pet should be a family venture with everyone's needs, health issues, fears and concerns being addressed.
Who will be responsible for the care of the new family member? Often children promise they will help with feeding and other care but often have a difficult time holding to their promise. Are you ready to take on more of the care or to enforce the promises?
I personally ask every single day if my son has fed and watered the animals and also I also need to direct "yard duty."
To me it would just be easier if I didn't have to give the reminder, that Nick calls nagging and he just did it. Somehow that's just not the way it works at my house.
If you need help, this should be a consideration. Many children are very excited at first but in most cases the enthusiasm rapidly dissipates.
Have a family meeting and go over some questions before you make your decision. Remember a cat or dog can live a long life, sometimes into their twenties.
Let's go over some pros and cons of each species that you are considering.
Cat pros:
Cats are easy to maintain, but can't be neglected.
Cats are independent; you can leave them safely while you are working.
Cats are fastidious, the only smell you may have is if you don't clean the litter box.
Cats use litter boxes for eliminating, you don't have to walk them.
Cats are sleepers; they spend an average of 12-16 hours a day.
Cats can be very happy just lounging around on their owner's lap.
Cats require little space and can live comfortably in a small apartment.
Cat cons:
Cats can claw your furniture, declawing is not an option.
Cats aren't as easy to train as a canine friend.
Cats don't normally care for traveling; they are normally calm in their own home.
Cat dander may cause severe allergies to some people.
Cats can't go hiking with you if you are an outdoors type of person.
Dog pros:
Dogs are normally outgoing and very social; guest are normally very inviting to them.
Dogs want to please their owners; he will work hard to do what you request.
Dogs provide entertainment for the family, they love sharing their tricks with you.
Dogs help keep their owners healthy by needing exercise; they love fresh air and walks.
Dogs are dedicated to their owners, providing unconditional love in abundance.
Dog cons:
Dogs want to chew throughout most of their lives, training is essential.
Dogs require training and maintenance, obedience classes and hygiene is crucial.
Dogs need exercise no matter how you are feeling, running around and fresh air is a must.
Dogs normally need much more space than a cat, choose your breed wisely.
Dogs will require yard maintenance, better known as "poop patrol."
Those are just a few pros and cons of cats and dogs. Many can be disputed between dog owners and cat owners.
When you make your decision, please adopt your furry new friend from a Humane Society, shelter or a Rescue.
Millions of unwanted pets are put to death each year. Give an abandoned animal a fair chance at life. Shelters everywhere experience pet overpopulation each and every day.
Please be one of the people in the community that helps the animals instead of one that adds to the death statistics.
Are you aware that a pet can soothe a human when nothing else can? Did you realize that a pet can give a person the will to live?
Do you also know that a pet has health benefits for all of us?
They help humans from the inside out.
Even a sick person will get up from bed to care for their pet as long as they possibly can.
Pets provide companionship to even the loneliest person. At times there is no one to talk to but your beloved cat or dog.
Think about this. Who else in this world loves you unconditionally the way your pet does? He doesn't care if you take a bath, brush your hair or even brush your teeth.
Now that's what I call loyalty. Even though he loves you no matter what, please do those things anyways. The people in your life will appreciate it.
More like this story