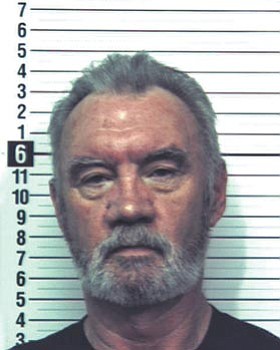 Originally Published: February 17, 2011 4:58 p.m.
COTTONWOOD - On Valentine's Day, Yavapai County Sheriff's Special Crimes detectives, arrested 62-year-old Cottonwood resident, Carl Cameron. Cameron is charged with commercial sexual exploitation of a minor, sexual exploitation of a minor, and furnishing harmful items to a minor.
In December Cameron's home, in the 1000 block Fourth Street, was searched as part of a narcotics investigation. He was subsequently arrested for possession of dangerous drugs, sale of dangerous drugs, transfer of dangerous drugs, possession of marijuana, possession of drug paraphernalia and possession of a weapon during a drug offense. He had since posted bond.
During that narcotics investigation, detectives allegedly found evidence of sex crimes with the exploitation of a minor and obtained a search warrant to investigate these specific crimes in January. The evidence included a videotape found by detectives in December. In the video, dated in 2001, an apparent minor-aged girl was directed by Cameron to disrobe and pose in sexual positions, according to the report. Detectives discovered the name of the young girl and tracked her to California. Detectives determined she was 17 at the time of filming.
Assisted by California detectives, the young girl was interviewed and confirmed her part in the video. She said she had lived in the Cottonwood area at the time, and Cameron was considered a family friend. He had offered her the chance to earn extra money by house cleaning and, on the date the video was made, the victim had come to his home to work. Instead, Cameron offered her drugs. She admitted she took the narcotics then began modeling clothes given to her by Cameron, which led to nudity and posing under his direction.
Detectives obtained a warrant and arrested Cameron. He was booked at the Camp Verde Detention Center and remains in custody on a $35,000 bond.