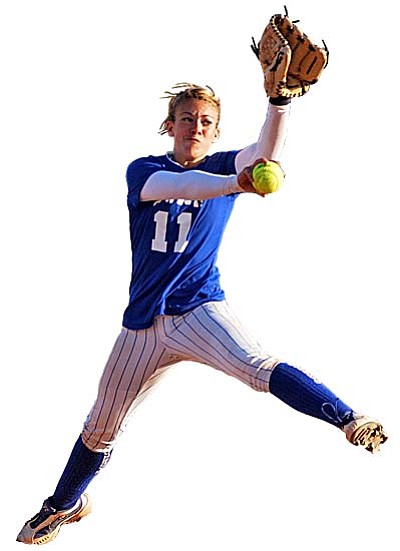 Originally Published: February 26, 2011 3:36 p.m.
CAMP VERDE--Spring is in the air, flowers are in bloom, the sun is shining. Well, maybe not just yet, but it is time for baseball and softball. Even though the weather has been pretty chilly, it's still that special time of year.
Baseball
Last year the Cowboys baseball team made it all the way to the championship and nearly brought home the title. They have some key players returning, but also five key departures.
The two most notable spots to be filled are shortstop and closer Mike Boler, and starting pitcher Curtis Hawk (1.54 ERA last year). They were great, but there are players currently who will step up to fill the voids.
Tanner Rezzonico pitched a lot last year and he'll look to be the go-to guy in his senior year. Junior Gavin Collins pitched some last year and he showed a lot of power. Anyone can tell he's even stronger this year.
At shortstop there will be several players taking turns playing the position, but Head Coach Steve Hicks said Austin Bower will be the primary shortstop. He'll also pitch, so when he's on the mound other players will have to step in.
Kody Rayburn held down centerfield last year and the same speed that made him a game breaker in football makes him able to cover ground with ease in the outfield. He'll also lead off the batting order. When he gets on base he's a scoring threat.
Catcher Andy Minner was great behind the plate last year, but also at the plate. He hit for the highest batting average and he hits with power.
"Our goal last year was to make a run at state, and we did that. We made a great run and it was fun," said coach Hicks. "The guys have chosen that again for their goal. They want to get better everyday and make a run at state."
The team is young, but they have talent. Jesse Fullbright and Kyle Lobaugh are sophomores, but they were good enough to play Varsity last year.
Josh Benson and Austin Stutzman are also key additions that'll get a lot more playing time this year.
The first game of the season is Tuesday against Northland Prep.
Softball
Two years ago the CV softball team won the 2A championship. Last year they had a successful season, but lost in the second round of the state playoffs.
This year Roque Parker, CV's best hitter, starting pitcher, and captain will be invaluable to the team. She's already secured a scholarship to play ball in college. Her mentality is she wants to win the championship.
"State Championship. Really that's what I want being a senior," said Parker. "I was on the team when we won it my sophomore year, but I would like to win it again."
There will be a lot of pressure on Parker this year, but she's the first to admit it.
"I'm practicing hitting my spots, getting the ball on the ground, and getting the ball in the air so we can make the easy plays and hopefully have a good season," said Parker.
She'll be throwing to Amy Allen, a great catcher and vocal leader on the team--catchers have to be vocal.
A lot of the other positions are still up in the air, not set in stone. Head Coach Debbie Miller is still deciding where the girls should play.
Cami Ligon was a consistent fielder at shortstop last year and that's one of the spots coach Miller has to find the right player.
"I think we'll be good," said Miller. "I have so much talent on this team, I'm just trying to find the best place for everyone."
Shelby Mulcaire made an impact last year as a freshman. This year she's starting the season with a wrist injury, but once she gets over that she'll be good. Softball is her favorite sport.
Megan Teague at second base is solid and she's tough. She may be small, but don't let that fool you.
Jasmine Fullbright played great in centerfield last year, but she's one of those players coach Miller has to decide where to put. She might be better suited to play shortstop.
The Cowboys might have a slow start as they figure out the best formation, but they'll find their groove and finish strong. They're too talented not to.
Their first game is Tuesday against Northland Prep.
More like this story