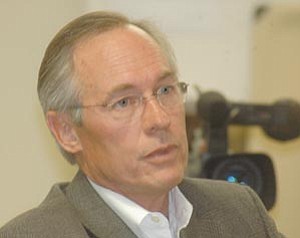 Originally Published: January 13, 2011 3:18 p.m.
CAMP VERDE - Salt River Project's initiation of the statewide surface water rights adjudication was based on one concept - certainty.
It is still their mantra, and according to Dave Roberts, manager of Water Resource Management for SRP, it will remain so as they continue their effort to engage the owners of lands serviced by irrigation ditches in the Verde Valley
"We brought the adjudication to the court to get everyone's water right determined, so that we and everyone else could plan for the future, in terms of water resource management." Roberts said.
Over the 36 years since the adjudication process began, SRP and others have settled numerous Indian water rights claims in the state. But the certainty afforded the Indians has continued to elude non-Indian water rights claimants, as the case has ground nearly to a stop in recent years.
It is that continued lack of certainty, as well as the sluggish pace of the court proceedings, that has initiated SRP's recent efforts to meet one-on-one with the local ditch companies.
"One of the focus points for working with the ditch companies in the Verde Valley is to see if we can reach agreement on the uses of surface water out of those ditches," Roberts said. "If we can come up with agreements it will give us certainty about what's coming from up stream and the ditch company landowners certainty about what will happen going forward."
As for establishing a legal right for any of the claims, Roberts said there is no process to do that at this time.
"We don't have a process to bring non-Indian water settlements to the court for approval, like we have for the Indian tribes. So one of the things we are thinking about is a way to figure out how the court can be more receptive to these settlements," he said.
"We think it would help spur the adjudication along by encouraging parties to come together and try and resolve the differences out side of litigation. The Eureka Ditch could very well be a candidate for an early settlement if a process could be established."
Roberts said it is SRP's desire to also help sort out water rights so they are attached to any land taking surface water.
"We would be more than willing to help resolve discrepancies by matching up water rights that aren't being used and align them with folks who don't have a right but are using water.
"It is certainly a role we would be more than willing to help out with. We have already talked with our board about the ability to work with landowners underneath ditches and their ditch companies to do those sorts of things," he said.
"We are also willing to work on a larger scale to help with water management. We think the partnership with the ditch companies could be an opportunity to work together on larger projects to help protect the watershed, the river and streams and bring certainty to us all."