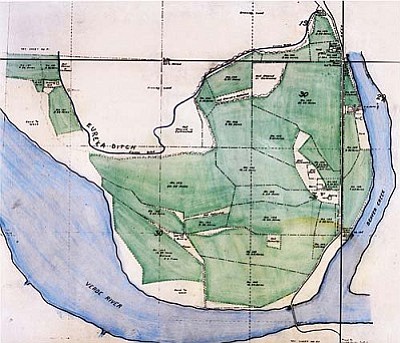 Originally Published: January 13, 2011 3:15 p.m.
CAMP VERDE - As the Verde Valley moves closer to the day when property owners will have their surface water rights adjudicated, the importance of the year 1919 will become quite significant.
That is the year Arizona enacted the State Water Code.
Ever since the first territorial Legislature adopted the principle of prior appropriation in 1893, all one needed to establish a surface water right was to post a notice of appropriation, record the appropriation with the county recorder and put the water to a beneficial use.
However, by the turn of the century, water shortages began occurring along the Salt and Gila rivers as a result of overuse.
So in June 1919, the state legislature enacted a new water code, which required anyone appropriating surface water to submit an application to the state's water authority. At the time it was the State Water Commission and later the State Land Department. Today it is the Arizona Department of Water Resources.
If all the requirements were met, and no objections were filed, a certificate of water right could be issued.
Most of the ditches currently diverting water in the Verde Valley were completed prior to 1919. Therefore, it should follow that anyone receiving water from an irrigation ditch would have a historic water right.
But that is not necessarily the case.
Water rights are attached to the land. In 1919 virtually all the surface water being diverted from the Verde River and its tributaries was being applied to large farms.
Over time, most of the large farms were broken into residential lots. And not all the lots were carved, wholly or in part, from the portion of the farm where water had been applied prior to 1919.
In some instances, the residential lots had water applied to only a portion of the parcel that was historically irrigated. In others, no water had ever been applied to any of the parcel.
Nevertheless, owners of the newly created residential lots often began applying water to those lots, and neither they nor the subsequent owners of those lots had applied for a water right as required by state law.
It is the owners of those lots that may face uncertainty in the future.