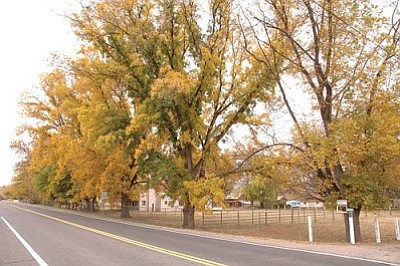 Originally Published: January 17, 2011 3:19 p.m.
CAMP VERDE - After 36 years of speculation and two years of diligent research, the shareholders along Camp Verde's Eureka Ditch will be the first surface water right claimants in the Verde Valley to see how their claims may fare, come time to adjudicate those claims.
On Saturday, Jan. 22, at the ditch company's annual shareholder meeting, representatives from Salt River Project will present a recently completed assessment of every parcel serviced by the ditch, indicating which parcels were historically irrigated and which ones, either in whole or in part, weren't.
In 1974, Salt River Project initiated a court action to have all rights to use surface water within the Verde River watershed adjudicated. Their intent was to provide certainty for their own shareholders.
The case has grown considerably over the years in both scope and complexity and now involves the entire Gila River Watershed, covering over two-thirds of the state, and over 60,000 claimants.
Two years ago, the board of directors of the Eureka Ditch engaged SRP in discussions about their claims, outside of the court proceedings, to see if any discrepancies existed between the properties served by the ditch and what lands SRP records show to have been historically irrigated.
"It is our intention to settle any differences our shareholders may have with SRP before the adjudication begins here in the Verde," said Eureka Ditch board member Dana Schmidt. "We believe it will not only save us money, but hopefully it will give us time to move some water rights around and fix any discrepancies."
To date, neither party has brought an attorney into the discussions.
SRP's analysis is a parcel-by-parcel assessment created using their geographic information systems computer software, combined with historic maps, surveys, aerial photography and other documentary evidence.
The single most important document that has come into play is a survey made in 1920, commissioned by the United Verde Mine in Jerome.
The survey was intended to delineate the farms located between Camp Verde and upstream of Clarkdale, because several of the farmers were threatening to sue the mine over crop damage caused by smelter emissions.
Instead, the series of 28 maps created by surveyor H.D. Phelps is offering an accurate picture today of what lands were being irrigated around 1919, the year Arizona enacted the State Water Code and a date that will weigh heavily in the adjudication (see related article).
Developing the analysis was a complicated and time-consuming process according to Jim Cooper of SRP.
"We had to bring all the historic documentation that is graphical in nature, such as maps, aerial photography and survey lines, into the computer," Cooper said. "After making sure everything lined up as best as possible, a process called registration, we overlaid various modern map scenarios such as roads and property lines. Then we could see what portions of each existing parcel was irrigated back in 1920."
According to Schmidt, SRP has worked with the ditch board to refine the analysis and will continue to work with the ditch company shareholders to ensure its accuracy.
The maps show that some parcels have water rights but are not using them, and some parcels, in part or in whole, have no water rights but are currently being irrigated.
"What we want to do over the next couple of years is see if we can sever water rights from properties that aren't using or can't use water, and transfer them to properties that are using water, but don't show having had a historic right.
"If we can get that done," Schmidt said, "it should satisfy our shareholders, SRP and hopefully anyone else with a dog in this fight."