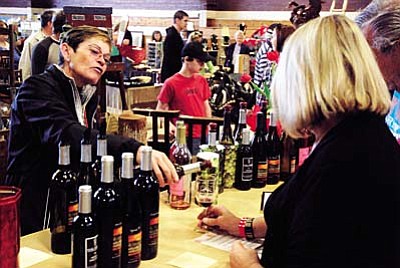 Originally Published: January 27, 2011 1:19 p.m.
Call to local artists & craftsman
Verde River Growers is looking for local art/craftsmanship to showcase work in the garden center.
Items to be considered: (All must be able to 100 percent withstand outdoor conditions) Pottery, garden decor and outdoor furniture, garden sculpture/salvaged art, fountains, mosaic items, metal work ... surprise us.
Please submit, in person, a paper copy of the following: Your name and contact information, your artist/craftsman bio, prints/descriptions (CDs will not be accepted), and pricing of your work. Please include sizes and other details required for functionality (i.e. needs water attached or electricity, etc.).
Please do not bring item with you at time of submission. They will do call backs in February and March.
Please submit all required to Hillary, retail manager.
Questions? Please call (928) 639-0122. Verde River Growers, 2613 S. Rocking Chair Road, Cottonwood AZ 86326
Free breast cancer/cervical cancer screening
An ongoing year around program, the Well Woman Healthcheck program offers free breast and cervical cancer screening to women 40-64 on a limited income with little or no medical insurance. Women receive a clinical breast exam, mammogram, pelvic exam and Pap test at no cost to them; call to see if you are eligible and to set up an appointment. Verde Valley (928) 634-6835.
Keep Sedona Beautiful Awards
Feb. 13
Each year since 1972, local people, businesses and organizations have been recognized by Keep Sedona Beautiful for their accomplishments in pursuit of the organization's goal - in a variety of ways, to "keep Sedona beautiful."
The 2010 honorees will be presented at KSB's 39th annual Awards of Excellence Luncheon at Los Abrigados Resort,& Spa located at 160 Portal Lane in Sedona. Popular Sedona entertainers Tom and Shondra will emcee the program from 11:30 a.m. to 1:30 p.m. Tickets are available at $35 for KSB members, $40 for non-members. For reservations (required) or information call (928) 282-4938. Keep Sedona Beautiful is a local non-profit organization dedicated to "Preserving the Wonder" of Sedona.
Free tax preparation available
Feb. 5
Catholic Charities Community Services is providing free tax preparation for low- to moderate-income families and individuals. The agency's goal is to help those in need receive their maximum return, including the federal earned income tax credit. Families with children and household incomes under $43,000, and individuals with incomes under $13,000, may qualify for the earned income tax credit, as well as other tax credits and deductions.
Catholic Charities Community Services is an IRS-certified Volunteer Income Tax Assistance (VITA) program provider.
Call today for information and to schedule your appointment.
Verde Valley Locations: (928) 634‐4254 (then press "0") By appointment only.
Cottonwood - Feb. 5, 12 & 26; March 5, 12 & 26; April 2 & 9
Rimrock - Feb. 5, 12 & 19
What to bring
• Proof of identification
• Social Security Cards for you, your spouse and dependents and/or a Social Security Number verification letter issued by the Social Security Administration
• Birth dates for you, your spouse and dependents on the tax return
• Current year's tax package if you received one
• Wage and earning statement(s) Form W‐2, W‐2G, 1099‐R, from all employers
• Interest and dividend statements from banks (Forms 1099)
• A copy of last year's federal and state returns if available
• Bank routing numbers and account numbers for Direct Deposit
• Total paid for daycare provider and the daycare provider's tax identifying number (the provider's Social Security Number or the provider's business Employer Identification Number)
• To file taxes electronically on a married‐filing‐joint tax return, both spouses must be present to sign the required forms.
Gun Accuracy Challenge set for Saturday
Jan. 29
Central Arizona Sportsman's Association invites you to the "2-Gun Accuracy Challenge" from 10 a.m. to 4 p.m. Take U.S. Forest Service Road #9571 off State Route 89A just west of the Page Springs Road. From Cottonwood, go north past Page Springs Road, U- turn at USFS Road #525 and return (south) to USFS #9571 and turn right onto it for 0.2 miles.
Costs for non-member shooters will be $8 for adults, $5 for youths 14-18. Children under 14 are free but must be accompanied by an adult.
This will be a 2-gun shoot, rifle & pistol, any caliber, any sight. It will be a 3 stage shoot, with: 20 rounds pistol at 25 feet, 5 shots in 4- 30 second increments; 20 rounds rifle at 50 feet, 5 shots in 4- 30 second increments; 30 rounds - 15 pistol, & 15 rifle, shot at 3 separate hostage target arrays, min 3 hits required per bad-guy at each station. 60 seconds per each 10 shot, 2-gun String.
A & B will be shot at 5-3.25" bullseyes, & individual times will be clocked for each 5-shot string & added to each target score for all 8 targets. C time will not count against silhouettes, but individual scores will be determined for each of the 10-shot string at each of the 3 target groups. A+ B + C scores will be combined, low overall score wins.
For additional questions, please contact Gari Basham, president 451-1251 or John Merrill, vice president 830-2631.
Glenn and Gayle at the bookstore
Feb. 28
There will be a spectacular performance evening at the bookstore this Friday night, 7-9 p.m. The feature act is "Glenn and Gayle" from Phoenix. They do some wonderful bluesy, jazzy, folksy traditionals with a few originals thrown in and some wonderful harmony singing. They will also have some of great local performers to start the evening including Lance, Reno and Sheila and a couple of yet to be named performers as well.
Mental health issues subject of forum
Feb. 2
The Verde Valley Guidance Clinic invites the public to attend a panel discussion at the Clinic's Cottonwood office. This free community awareness program will be at 6:30 p.m. in the Clinic's Community Room located at 8 E. Cottonwood St.
Topics will include how to recognize when someone needs help dealing with mental health issues, how to find help, and how Arizona law protects the rights of persons with mental illness.
The program is open to the public. Those planning to attend are asked to call Sharon Stingerie at (928) 634-2236 to assure adequate seating.
Low cost spay-neuter clinic
Feb. 4
A low-cost spay-neuter clinic hosted by Plateauland Mobile Veterinary Clinic (a division of Second Chance Center for Animals) will be at the ramada on Hollamon Street in Camp Verde. Surgery check-in is at 8 a.m.
Surgery prices: dog spay = $75, dog neuter = $75; cat spay = $60 cat neuter = $40. Indicates if animals are in heat or over 60 pounds they will be subject to additional fees
Call to schedule surgery (928) 567-7855 (Camp Verde Animal Control Center).
Surgery requirements: No food 12 hours prior to surgery; Must be at least 2 months old, but under 5 years old; Must be at least 2 pounds, but no more than 90 pounds; No more than 2 animals per household; Must be current on rabies vaccination, or receive it at the time of the surgery; Must be kept indoors after the surgery.
Leadership Lessons for Women
Feb. 10
The Sedona-Verde Valley chapter of National Association of Women Business Owners (NAWBOSVV) will be hosting Donna Davis, CEO and chief advocate for the Arizona Small Business Association at 11:15 a.m. at Poco Diablo in Sedona.
Donna Davis is a successful entrepreneur, executive and influential leader, locally and nationally. She has over 29 years of successful small business and corporate experience as well as public service with city, state, and federal governments. Her wide range of business experience has made her a respected and sought-after expert resource in many areas. We're so happy to have her as our guest speaker here locally, because she is in demand as a speaker at both the local and national level.
For information on joining NAWBO SVV with its networking opportunities, go to www.nawbosvv.org and click Member Benefits.
Please make your reservation by visiting www.nawbosvv.org and click on Events for more information and to purchase your ticket.
Sunday Bird Walks at Montezuma Well
Thru April
The National Park Service offers guided bird walks at the Montezuma Well unit of Montezuma Castle National Monument. Montezuma Well is located 11 miles north of Montezuma Castle, at 5525 E. Beaver Creek Road in Rimrock.
Bird walks will take place each Sunday at 9 a.m. through mid-April, weather permitting. The park ranger will meet visitors at the ­­­­­­picnic area and help identify birds around the site, while interpreting different species and their roles in the local environment.
There is no entry fee at the Montezuma Well location, and the program is free. Participants should bring water and binoculars, if they have them, and wear clothing and footwear appropriate for an easy to moderate hike. Programs last approximately one hour. Visitors may call the Montezuma Castle Visitor Center at (928) 567-3322, ext. 0, for more information.
BeneVet Bowling Tourney for veterans
Jan. 29-30
The second annual BeneVet Bowling tournament will be at Cliff Castle Casino's Shake Rattle and Bowl. There will be three events each day: Cosmic, Mixed Up, Singles. Get an Early Bird T-Shirt by signing up by Jan. 7.  Make checks out to American Legion Post 93 and mail to M. Jacobson, 502 Pheasant Run Circle, Camp Verde AZ 86322. Four-person teams for first two are $15 each and singles are $20 per person. The event is great fun for all and supports the VA Hospital Prescott, Vet Center Prescott and the Armed Forces Museum at American Legion Post 93, Camp Verde.
Help weed the Verde River Greenway
Jan. 29
Arizona State Parks, the National Park Service and Friends of Verde River Greenway are working together to remove invasive trees and plants from the Verde River Greenway near the Tuzigoot Bridge in Clarkdale and they need volunteers to make it happen. They will be removing invasive Tamarisk, Tree of Heaven (ailanthus altissima) and giant reed (arundo donax) from the river corridor.
They will be working from 8 a.m. to noon at the Tuzigoot River Access Point in Clarkdale. Bring a long-sleeve shirt and pants, gloves, sturdy shoes, a water bottle and snacks. Bring loppers and hand saws if you have them, but they are not required. There will be plenty of work just swamping out the slash.
For more information, contact Marsha Foutz, Friends of VRG, friendsvrg@gmail.com.
Donate recycling materials to reopen Clarkdale pool
The Town of Clarkdale has received numerous donations and sponsorships bringing the total to over $23,000 towards its fundraising goal of $75,000 to open the Clarkdale Pool for the 2011 Swim Season.
In addition to cash donations individuals can now contribute to the pool by recycling materials. Roadrunner Recycling has offered the opportunity for individuals and businesses to drop off collected scrap metals, batteries, etc. All that you need to do is bring your items to Roadrunner Recycling and tell them you are donating to the Clarkdale Pool Fund. The value of your item(s) will be forwarded to the pool fund and you will be provided with a receipt of the transaction. Roadrunner Recycling is located at 6th Street & Cherry Road behind the Senior Center. Hours of operation are: Tuesday-Friday 8am - 4:30 pm and open Saturday 8am - noon. To find out more on what material can be accepted for recycling please contact Roadrunner Recycling at (928) 301-8839.
Demos at the Clemenceau
Jan. 28
The Clemenceau Museum resumes its Last Friday events with woodcarving. Several wood carvers will be on hand to demonstrate their skill at carving and whittling, and invite you to try your hand at the craft too, if so inclined. Bring friends and have some fun watching, learning and participating.
There will be demonstrations at the Museum from 11 a.m. to 3 p.m. The Clemenceau Museum is on the corner of Willard and Mingus in Cottonwood. Admission is free, donations welcome. Call (928) 634-2868 or visit www.ClemenceauMuseum.org on the web.
Celebrating Yoga Day at Healing Arts Center
Jan. 29
The Healing Arts Center, 753 N. Main St., (corner of Fourth and N. Main Street), Old Town Cottonwood, is sponsoring a day of free classes aimed at informing the community of yoga and many other healing modalities from 9 a.m. to 4 p.m.
Bring a friend and a mat for classes. There will be many raffle prizes, refreshments and resources available. Love donations appreciated.
For more details: www.CarolsGentleYoga.com, or online at facebook.com Verde Valley Yoga or call Carol (928) 646-0148.
Volunteer needed
The Verde Valley Senior Center is seeking an energetic and committed volunteer to lead a low impact, stretching, aerobic class for seniors on Tuesday and Thursday mornings from 10 to 10:45 a.m.
For more information please call Debbie Moore at 634-5450.
Learn about your fruit trees
Jan. 29
Fruit Tree Planting, Pruning, Insect Control & Harvesting Classes are coming to Cottonwood this month. Learn when you should plant trees in this area, how to plant them, how to prune them, when to fertilize, how to control insects, when to water, how to keep birds away and when to harvest.
The class on young trees is Jan. 29, 10 a.m.-noon, at 19 N. 10th St., Cottonwood. Cost is $15.
To register call (928) 634-7172 or email jmontgomery@commspeed.net. Register early; classes are limited to 20 people.
Computer & electronic recycling event
Jan. 29
Recycle your old computers and electronics at Verde Valley Ace Hardware, 545 S. 12th Street, on Saturday from 9 a.m. to 2 p.m. The City of Cottonwood in partnership with Westech Recyclers will accept the following items:
Computers, laptops, monitors, printers, network cards, routers, hard drives, floppy and CD-Rom drives, copiers, fax machines, telephones, cell phones, answering machines, test equipment, wire and cable, power supplies, circuit boards, video game equipment, calculators, typewriters, stereos, VCRs, household appliances, microwaves, toaster ovens, etc.
Almost anything with a plug will be accepted (except large appliances). For additional questions or information contact: Marc Spenner - Ace Hardware - (928) 634-7868 or Tom Holland - Westech Recyclers - (602) 432-4046.
Fruit tree pruning class
Jan. 30
Learn to prune mature fruit trees to achieve good production, when to fertilize, how to water, organic insect control, why to thin immature fruit and harvesting information. Cost: $15. Class meets at 1049 S. Fifth St., Cottonwood, from 1 to 3 pm. Register Early - Class is limited to 20 people. Call Janice Montgomery, (928) 634-7172 or email jmontgomery@commspeed.net.
Cottonwood Police looking for COP volunteers
Jan. 31
The Cottonwood Police Department is looking for Citizen on Patrol (COP) Volunteers. They are currently accepting applications from individuals who are interested in volunteering for the next Citizen on Patrol (COP) training session. Applications are due no later than 5 p.m. on Monday, Jan. 31. The training and orientation classes are tentatively scheduled to begin on March 22.
COP participants are asked to commit a minimum of four hours per week of their time after they complete training. Contact Commander Gary Eisenga at the Cottonwood Police Department at (928) 634-4246 or geisenga@cottonwoodaz.gov. You may also pick up applications at the Cottonwood Police Department.
Police Department Lobby will be closed
Feb. 1
The Cottonwood Police Department lobby will be closed on Tuesday, Feb. 1, during the normal business hours of 8 a.m. to 5 p.m. Records Division personnel will be attending training during that time, which in turn, will allow for improved service in the future. Phone calls will still be answered by staff but personnel will be unavailable for copies of records, reports, fingerprints, etc. Normal operations will resume the following day at 8 a.m. on Feb. 2. During this time, you may use the department's nonemergency number of (928) 649-1397, or 9-1-1 for emergencies.
Relay For Life captains' meeting
Feb. 1
The first Verde Valley Relay For Life Team Captains' meeting will be held at VVMC, Meeting Room A at 5.30 p.m. This is the first meeting for planning the 2011 event, which will be held at Riverfront Park on May 13-14. All present, past and potential Team Captains are invited to come and learn more about this year's event and how to maximize your Teams' efforts. Anyone not yet signed up but who is interested in forming a Team is also invited. You will learn how the American Cancer Society supports your efforts in the Relay and have the opportunity to share ideas with your other team leaders. The meeting will last one hour, so please be prompt.
Is Pluralism a force for good or evil?
Feb. 2
Join speaker Mark Aksamit as he outlines how cultural and religious pluralism has affected our culture. This one hour discussion will be held at the Pine Shadows Clubhouse at 2050 W. 89A, Cottonwood. Doors open at 6:30 p.m.
Suggested donation of $5 at the door. The event is sponsored by the Cottonwood Eclectic Discussion Group.
For more information contact Rich McVannel at (928) 649-0517 or go to cwedg.org for more info.
Verde Valley Christian School's Spaghetti Dinner & Pie Auction
Feb. 4
Verde Valley Christian School's annual Spaghetti Dinner/Pie Auction will be held in the school gymnasium at 5:30 p.m. Jim Scott will be the auctioneer.  The spaghetti dinner cost is $5 per person. No reservations needed. Last year more than 100 pies were auctioned off with four pies being sold for more than $1,000 each.  Come bring the family, have fun, and help celebrate 30 years of providing Christian education in the Verde Valley.
Live Music at the Arizona Stronghold Tasting Room
The Arizona Stronghold Tasting Room is holding a series of live music events.
Feb. 4, 7-9 p.m. is music by Raven aka Peter Gonzales. Enjoy a relaxing evening accompanied by the lyrics and acoustic guitar of Raven.
Feb. 11, 6-9 p.m. is music by singer/songwriter Connie Fisher. Enjoy inspirational and worldly music, including Celtic influenced sounds accompanied by the cedar flute.
Feb. 25, 6-9 p.m. is music by Mike "King Daddy" Morris, featuring a unique mix of guitar, harmonica and vocals.
Arizona Stronghold Tasting Room is located in Old Town Cottonwood at 1023 N. Main St., (928) 639-2789.
Old Town Center for the Arts in February
Feb. 4, 7:30 p.m., John Batdorf: National Touring Singer - Guitarist. $15 adv $18 door $20 priority.
Feb. 5, 7:30 p.m., Jimmy Fortune: Country Music Hall of Famer, formerly one of the world-famous Statler Brothers. $20 adv $25 door $30 priority.
Feb. 11, 7:30 p.m., Guitar Summit III, featuring the Electric Harp Guitar Group William Eaton, Anthony Mazzella, Fitzhugh Jenkins video. $18 adv $20 door $25 priority.
Feb. 18, 7:30 p.m., Chuck Pyle, the Zen Cowboy, with 40 year career. John Denver, Nitty Gritty Dirt Band, Suzy Bogguss and Jerry Jeff Walker have recorded Chuck's songs. $15 adv $20 door $25 priority.
Feb. 19, 7 p.m., John McEuen, founding member of the Nitty Gritty Dirt Band, with Matt Cartsonis "sittin' in." $20 adv $25 door $30 priority
Feb. 25, 7:30 p.m. Dave Rentz: one-man world music orchestra. $12 adv $15 door $18 priority.
Old Town Center for the Arts is at 633 N. Fifth St., Cottonwood. Call (928) 634-0940 or visit www.oldtownceenter.org.
Friends of the Library meet
Feb. 5
The annual Cottonwood Bookmarks/Friends of the Library membership meeting date is at 10:30 a.m. in the meeting room at the Cottonwood Public Library. All Bookmark members are invited to attend.
The half price sale that was held in the book boutique area during the month of November was a great success. Many good bargains were found and over $1,200 was deposited in the bank to support future library needs such as shelving and computers.
During December, the best quality newly donated books were displayed for gift shopping. Bookmarks members always receive a 50 percent discount off already modest prices. Be sure to take advantage of the $5 annual membership in order to receive that benefit. Membership envelopes are available on the display shelf. Volunteers and staff members are happy to assist you with the process.
Musical evening of love songs
Feb. 11
Bent River Books & Music presents an "Acoustic Valentine," 6-8:30 p.m. with solo performances on acoustic guitar, vocals, mandolin & percussion, with some spontaneous jamming and harmonizing. The evening features Dave Rentz, Dan Engler, Don Whitcher and Vyktoria Pratt Keating, with special guests. Suggested donation $7 ($10 couples). Bent River Books is at 1124 N. Main St., Old Town Cottonwood. Call (928) 634-8332 or visit www.bentriverbm.com.
Arts & Crafts American Style
Feb. 12
It's a look into the past by contemporary artists, presented by the Verde Historical Society. The show, from 9 a.m. until 4 p.m. features talented artists showcasing their stained glass, jewelry, dolls, pottery, wood working, western items, original paintings and photography and more.
It's all a bargain price of $1 to benefit the Clemenceau Heritage Museum at 1 N. Willard, Cottonwood.
Valentine's Brunch
Feb. 13
Cottonwood Village presents its first annual Valentine's Brunch from 10 a.m. to 2 p.m. You may select from seating arrangements in both the dining room or secluded veranda (weather permitting). Enjoy made-to-order omelets, roast beef, potatoes O'Brien, baked pastries and cinnamon rolls, desserts, bottomless mimosas and tasteful entertainment. Even better, there is no cost for you or your guests. Call (928) 634-2956 to RSVP right away. Cottonwood Village, 201 E. Mingus Ave., Cottonwood.
Become a recovery coach volunteer
Feb. 16
Are you interested in serving as a volunteer guide or mentor for youth or adults in recovery? If so, MATForce is offering a free Peer-2-Peer Recovery Coach training that will teach you the skills to work one-on-one, helping these individuals through their recovery process. No experience, prior qualifications or education is needed. All that is needed is the desire to help.
The next training will be held in Cottonwood on Wednesdays from 5 to 8:30 p.m., Feb. 16-March 16. Classes will be held at the Board of Supervisors Building Board Room at 10 S. Sixth St. in Cottonwood.
To register please contact Gwen Henderson be email at hendersong5@sbcglobal.net or call (928) 420-0135.
Evening with the Winemaker
Feb. 18
Arizona Stronghold Tasting Room hosts an evening exploring the aroma of wines with assistant winemaker "in training" Amy McCormick from 6 to 8 p.m. Amy will be on hand while guests have an opportunity to sample food and aroma extracts while unraveling the descriptions of some of our most popular wines. Ever wondered where they find blackberry in the "Nachise" or what cassis is? Come by and find out.
Arizona Stronghold Tasting Room is located in Old Town Cottonwood at 1023 N. Main St. Call (928) 639-2789.
AARP Driver Safety Course
Feb. 23
The American Association of Retired Persons has scheduled a Driver Safety Course which is open to all licensed drivers. It will take place from 10 a.m. until 2:30 p.m. The location is at 10 S. Sixth St. in Cottonwood. Meet in the Verde Room at the Yavapai County Building. Please bring a sack lunch.
This is a four hour refresher course. The focus is on the physical changes that accompany aging and how to compensate for these. There is a $14 charge for this course, and AARP members get a $2 discount. Class participation is limited to 25 people. Please contact instructor Marianne Alicki at (928) 634-7975 or (928) 274-6377 if you are interested in attending this class.
Terri Hendrix concert rescheduled
March 11
For anyone that purchased a ticket, or was planning to attend the Terri Hendrix Concert at Old Town Center for the Arts on Friday, Jan. 14, Terri's concert is being rescheduled for Friday, March 11, for medical reasons.
If you have purchased tickets to the Terri Hendrix Concert, you have three options: 1) keep your tickets for her concert on March 11; 2) receive tickets to any other upcoming concert at Old Town Center for the Arts; or 3) receive a refund. Please call (928) 634-0940 or email: oldtowncenter@gmail.com and let us know what option you prefer. For any other information about upcoming events at OTCA please visit www.oldtowncenter.org.
Gem & Mineral Show set
March 11-13
Mingus Gem and Mineral Club will be hosting the 36th annual Verde Valley Gem, Mineral & Jewelry Show at the Verde Valley Fairgrounds, 800 E Cherry St. in Cottonwood (at the intersection of 12th St. and E. Cherry St., 1 block north of State Route 89A).
The 2011 show will feature a variety of museum like educational displays including extensive specimen collections and creations from local artists. The show will also host a children's area with multiple activities for kids of all ages.
The show hours are 9 a.m.-5 p.m. Friday and Saturday, and 10 a.m.-4 p.m. Sunday. Admission is $2 per adult, and $1 for students with a valid ID. Children 13 and under get in free with paid adult. Parking is free. www.mingusclub.org.
Inaugural Old Town Blues Fest announced
April 2
Joe Neri, of JoeNeriMusic Productions and The Well Red Coyote bookstore, and
William Eaton, of the Old Town Center for the Arts, have announced the first Old Town Blues Fest, to be held all day at the Old Town Center for the Arts in Cottonwood. The Old Town Blues Fest will be inside and outside, on the Old Town Center for the Arts property and will kick off at 1 p.m. and go all day and through the evening. Ticket information will be available soon at www.oldtowncenter.org. Individuals, organizations and businesses interested in sponsorship and promotional opportunities should contact Neri at (928) 274-1803 or joe12bar@gmail.com.
Brian Mickelsen Memorial Run/Walk
April 16
The Brian Mickelsen Memorial Run and Walk includes three courses, the half-marathon, the 10K and the 2-mile run/walk. All courses begin and end at Riverfront Park. The courses can be viewed at www.cottonwoodaz.gov
The half-marathon circuits through historic Old Town Cottonwood, Tuzigoot National Monument, returning to Dead Horse Ranch State Park. Start time is 7:30 a.m.
At 7:45, the 10K starts, looping through Dead Horse Ranch State Park.
Finally, run or walk the 2-mile beginning at 7:55 from the Riverfront ramadas to the park's main gate and back.
Register by April 1. Pre-register online at Active.com or through the Parks and Recreation office through April 8. Race Day registration is 6:15-7 a.m.
Annual Children's Celebration
April 16
From 9:30 a.m. until 1 p.m., Buena Vista Children's Services will host it's 18th annual Children's Celebration in Cottonwood. It's a most-anticipated activity day for the kids and a timely opportunity for parents to learn more about the opportunities for little ones.
There will be food and participating organizations will have hands-on activities and games for the kids, while adults learn about community organizations for the area's families and children from birth through age 12.
Buena Vista sponsors this one-day event to honor Child Abuse Prevention. For more information call Gail or Roxanna at 646-5200 or email: go.bvcs@gmail.com.
Old Fashioned Easter Egg Hunt
April 23
Thousand of plastic Easter eggs, stuffed with candy, toys, videos, stuffed animals and food coupons will highlight Cottonwood's 21st annual Easter Egg Hunt at Riverfront Park. Children up to age 8 will be invited to line up at 10 a.m. in five age categories to compete.
Egg-hunting sections are divided by age, divided in ages one-year through 17 months, 18 to 35 months, 3 to four years, five to six years, and seven to eight years of age. The separate age groups will be arrayed between the ramadas and the soccer field at the park.
This year, the event is made possible by donations from the Verde district Kiwanis Club, Wal-Mart Super Center, Pizza Hut, Jack-in-the-Box, Planet Video& Music, Arby's, Sonic Drive-in, Taco Bell and others.
Blazin' M hosts wildlife education programs
The Blazin' M Ranch is pleased to announce plans to partner with Liberty Wildlife for the 2011 season. The goal of this partnership is to bring outreach programs to the Verde Valley that focus on wildlife education throughout Arizona. The Blazin' M Ranch will host four events focusing specifically on raptor rescue and rehabilitation. Volunteers will be onsite with live birds and educational materials to share with the public.
May 7, 4 p.m. to 6:30 p.m.
Oct. 8, 10 a.m. to 2 p.m.
Dec.10, 4 p.m. to 6:30 p.m.
Liberty Wildlife Rehabilitation Foundation is a non-profit 501(c)(3) organization founded in 1981 by Dr. Kathryn Orr to provide care for sick, injured or orphaned native Arizona wildlife or migratory birds.
The Blazin' M Ranch is located at 1875 Mabery Ranch Road, Cottonwood. Situated on the banks of the Verde River and adjacent to Dead Horse Ranch State Park, the Blazin' M Ranch is just minutes from the Verde Canyon Railroad depot, 25 minutes from Sedona and two hours north of Phoenix. Hours of operation vary depending on the season; please visit the website at blazinm.com for the most current information.
Time change in Legion kitchen
The American Legion Post 25, Cottonwood announces time changes in the kitchen. The kitchen will now be open on Wednesday and Saturday for Bingo and for the Fish Fry on Friday 5-7 p.m. Steve will be serving a dinner on every other Sunday in the afternoon whenever the Happy Days Band with Charlie Allen is playing at the Legion, 480 S. Calvary Way. The kitchen could not make ends meet with not having a lot of participation from the members. We are sorry for any inconvenience this may cause our members. Please come and support your kitchen, it's for you the Veteran. For members and guests.
Missoula Children's Theatre needs your support
Every year for 25 years Missoula Children's Theatre has visited the Verde Valley with as many as 5 tours per summer. This year the beloved tradition continues the second and third week of June. MCT is a week-long event sponsored by Verde Valley Concert Association which raises funds to host the tours. MCT is provided completely tuition free to area children and families. It is an opportunity for children ages K-12th grade to experience acting and directing in a real live theatre production from make up to costumes to lines. Often it boosts children's confidence, leadership, and public speaking skills as well as develops a life-long love of performing arts.
This summer's tours are in need of sponsorship. The cost of each tour is $3,500 with additional expenses incurred for venues, printing, housing, stage assistance, and DVD production. Donations of any size made to VVCA are tax deductible. Please call Betsy Williams at (928) 639-1693 or email barkdale@q.com if you or your business would like to come on board to benefit area children and families with an unforgettable experience. Donors are eligible to receive recognition in the show programs.
CRC After school program
The Cottonwood Recreation center After School Program (CRC ASP) is a drop-in after-school recreational program for school-age children throughout Cottonwood and the Verde Valley. Under supervision of professional recreational staff, youth are provided with a variety of age appropriate developmental group activities that are fun, stimulating and enriching as well as supervised free play.
In order to take part, a participant must be enrolled in grades one through eight, be able to follow instructions and facility rules, and expectations health, safety and fun. Must be able to participate in group settings and able to manage personal hygiene without direct assistance.
Costs range from $10 daily drop in, $40 weekly or $150 for monthly participation.
For more information, call the CRC at 639-3200 or email hallen@cottonwoodaz.gov.
Program benefits Alzheimer's patients and families
Specialized nonmedical care is available in Yavapai County through Home Instead Senior Care, helping individuals with Alzheimer's disease live safely and more comfortably both at home and in care facilities.
As many as 5 million Americans suffer from Alzheimer's disease, with numbers expected to increase to as many as 16 million by the year 2050. As a result, the demand for specialized care for patients and their family members is rapidly increasing. Home Instead offers an award-winning national training program to its CAREGiversSM to provide assistance to those with Alzheimer's and related dementias, allowing them to continue living at home longer than ever before. To date, 65 CAREGivers have successfully completed the program to serve Yavapai County clients.
In the training, CAREGivers learn how to understand the symptoms of the illness, build positive relationships, manage the changing behaviors of clients with Alzheimer's, and keep clients active and independent for as long as possible.
For more information, please contact the local Home Instead Senior Care office at (928) 649-3316.
Apply for Cottonwood Head Start
Cottonwood Head Start & Early Head Start is currently accepting applications for the 2010-11 school year. Head Start is a federally funded program for income eligible infants form six weeks to one year of age and for children from 3 to 5 years of age. They also serve infants and children with special needs. Call (928) 634-8236.
Voices welcome new members for spring season
The Verde Valley Voices consists of singers from the entire Verde Valley and beyond. They now begin practicing for the spring concert, which will be held the first part of May. They would like to invite anyone who loves to hum and sing to join. (You don't have to read music.) Practices will be held at the Verde Valley Presbyterian Church, 1500 E. Hombre Drive in Cottonwood on Tuesday evenings from 6:30-8:30 pm. Please consider becoming a part of this enthusiastic non-audition community Choir. The spring concert promises to deliver a fun filled variety of music that all will enjoy - whether singing or hearing. For further information, please call (928) 649-3172 or (928) 284-2733
Alzheimer's Caregivers Meeting
Caregivers of Alzheimer's Disease patients are invited to participate in an Alzheimer's Association Support Group which meets at the Verde Valley Presbyterian Church, every Wednesday morning. The Mission Committee of the church chose this project as a way of offering service to the community. Mission Committee members who serve as Facilitators of the group have been trained by the Alzheimer's Association. Confidentiality is an essential part of the process as Caregivers are given the opportunity to share their concerns and their experiences of caring for patients with Alzheimer's Disease.
The Caregivers Support Group meets at VV Presbyterian Church, 1500 E. Hombre Drive, on Wednesdays 10-11:30 a.m. For more information, and for registration to participate, please call either Fran at (928) 634-6495, or Diane at 634-8034.
Tax volunteers are needed
Catholic Charities Community Services and the Internal Revenue Service (IRS) are looking for community volunteers to provide free tax help in Cottonwood and the Verde Valley area. IRS trained and certified community volunteers provide free tax help to their neighbors and other area residents who cannot afford to pay for tax help.
Tax volunteers need no prior experience. Materials and tax instruction are provided at no cost. Volunteers learn how to electronically file tax returns, both federal and state, using IRS tax preparation software. Volunteers are asked to provide tax help three to four hours a week, from February through April 15.
For more information about becoming a community tax volunteer in the greater Verde Valley area, call Tania Simms at 928-634-4254, ext. 54119 or send an e-mail to: tsimms@cc-az.org
Time to buy a leash
The Animal Control section of the Yavapai County Sheriff's Office will be patrolling Verde Village 1 early in the mornings for stray dogs.
VVMC collects medical books for Afghanistan
Verde Valley Medical Center is collecting medical books and reference materials to donate to healthcare providers in Afghanistan in support Operation Medical Libraries. After decades of war, many of the medical libraries, clinics, hospitals and universities in Afghanistan have been severely depleted of health-related reference materials. This has forced many physicians and healthcare providers to practice medicine without up-to-date medical literature.
The mission of Operation Medical Libraries is to collect current medical textbooks and journals and distribute them to war-torn countries. To read more about this mission, visit nytimes.com and type in the search bar, "Doctors Heed Call for Books for Afghanistan."
Operation Medical Libraries needs books pertaining to biology, chemistry, anatomy, medicine, nursing, dentistry, pharmacology and physical therapy. Books published since 2005 are preferable, however, books published since 1995 will be gladly accepted.
VVMC will be collecting books until April 2011, National Library Month. To donate to this program, call Karen Fanning, VVMC Medical Library, at (928) 639-6444.
Help the poor and help yourself
Reduce your state taxes and help Arizona's working poor. Make a $400 donation to Catholic Charities Community Services and reduce your state taxes with a dollar-for-dollar tax credit. Learn more at www.catholiccharitiesaz.org/catholiccharities/400taxdonation.aspx
Senior Center seeks volunteer aerobics instructor
The Verde Valley Senior Center, 500 E. Cherry St., Cottonwood, is seeking an energetic and committed volunteer to lead a low impact, stretching, aerobic class for seniors on Tuesday and Thursday mornings from 10 to 10:45 a.m.
For more information please call Debbie Moore at (928) 634-5450.
Horseshoes in VVPOA
The VVPOA is going to hold horseshoe pitching every Friday at 6 p.m. at the clubhouse on Broken Saddle Drive. There will be a prize pot. Hamburgers and hot dogs will be available. For further information please call James at 646-5598.
Vets: Take vans to VA
American Legion Post 25 Cottonwood has Transportation vans to VA appointments, Disabled American Veterans DAV. Call (928) 214-8170 Monday-Friday, 9 a.m.-noon.
If you get a message leave your name, phone number, date of appointment, and at what clinic.
They are also looking for volunteer drivers, one day a week or a month. If you want to help our veterans please call (928) 634-3004 to sign up now.
Volunteers needed to teach financial education
Catholic Charities Community Services is seeking volunteers to teach financial education to people in need. Catholic Charities provides training to those interested in volunteering to teach financial education. Financial education classes include Banking Basics, Building a Better Budget, Choosing and Using Credit Wisely, and Taking Charge of Your Credit. The classes are conducted in partnership with Arizona Saves. The financial education classes are part of Project HOPE, a Catholic Charities program that helps low- to moderate-income families and individuals improve their financial situation and live the life of their dreams through a continuum of education, resource building and mentorship. To learn more about becoming a financial education volunteer, call (928) 634-4254 or e-mail tsimms@cc-az.org.
Arizona Old Time Fiddlers meet first Sunday of month
The Cottonwood Chapter of the Arizona Old Time Fiddlers Association hold their regular meeting on the first Sunday of every month, 1-4 p.m., at the Senior Citizens Center on Sixth Street in Cottonwood. New members and players/singers are always welcome. For more information, contact: Billie Helm, president, 928-567-3108 or 928-301-8376.
Clemenceau Museum seeking photos for book
The Clemenceau Museum is looking for photos relating to the history of Cottonwood for an upcoming book. Any photographs showing people, places, events, relevant to ranching, dairies, the Clemenceau smelter, railroads, kilns and brick-making, sawmills and lumber, the Marcus D. Lawrence hospital and staff, the airport, the early commercial district (now Old Town Cottonwood), the town of Clemenceau, or virtually any aspect of life in the Cottonwood area from the early 20th century through the 1980s are welcome.
Photos will be carefully scanned and returned to owners, with credit given to donors for any published photos. It is hoped the book, covering the history of Cottonwood, will be ready for publication in the autumn of 2010.
If you do have photos, please contact Museum Director Helen Killebrew at (928) 634-5414, or leave a message at the museum, 634-2868 or email: clemenceauheritagem@qwestoffice.net.
Parkinson Water Aerobics begin
New Parkinson Water Aerobics Class now being held each Wednesday, 11 a.m., at Resource Physical Therapy, 825 W. Mingus, Cottonwood. Call (928) 451-4949.
Parkinson Exercise Classes, sponsored by Muhammad Ali Parkinson Center, are held each Friday, 11 a.m., at Verde Valley Medical Center in Cottonwood. Call (928) 451-4949.
Get a military welcome home
The Verde Valley American Legion Riders are trying to contact all family members in the Verde Valley that have a loved one in the military at this time. The objective is not only to meet the families of these veterans but also to ask to be a part of their homecoming. Past homecomings have been accomplished by providing a parade through the area that the veteran is from and then ending at the American Legion either in Cottonwood Post 25 or Camp Verde Post 93 with the support of the honor guard and flag column. Some family members have the ceremony end at their homes. Just call and give the Legion Riders the date of the return. John: (928) 567-0224.
Buena Vista recruits childcare providers
Buena Vista Children's Services, Inc. is here to assist you through the process to become a DES-certified child-care provider. Applications are processed at no charge. As a self-employed professional, receive ongoing training, provide quality care with early childhood learning activities and consistently meet or exceed health and safety standards.
From fingerprints to home inspections, a recruitment specialist is there for you. For more info, or to start your free application, call Buena Vista Children's Services, Inc. at (928) 451-5755 or 1-866-646-5200; or email js.bvcs@gmail.com.
Get help with your taxes
For 26 years AARP/IRS has provided a program for those in our community to have their taxes prepared and filed. They will be at the Verde Valley Senior Center, 500 E. Cherry St., Cottonwood Tuesday, Wednesday and Thursday, 8:30 a.m.-3:30 p.m.
There is no age limit and you do not have to be a member of AARP. Call (928) 634-5450 or you can just drop by the Senior Center and make the appointment in person.
Verde Valley Singles meet
The Verde Valley Singles have Meet & Greet on Second Saturday only from 5:30 to 7:30 p.m. For information, visit the Web site at www.verdevalleysingles.com, e-mail verdevalleysingles@yahoo.com or call Marge at (920) 723-2335 or Charlie at (928) 274-2345.
Learn to play Horse Soccer
Verde Valley teams of the Arizona Horse Soccer League meet to play Horse Soccer the fourth Sunday of every month from 10 a.m. to 4 p.m. at the Verde Valley Fairgrounds. Cost is $10 a match for members or $15 if you are not. Membership is $35 a year. Practice is every Sunday at 11 a.m. Men, women and youth are invited. Just bring a horse.
For more information, visit www.azhorsesoccerleague.info/ or contact Monika Snyder at Monika@azhorsesoccerleague.info or call or text Holly at (928) 300-4132.
Get the seniors moving
According to the results of a recent national survey of seniors and adult children, staying physically active is a major challenge for seniors. Lack of activity can lead to a downward spiral of poor health resulting in frailty, a condition that threatens the mind, body and social life of older adults.
Family caregivers who can encourage and integrate physical, mental and social activities in seniors' lives are helping them ward off frailty and stay healthy. With that in mind, local HISC senior care experts are launching a program designed to help keep seniors engaged and fit. Resources include a specially designed Website: www.GetMomMoving.com with practical and educational tools for seniors and their families.
For more information, please call Ann Weaver, community service representative, Home Instead Senior Care at 649-3316.
International Business Networking
BNI, the Verde Valley Difference, is an international business networking and referral organization that meets every Wednesday at 7 a.m. at Sweet Jill's Restaurant in Cottonwood. For more information contact Alan Freedman at (928) 639-3828.
Sweats for Vets
The American Legion Auxiliary Post 25, 480 Calvary Way, Cottonwood, is collecting Sweats for Vets, a program to obtain new sweats for Vets that have become disabled with a loss of a limbs.
They will be delivered to the VA Hospital in Prescott and other Veterans facilities where the need exist. Just in time for the cold winter that is approaching Please drop off your contribution to Post 25, there is a large box marked Sweats for Vets. Call 634-3004.
City Council meetings get televised
The Cottonwood City Council meetings are now televised. CableOne Channel 20 is now the City of Cottonwood Government Channel. Yavapai Broadcasting has been recording Cottonwood Council meetings since the beginning of September 2009 and has the Oct. 6 regular City Council meeting available on their web site www.myradioplace.com. As of Oct. 20, Yavapai Broadcasting will not only have them available on-line but has been working in conjunction with local cable company CableOne, who is now broadcasting the meetings live on channel 20 and will replay them at various times throughout the week.
As this channel develops, more programs will be broadcast, such as local news, public service announcements, special events, etc.
Work your baby's brain
Cloy Dellaripa, M.C. presents Baby Brain Time at the Cottonwood Library Kids Zone. Bring your baby to play, socialize, learn, and have lots of fun every Tuesday at noon.
Baby Brain Time at the Cottonwood Library Kids Zone is a program designed to enhance your baby's sensory development and to promote attention, bonding, and communication between babies and toddlers, from birth to 24 months, and their parents or caregivers.
It's free. No registration required.
2010 Verde Valley calendars
Remaining 2010 Verde Historical Society Calendars, featuring Verde Valley nonprofit organizations, have been reduced to only $5. They make great stocking stuffers and reasonably priced gifts, while proceeds assist the Clemenceau Heritage Museum in preserving and showcasing our local history at no cost to the public.
Each month features a different organization with photos and a description of its activities. Included are the Lions and Rotary Clubs, the Old Town Mission, the Humane Society, Caballos del Sol, Boys and Girls Club, El Valle Artists, the 4-H and the FFA, and the Old Town Association, among others.
The calendars are available at the Museum during regular hours: 11 - 3 Fridays - Sundays, and 9 - noon Wednesdays. The Museum is located on the corner of Willard and Mingus in Cottonwood. Tel: 928-634-2868.
Bingo at the VFW
The VFW Post 7400 at 705 E Aspen St., Cottonwood has bingo every Thursday 7:-10 p.m. and Sunday 1-4 p.m. Doors open two hours before start, and the kitchen begins selling food one and a half hours before bingo starts. There are 10 regular games with a cashball, and seven special games, including two progressive games, and a $1,000 blackout in 50 numbers. Sunday also features three speed bingo games beginning at 12:30 to get you warmed up. Call (928) 649-2129.
Volunteers train at Hospice Compassus
Volunteer training by Hospice Compassus is continuing at the public library in Cottonwood every Wednesday and Friday afternoon for the next five weeks. Classes run from 1 until 4 p.m. in the Meeting Room. After completion of the classes, volunteers will become a Certified Non-Medical Volunteer and be qualified to do volunteer activities with any hospice agency.
In an effort to make this vital training available to the most people in the upper Verde Valley, registration will continue for the next two weeks. To register for these classes, call the Hospice Compassus Volunteer Coordinator at (928) 284-0180, ext. 111.
After-School Reading Club starts
Join the after-school Reading Club in the Kids Zone at the Cottonwood Public Library. You don't even have to read...they'll read to you. The club meets Mondays (except holidays) 3:30-4:15 p.m. All elementary school-age children are welcome. For more info, call Youth Services at (928) 634-7559.
Depression Support group starts
The Depression and Bipolar Support Alliance of Yavapai County has added Cottonwood to its many locations. They offer free, open, confidential peer support groups. Call (928) 925-3578
Artists invited to Creativity Pool
Vic and Al's Creativity Pool of Resources (aka CPR for Artists) meets at Cottonwood Public Library at 6 p.m. every first, second and third Thursday. This growing network of local and visiting artisans welcomes new members, whatever their creative interest or skill level. No dues or fees. Adults must accompany minors. Call (928) 646-3888.
Jerome
Learn the country two-step
Jan. 31
Wanna dance? There will be Country 2-Step dance lessons Mondays 6-7:30 p.m. beginning Jan. 31 at Spook Hall, 260 Hull Ave., in Jerome. Cost is $10 a person ... and you don't have to be a couple ... and a four-week commitment. If interested, Call Nancy at (928) 634-2876. (Boots not required.)
Free legal services for seniors in Jerome
Northern Arizona Council of Governments (NACOG), Area Agency on Aging's Legal Advocacy for Seniors Program is at the Jerome Fire Department the third Thursday of the month. The Legal Program serves seniors 60 and older or married to someone 60 and older whom other wise cannot obtain council. The Legal Program provides services in the areas of civil and administrative Law - no criminal law. They prepare legal documents such as: Wills, Beneficiary Deeds, Quit Claim Deeds, Powers of Attorney, Living Wills/Advance Directives, Special Needs Trusts, Income only Trusts and, Codicils. We can assist with Social Security disputes, consumer complaints, and bill payment issues. There are no fees, this service is provided for donations only. If you have any further questions or to schedule an appointment please call Kelly O'Donnell at (928) 213-5246 or 1-877-521-3500 or by e-mail at kodonnell@nacog.org .
Sedona
Northern AZ Watercolor Society Meeting
Jan. 28
The next meeting of NAWS (the Northern Arizona Watercolor Society) will be at 9 a.m. Harold Raap will be demonstrating his most unusual style of swirling colors, textures and patterns, resembling the look of the clouds of Jupiter.
In addition, the featured Critique Group, the Uptown Aristocrats, will be showing their creations.
Monthly meetings are at the Sedona United Methodist Church, located at 110 Indian Cliffs Road, just off State Route 179 in the Chapel area.  Artists of all skill levels are welcome to attend, and encouraged to become a part of the Watercolor Society's activities.  Additional NAWS information regarding meetings, workshops, and activities, as well as webpages of members' art displays, can be found on our website at  www.NAWS-AZ.org.
Free cat spay month
Feb. 1-28
For the second year WTPC Rescue is sponsoring Free Cat Spay Month in the Sedona and the Verde Valley.  All female cats, as young as eight weeks old as long as they weigh in at one pound, qualify for the program.
There are no walk ins. People must call first for an appointment and submit a filled out authorization for feline spay.  It is suggested that if one vet is already booked to please call the other clinic to see if there is availability there.
Authorizations can be picked up at the following locations: Bashas' Sedona, Sedona Pet Supply in the Bashas' Shopping Center, Sedona Public Library,  The Sedona Community Farmer's market information booth, Sedona Pet Supply in the Outlet Mall in the Village of Oak Creek, Weber's Market Village of Oak Creek, Bell Rock Veterinary Village of Oak Creek, KC's Corner, Cornville, Food City in Cottonwood, and the Camp Verde Public Library.
To make an appointment with Dr. Bertch Office, the Bell Rock Veterinary Clinic, please call (928) 284-2840. The clinic is located at 45 Bell Rock Plaza in the Village of Oak Creek.
For more information please go to http://beatricewelles.com/rescue.htm.
2011 Lunar New Year Festival
Feb. 5
The Lunar New Year is the most important holiday in South Korea, as it is for roughly 1.7 billion people throughout China, Japan, Mongolia, Tibet, and Vietnam.  The festival celebrating the New Year traditionally begins on the first day of the first month in the Chinese calendar and ends with Lantern Festival, which is on the 15th day. This year it starts Feb. 3 and finishes at Feb. 18.
The Sedona Korean-American Association (SKAA) is excited to bring a taste of this celebrated Asian holiday to Sedona for the first time.  On Feb. 5, the Association is proud to host the Lunar New Year Festival, open to all Sedona residents. The Festival will celebrate the Lunar New Year as well as double as a fund-raiser for one of the SKAA's main goals: raising a Korean War Veterans Memorial Monument in the Verde Valley.
The festival will be held at the Mago Healing Center, 340 Jordan Road from 11 a.m. to 3 p.m.
The Lunar New Year Festival will include elements of a typical celebration, featuring Korean food, Chinese Zodiac fortune telling, Sebae (ancestor ceremony), singing, traditional games, Korean movie, and calligraphy art.  There will also be a raffle with various gifts from local businesses.
Tickets are $20 if paid in advance and $25 at the door. Tickets may be purchased at Mago Healing Center (340 Jordan Road) and Mago Café (207 N. 89A). All profits from the event will be contributed to the fund for raising a Korean War Veterans Memorial Monument in Verde Valley.
For more information, please visit www.sedonakorean.org or call (928) 567-7897 or 274-2957.
The Story Behind the Names in Sedona's Red Rock Country
Feb. 6
The First Sunday Program at Red Rock State Park will be presented at 2 p.m. in the Park Theatre. The guest speaker is Jean Matthews Kindig, author of "Sedona Places and Names." The book was a result of Jean's curiosity about the many interesting and different names for red rock formations and places around Sedona. Call (928) 282-6907.
Scholarships available for master watershed steward program
Feb. 18
The Oak Creek Watershed Council (OCWC) and the University of Arizona Cooperative Extension are pleased to announce that the Joe Swavely Watershed Education Fund is offering scholarships to a limited number of qualified applicants.   
The Master Watershed Steward Program is an intensive 16 week, adult-oriented course that will educate and train participants in all aspects of Oak Creek watershed issues. Classes begin March 3 and will be held every Thursday afternoon from 1 to 5 p.m. through June 16 at the KSB Pushmataha Center, 360 Brewer Road in Sedona.  Four classes will be Saturday field trips. The cost is $95, which includes the Master Watershed Steward guide and all handouts, as well as field trip transportation/expenses.   
Applications continue to come in and are due by February 18, but a maximum of 24 people will be accepted for this class.  Late applications will be added to a reserve list.  
The course outline is on our website at http://www.oakcreekwatershed.org/MWS-Course-Outline.pdf
Wild West Dine & Dance
Feb. 25
The Sedona Parks and Recreation Department is offering a Western-themed dance for adults in the Verde Valley. From 6 to 9 p.m., the dance floor of Relics Restaurant & Nightclub will become the setting for our Wild West Dine & Dance experience.
Put on your cowboy boots and hat and join others at Relics, 3235 W. 89A in Sedona. The doors will open at 6 p.m. with an open dance floor and dinner will be served at 6:30 p.m. The DJ on site will be providing great music and atmosphere as well as a group 2-Stepping dance lesson around 7:30 p.m. After the lesson, we encourage all participants to enjoy the dance, great music and cash bar.
Tickets go on sale Feb. 1 and may be purchased at the Parks and Recreation office at 102 Roadrunner Drive or over the phone by contacting Parks and Recreation at (928) 282-7098. Ticket prices are $15 for singles and $25 per couple.
Help keep St. Patrick's Parade alive
March 5
Planning is already underway for the 41st Annual Sedona St. Patrick's Parade & Festival scheduled for Saturday, March 5, 2011. Save the date on your new year's calendar. This is a shout-out for help. Donations make this free community event possible and the Green Team (event planning committee) depends on the generous support of the community to finance the production of this event. Please help us with your support in the form of Details are available on the website at www.sedonamainstreet.com; just click on the link for the 41st Annual Sedona St. Patrick's Parade & Festival Information. Of course, cash and service donations of any size are recognized and appreciated.
If you want to be in the Parade, the entry application forms will be available by the end of January. We will post the entry information and form on the website and also mail a copy to all entrants from the past few years.
Please call Holly or Anne at 204-2390 or send an email to info@sedonamainstreet.com. This event is coordinated and presented by Sedona Main Street Program in partnership with NAU Park & Recreation Management Program & the Green Team.
Getting to know Wild Boomer Women
Wild Boomer Women is an instant community of girlfriends, events and activities for baby boomer women.  The founder, Sue Barenholtz, Queen of the Wild Boomer Women, started the group in Phoenix in 2008.  The Sedona chapter opened in 2009.  They currently have four chapters in Arizona with almost 1,000 members.
The group meets frequently to have fun, meet new girlfriends and enjoy life.  One of the goals of the group is to show women how to have more fun in life, get out from behind their computers, take a break from work, family and responsibility and just be.  The long-term goal is to have chapters all over the country and the world.
Every Wednesday we gather at the Jazz Bouquet for High Tea at 2 p.m.  Reservations are required.  To register for this event and find out about future events, please go to www.wildboomerwomen.com and click on events.  
Cancer Center in Sedona offers support groups
Cancer impacts many individuals within our communities, either as a patient, family member or caregiver. When someone is coping with a cancer diagnosis they can find support and encouragement from others who have encountered similar situations. Patients, survivors as well as their families and caregivers are invited to participate in the Cancer Centers of Northern Arizona Healthcare's "Chat Room."  The "Chat Room" is an informal gathering of individuals meeting at 1:30 p.m. on the first and third Thursdays of the month at the Cancer Center of Northern Arizona Healthcare Sedona Campus, 3700 W. 89A.
The "Chat Room" is designed to support and encourage those affected by cancer. Because cancer affects more than just the patient, the setting provides patients, survivors, families and friends an opportunity to share their feelings and learn from one another as well as provide support to each other. Most people find that knowing others have had a similar experience is both empowering and healing. The "Chat Room" is facilitated by clinical social worker Virginia Viol, L.C.S.W.
For more information about the "Chat Room" or for other services offered at the Cancer Centers of Northern Arizona Healthcare, visit CCNAH.com or call (928) 204-4160.
Verde Valley
Be a certified lactation counselor
March 14-18
Yavapai County WIC and Breastfeeding Peer Counseling Program are hosting the Certified Lactation Counselor (CLC) Training Program at Spring Hill Suites, 200 E. Sheldon St., Prescott.
Who should attend: Professionals and para-professionals involved in any aspect of breastfeeding promotion and support including Community Nutrition Workers, Nutrition Education Specialists, Breastfeeding Peer Counselors, Registered Dietitians, Nurses, and Nurse Practitioners.
Training will be provided by Healthy Children's Center for Breastfeeding. Visit www.healthychildren.cc/. For more information contact Pam Montgomery, Yavapai County WIC, (928) 442-5421 or Pam.montgomery@co.yavapai.az.us.
New veterans services schedule
The American Legion and Veterans of Foreign Wars veterans' service officer will now be available from 9 a.m. to noon on the second and fourth Monday of each month. All services are completely confidential, stress free and free to all vets. For additional information, or to make an appointment, call Jerry Towle at (928) 300-0580 or Dave Stewart at (928) 451-1664.
Apply to be a Volunteer in Protection
The Yavapai County Volunteers in Protection (VIPs) is a 501-C3 nonprofit organization working under the umbrella of the Yavapai County Sheriffs Office. The VIP program is looking for Volunteer Candidates to apply for the newly designed VIP program. Volunteer positions in Administration and Patrol are currently available. No previous law enforcement experience is required. Positions are available in the Verde Valley, VOC, Rimrock, and throughout Yavapai County. Candidates must be residents of Yavapai County, and over 18 years old; both men and women are urged to apply. For more information, contact Y.C.S.O. Volunteer Services @ 928-771-3281. See us on the web at www.ycvip.org
Free pH Soil Analysis
The University of Arizona, Yavapai County Cooperative Extension offers free pH soil analysis. The weather is warming up and it is time to get gardens ready for planting. To increase your chances for a successful harvest, knowing the pH of your soil could make all the difference. Soil pH is most critical with respect to nutrient availability. In this area our soils tend to be more alkaline (ph of 8 or higher) and vegetable gardens prefer a pH in the range of 5.5 to 7.5.
To have your soil tested, take samples from various sections of your garden. Mix the samples together. Bring no more than 8 ounces in a glass jar, plastic bag, or paper bag to the Cooperative Extension Office in Cottonwood at 2657 Village Drive. Office hours are Monday-Thursday, 9 a.m.-noon and 1-4 p.m.
The University of Arizona Cooperative Extension has publications and information on gardening and pest control. Call (928) 646-9113 ext. 14.
Victim advocate volunteers needed
The Victim Services Division of the Yavapai County Attorney's Office is looking for volunteers to serve as victim advocates. Volunteers provide support to victims of crime. Volunteers provide victims' rights information, victim input to judges, courtroom advocacy as well as some clerical assistance within the Victim Services Division.
A comprehensive training program is provided. Qualifications include: Good listening, communication and people skills, and a desire to help people in need. A criminal background/fingerprint check is required. For more information, or to obtain a volunteer application, please contact Linda at (928) 777-7179.
Join the Lions for great cause
The Clarkdale/Jerome Lions Club, Cottonwood Lions Club, Camp Verde Lions Club need your help and new members for these activities in our community.
Clarkdale/Jerome Lions Club does White Cane days (money collected goes toward eye glasses for children and adults), Concerts in Clarkdale Park (selling pop, water, brownies), Halloween (selling pop, hot cocoa, water, and give away candy). Monies from these fund raising programs goes back into the community.
Donations are made to Police Department, Fire Department, Mingus Union High School Graduation Party, flags to Clarkdale, Oak Creek School on Veterans Day, Camp Tatiyee (a camp for special needs children and adults), Lions Sight & Hearing Foundation of Arizona, Arts and Crafts Summer Program in Jerome.
For more info on Clarkdale Lions Club call Dave Andrews at 634-8207, Cottonwood Lions Club call Ron Black at 639-4602, Camp Verde Lions Club call Gary Greeson at 567-0342 or Wesley Girard at 567-5343.
Meet the Professionals
Sedona Professionals is a nonprofit business referral organization that provides a relationship-building and networking environment to its members each week. The group meets every Wednesday morning at Orchards for a breakfast meeting at 7:15 a.m.
Healthy changes to the WIC Food Program
Yavapai County Community Health Services (YCCHS) administers the Federal program, Women, Infants and Children's (WIC) through a grant with Arizona Department of Health Services for eligible participants. The program began in the 1970s as a health prevention program for young children by providing foods with essential nutrients, such as protein, iron, calcium and vitamins A and C. However, many of the foods were also high in calories and fat. The food package has just recently changed to promote healthier eating by including fresh fruits and vegetables, and whole grain foods such as whole wheat bread, brown rice and corn tortillas and switching to low-fat milk
To find out about eligibility for this program, call Cottonwood at (928) 639-8134.
More like this story