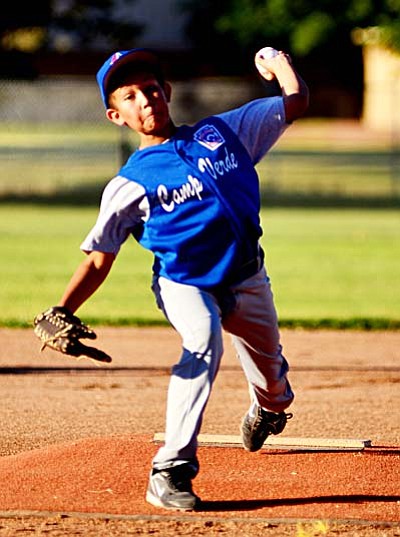 Originally Published: July 2, 2011 5:04 p.m.
VERDE VALLEY-In six Little League Arizona District 10 tournaments so far this year, Camp Verde or Verde Valley teams have won every time.
Four of those tournaments had CV and VV teams head-to-head in championship games. Notably, CV has won all three district softball tournaments so far.
Camp Verde won both Tournament of Champions banners in Prescott Valley a few weeks ago against Verde Valley teams. That foreshadowed how the All Star tournaments would go.
The D10 Majors Softball All Stars Championship predictably came down to CV and VV, with a dominant CV team running away with the title in four innings.
The pitching combo of Taya Smith and Dusty Dowdle was unstoppable. The entire team's hitting ability was unmatched. Solid game awareness from top to bottom of the roster gives them a chance at state.
The question is not IF these girls will win a state title in their softball careers, but WHEN and how many? They're that good; the Verde Valley majors team is solid, but Camp Verde beat them by more than 10 runs both times they played.
The 9-10 CV softball team has a nice pitching duo of their own in Bridget Bullard and Kaycee Williams. They too are budding softball aces (see sidebar for a message from their coach).
The 10-11 All Stars Baseball Championship played in CV also came down to cross-valley rivals. VV came from the winner's bracket, so CV had to beat them twice in back-to-back nights to take home the banner.
Forcing a decisive second game wasn't in the cards for CV, but they played with integrity, never giving up until the final out.
Under Spencer Young they were a well-coached team; all of the CV teams seem to have great coaching and great parental/community support. That's why they're having so much success lately.
The kids are phenomenal athletes, but the coaches are doing a great job at teaching the kids how to play the game the right way. That goes from game awareness; knowing where to throw or how to approach the plate in a given situation, all the way to how the kids carry themselves when faced with adversity.
The Verde Valley/Camp Verde rivalry runs deep, and the two leagues elevate each other's play in the regular season by playing against each other with interleague play. It better prepares their kids for the district 10 tournament postseason. Steel sharpens steel.
Plus for softball, Camp Verde requires interleague play; without it they wouldn't have enough teams to make a full season schedule.
There are a lot of aspects leading Camp Verde Little League to success this year, and League Vice President Craig Reddell has seen a lot of good teams over the years.
"We've got people donating their time that do an excellent job in coaching," said Reddell. "We're going through a trend right now, and we're hitting an up swing as far as kids wanting to win. We're hitting a peak with competitive kids. To win district tournaments you have to have competitive kids. They have to have God-given talent, and they have to have good coaching. Then they've got to have the heart to win. Right now we have those three combined."
Reddell is coaching the CV Majors All Star Baseball team and they have a great chance to win the district tournament this week in Prescott Valley. If the outcomes of the District 10 tournaments so far are any indication, it will be VV and CV in the Majors final. But, it is baseball. Anything can happen.
The baseball and softball juniors district tournaments will also happen this week. The juniors baseball will be held at Camp Verde High School and the juniors softball will be held at Riverfront.
I tried to keep things simple and fun this season. I had one personal goal. I wanted to see if I could get a young group of fast pitch girls to elevate their game like never before. This was accomplished, but not without the talent of two assistant coaches; Raul Hatch and Kevin Johnson. Coach Hatch brings a high level of softball experience to the team. Hatch was able to take our pitchers; Bridget Bullard and Kaycee Williams and transform them into high accurate heat throwing machines. Coach Hatch's reputation in the girl's fast pitch softball arena stands alone and we were very fortunate to have him. Coach Johnson also brought a high level of positive coaching. The girls really took to him and he was able to get them to understand what professional team work can accomplish. Combining these two coaches really defined how the girls were able to advance so quickly. Experience, fundamental discipline, hard work and enforcing teamwork, is essential to success.
Our team started the regular season with 3 goals. First, to perform at a level that complemented how hard we practiced. We wanted to
take pride in winning games with solid fundamental performance. We successfully met that goal and won every game. This prepared us for our second goal of being a competitive team in All Stars. We really wanted to represent the town of Camp Verde and the Camp Verde Little League with pride. Every girl on this team rose to that occasion in Prescott Valley. Our pitching was exceptional, our defense was sharp and our bats were hot. Our girls brought their level of play way beyond their ages, even against a very good Prescott Valley team.
Winning the 9-10 District 10 All Stars was a great reward for their hard work, but it's much more to have played a part in bringing young fast pitch girls to a level that they were proud of. Our Final goal is to head south for State and give them all we got.
More like this story