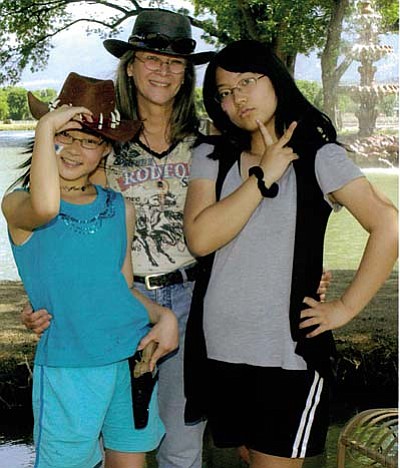 Originally Published: July 7, 2011 12:12 p.m.
So you know how to swim, hike, play catch, watch movies, bake cookies, or just plain have fun - what are you waiting for? Being a Big Brother or Big Sister is really that simple!
Meet Big Sister Teal and Little Sister Pei Wen.
Pei Wen is 11 years old. She likes to draw, play on the computer and go swimming.
Teal is new to the Cottonwood area, but is involved in many local groups. She is an artist who enjoys creating with her hands. She enjoys crafting jewelry and pottery.
Pei Wen and Teal enjoy a variety of activities together, including attending local festivals, swimming and art activities. While Pei Wen's sister, Pei Chi was waiting to be matched, Teal took both of them to the Jackpot Ranch open house where they enjoyed some face painting and paddle boating. Just recently Teal and Pei Wen enjoyed a pottery project together where Pei Wen created her own bowl! It is still in the initial phase, but she will soon glaze, fire and decorate the bowl. Teal was impressed with the way Pei Wen decorated the bowl.
Being a Big Sister or Big Brother is one of the most rewarding things you will ever do. Of the children waiting for a Big right now, there's one wanting to go on a hike, bake cookies or just hang out with someone like you.
Call us today to learn more about becoming a mentor. Yavapai Big Brothers Big Sisters can be reached at (928) 634-9789 or you can visit www.azbigs.org.
More like this story