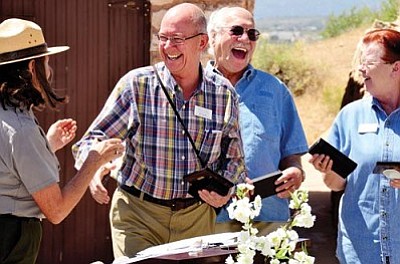 Originally Published: June 4, 2011 3:23 p.m.
CLARKDALE - One day back in 2002, National Park Service Superintendent Kathy Davis was walking through the displays at the Tuzigoot Museum when she noticed a small sign in an empty display case.
It read something to the effect that case was empty because a new display was being prepared. When she asked her staff what sort of display would soon be coming, she got no answers. It was just a sign.
The incident, according to Davis, became the impetus for revamping the entire museum, a project that has taken seven years to complete (or nine depending on your point of view).
On Friday, amidst cookies and lemonade, demonstrations and displays, speeches and awards, the newly remodeled Tuzigoot museum opened to the approval and applause of all in attendance.
Over the last seven years the historic concrete and stone building has received a new roof, insulation (the pack rats carted of much of the old stuff), electrical wiring (they were working on that), fire alarms, security system (the pack rats rendered the old one useless), paint, carpet and masonry work.
But the star of the show is the new museum displays, not only because they reflect the best available preservation practices, but also because they reflect a modern approach to artifact curation and interpretation.
The old museum, like just about every other museum of its period, was designed and from a scholarly world view, one that based the interpretation of its displays, as well was what was on display, solely on the opinions of university-bred scholars.
The museum first opened in 1937 and has been renovated several times since, the last time in the mid-1970s
Much in the world of museums had changed. And with some of those changes Tuzigoot lost a portion of its artifact collection.
Many of the items previously on display were found to have been funerary items, removed from burials at the site. Those items have all been returned to their rightful owners, which is why Davis found an entirely empty display case back in 2002.
"This time we worked with numerous partners, not the least of which are the Native Americans whose linage goes back to the people who built Tuzigoot," Davis said.
It was an approach Davis describes as the "right thing to do."
In their place is a totally new display of jewelry, fabric, ceramics, cosmetics, tools and other day-to-day objects that reflect the lives of those who made the valley their home 700 years ago.
The museum, which has been closed since October 2004, is now open to the public. No fee will be charged for anyone visiting today.
More like this story