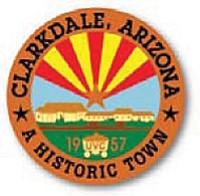 Originally Published: June 7, 2011 2:43 p.m.
CLARKDALE - Any cuts in state-shared revenue would hurt Clarkdale's budget, which has already been cut deeply by the poor economy and reduced sales tax revenue.
But the formulas used in determining the amount of shared revenue that goes to cities and towns could be changed by a state legislature hungry for any help in balancing its own budget.
Arizona voters have approved the formulas for shared revenue over several decades. Now, according to a story in The Daily Courier, State Sen. Steve Pierce recently warned the Prescott City Council those formulas could be "facing adjustments."
At the same meeting, according to the byline story, State Rep. Karen Fann added that a "contingent of legislators is intent on stripping away the authority of cities and towns."
Clarkdale Town Manager Gayle Mabery told the Verde Independent that, "State Shared Revenues make up 33.6 percent of our General Fund Revenues," That means $845,804 out of the town's $2,517,365 projected General Fund for FY 2012 comes from state-shared revenue.
Mabery also stated that Highway User Revenues Funds (HURF), another source of state-shared revenue, makes up 73.8 percent of Clarkdale's Streets budget for FY 2012. That amount is projected to be $255,000 of the total $345,392 Streets budget.
Mayor Doug Von Gausig said the loss of all shared revenue would be catastrophic for most cities and towns. "It's worth mentioning," Von Gausig said, "that the money called 'shared revenue' is really money that the state is collecting on behalf of the cities and towns of Arizona."
Von Gausig added that part of this was a deal made years ago wherein municipalities agreed not to collect income taxes, and the state agreed to collect them and share a percentage with cities and towns.
"Shared revenue funds are not theirs to take, any more than your savings account is a bank's to take," Von Gausig said. "The state collects other taxes and fees that are shared with municipalities - generally things that towns need to maintain roads, provide services the state can't."
Von Gausig has been active on behalf of Clarkdale for years with the League of Cities and Towns. He said the League considers protection of shared revenues its most basic and important mission.
"This is its goal above almost all others," he said, "and we defend it constantly from attempts to take what is ours."
More like this story