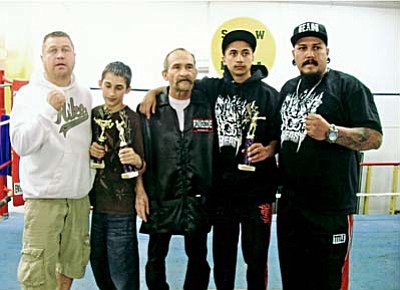 Originally Published: March 1, 2011 2:30 p.m.
With a new gym and a new attitude Golden Cobra Center of Fitness Inc. invaded Las Cruces, NM with three wins and no losses.
The Art Monsivaiz South Western Kickboxing Association Championships Saturday was the first event for GC on the year and the first since moving into the new gym on Main St. in Cottonwood. They made it count.
Javier "The Iceman" Mestas started the event for GC with a boxing match against Gabriel Acosta from Hobbs, NM.
From the opening bell Mestas took charge. He had a height and reach advantag and he used it to dominate.
Mestas was able to keep his opponent away by using jabs and upper cuts. After numerous combinations Gabriel Acosta's trainer threw in the towel to give Mestas the TKO in the third round.
Jesse "The Beast" Duran fought next for GC. He was scheduled to fight a kickboxing match, but due to illness the kickboxing match never happened. Duran learned this the day before they left the VV.
Instead Duran was slated for a boxing match with Edwin Acosta from Las Cruces P.A.L. Boxing Club, which is considered by some to be one of the best U.S.A. boxing clubs in the nation.
Duran came out fired up and he took control with hard straight rights and hooks to Edwin Acosta's head. Duran also had great defense, bobbing and weaving, slipping and dodging attacks.
Duran won the first two rounds, but started to wear down in the third. The fight was first announced a draw, but the trainers from GC asked the judges to review the scorecards and they realized Duran won over Edwin Acosta by one point in a split decision.
"He was good, he had a hard hit, but I gave him a pretty good black eye," said Duran. "I'm proud of myself for that. We gave each other a good fight."
Then it was Mestas' turn to fight again, but this time kickboxing, the style Mestas prefers.
When Mestas left the VV he was only scheduled for one fight.
"When we got there, there was a kid who didn't have a fight," said Mestas. "We decided to match myself up with him. That's how I got the second fight. The boxing was first, then the kickboxing."
Sometimes it's hard for the GC trainers to find kickboxing matches for Mestas, so they took the fight against Angel Dominguez from Albuquerque even though Dominguez is 20 pounds heavier.
Mestas wasn't intimidated. He landed a Superman punch right off the bat and dazed his opponent. Mestas then continued to utilize everything in his tool bag; he was going to town on Dominguez with everything his trainers taught him. Superman punches, back-spinning fists, spinning-crescent kicks, jumping round-house kicks-you name it. He was systematically dissecting his opponent.
Then came the third round. Dominguez showed heart and weathered the Mestas storm, then connected with some strong leg kicks. It was too-little-too-late though, as Mestas had already won the first two rounds convincingly. Mestas was announced the winner by unanimous decision.
Two fights in one day is obviously exhausting, but it's the third time Mestas has fought twice at one event.
"It gets tiring after a while, but you just have to try your hardest during that second fight," said Mestas. "That's what I did an I ended up coming up with the win."
Later in the night GC President and Head Trainer Richard Williams was honored when asked to judge two main-event title fights.
Winning every match made the long drive across the desert worthwhile for GC and they feel like they have momentum for the next events. Wins in boxing add fuel to the fire.
"Crazy. It felt crazy because Javier won, then I won, then Javier won again," said Duran. "We were just like, 'Wow, we did some damage.' We were proud of ourselves."
When Mestas told his father of both victories he was impressed.
"My dad said congratulations and that he was happy because my brother and sister are on the same basketball team, and they had a championship game the same day, they won that. Then my sister had another tournament and her team ended up winning that too," said Mestas. "He liked the idea that all of his kids were winners that day."
Duran has one thing on his mind after he and Mestas did so well in NM.
"Train harder and dominate more," said Duran. "That's all I got to say. We need to get better."