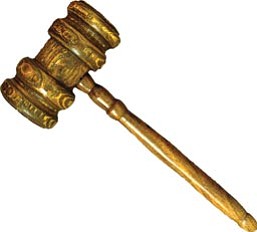 Originally Published: March 8, 2011 3:39 p.m.
PHOENIX -- State lawmakers are moving to sharply alter the 37-year-old system of selecting judges for the Arizona Supreme Court, state Court of Appeals and the trial courts in Maricopa and Pima counties.
On a voice vote Monday, the Senate gave preliminary approval to giving state senators the final say over who gets to sit on the bench.
But SCR 1040 is more far-reaching than that. It actually would require judges who have been appointed to come back every few years to answer questions from senators about their rulings. And if the senators did not like what they heard, they could oust them from office.
Sen. Ron Gould, R-Lake Havasu City, said the current system does not work. He said once judges are put on the bench through what is called the "merit selection' process, it is virtually impossible to vote them out.
But Sen. Steve Gallardo, D-Phoenix, said the move is a power grab by lawmakers.
"The fact is we have some folks here at the Legislature that do not agree with some of the decisions that have been made' by judges, he said. "So their option now is to tinker with the system and try to come up with a way of doing it where they can get the judges they want.'
The measure needs a final roll-call vote before going to the House. It would ultimately be up to voters to decide if they want the change.
A 1974 voter-approved constitutional amendment sets up screening panels to review applicants for the appellate-level courts and the courts in the two largest counties. Members then submit a list of at least three nominees to the governor who cannot all be from the same party.
The governor gets the last word. But her choice is limited to the nominees.
The system does require judges selected this way to stand for reelection, but not against any foe. Instead, voters decide only whether to retain or reject a judge.
Since the system was in place, only two judges have been turned out of office. Gould said that shows there's no accountability at all, with voters given no real choice and no real campaign about what the judges have done.
SCR 1040 would make the governor's picks subject to Senate confirmation. That procedure is not unusual, modeled somewhat after the process that takes place at the federal level.
But Gould wants judges to have to come back for Senate reconfirmation; federal judges, once named, are in office for life.
Gould said he's not concerned that judges, seeking to be reconfirmed, would have to justify their legal rulings to senators.
"That's essentially what you're doing with elected judges anyway,' he said. Gould pointed out that voters in the other 13 counties never lost their ability to directly elect their judges.
The only difference, Gould said, is that senators would be raising the questions and not the voters.
Gallardo, however, said the current judicial selection system should not be replaced.
"It works fine,' he said. "We take the politics out of selecting our judges.'
And Gallardo said he was not concerned that the current system has resulted in only two judges being turned out of office by voters.
SCR 1040 also makes various changes to the screening panels, expanding their membership and voiding the existing requirement that attorneys on the committees be named not by the governor but the State Bar of Arizona. He said the process, as a whole, amounts to choosing judges in "smoke-filled rooms.'
Gould said he would prefer to return to direct election of judges at all levels and in all counties. But he crafted this plan instead, saying he could not get the votes for the more radical change.
More like this story