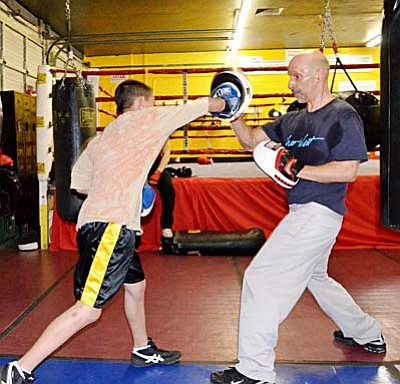 Originally Published: March 22, 2011 4:19 p.m.
COTTONWOOD--Golden Cobra is gearing up to host Green into Gold 2 Saturday, their first event of the year at Larry Green in Cottonwood.
Gyms from all over the state and some from out of state are making the trip for the event.
At Green and Gold last year the local boys fought hard, but they all lost. This year they're hoping to walk away victorious.
A lot of the Golden Cobra fighters from last year are gone, they decided to do other things, but Jesse Duran and the Mestas brothers are still fighting and continue to improve.
Their dedication to boxing and kickboxing is evident-they're comfortable in the ring and they're training hard.
Jesse Duran has big-time goals. His training regiment is ruthless and his father pushes him to be his best. Duran's progression is the result of unadulterated work. He uses every day as an opportunity to get better.
That's why his fights are exciting and come Saturday you can bet he'll leave everything he has in the ring. Lately, what he has is a lot.
Javier Mestas is coming off two great wins in the same day in New Mexico. He found out the secret to boxing-fights are won by training hard in the gym. He wants to win with a KO or TKO Saturday, then he wants Mardquez Mestas to win too. He wants another day when his family wins everything.
Some newcomers to the gym are hoping to fight in competition for the first time Saturday. They are Eddie Encinas, Jordan Brunner, and William Garcia.
Brunner was introduced to the gym at a Fitkid and he caught the boxing fever. He might not get to fight because he has a cut on his forehead that required quite a few stitches, but he says all he needs is a doctor's note and he'll be in the ring.
When questioned about whether or not it was a good idea to box competitively for his first time with a cut already on his forehead he stoically said, "I get these stitches out on Thursday, I'll be fine."
He's got the right mentality for a boxer, so we'll see if that translates to a good showing Saturday.
The event is $7 for adults and $5 for children. GC President Richard Williams is scheduling 15 fights, but fights tend to get dropped for one reason or another, so Williams expects no less than 10 fights to take place.
Doors open at 4 p.m. and the first fight is scheduled for 5 p.m.
Golden Cobra is also celebrating their grand opening at the new gym on Main St. the same day before the fights from 10 a.m. to 2 p.m.
More like this story