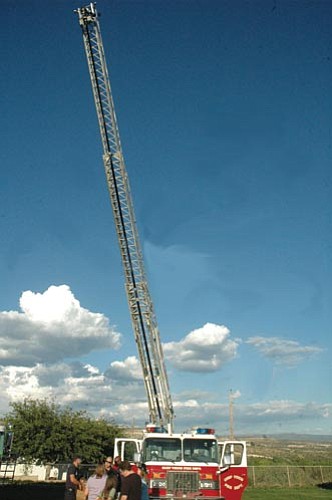 Originally Published: March 24, 2011 3:17 p.m.
CAMP VERDE - For the first time since it began over a decade ago, the Yavapai College Fire Science Academy will come to Camp Verde March 26 to practice what it does best, give the community a show and raise a little money for its scholarship fund.
According to program director Ken Krebbs, academy students will be in the Bashas' parking lot on Saturday from 8 a.m. to noon, hoisting ladders, stretching hoses and going through drills the students must become proficient in before becoming certified firefighters.
"It will be the first time we have come to the Camp Verde area as far as I know," Krebbs says. "It will be an opportunity for the community to get to know them better and see what it is we do."
The students, who will rotate through five different drills throughout the morning, will also be taking donations for the Dave Ahern Scholarship Fund.
The fund gives out $500 scholarships every year to students from area high schools wanting to major in fire science.
Yavapai College's fire science program, which offers an associate's degree, is fully accredited by the State of Arizona as well as the International Fire Science Accreditation Congress.
"We are the only community college in the state that has met the IFSAC requirements," Krebbs says. "The academy is ranked very well. We have students who come from out of state just to attend the program."
The academy is a 10-credit-hour, one-semester course in which students learn proficiencies in 167 job requirements.
"We will also include students from the Camp Verde High School fire science program. Some of those students are also dually enrolled at the college," Krebbs says. "We plan to make a visit to Camp Verde an annual event."