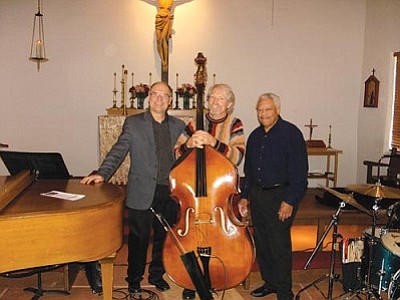 Originally Published: May 27, 2011 10:17 a.m.
Sunday will be a full and celebratory day at St. Luke's Church, Sedona, and will include two Masses, patriotic hymns, prayers for those who have died in service to their country, the annual Memorial Day weekend parish cookout and a jazz concert and jam session.
The morning Masses will include a sermon entitled "What Makes People and Nations Great," and will be preached by the rector of the parish, the Rt. Rev. David McMannes.
Familiar hymns will mark the 10 a.m. Mass liturgy, and will include "God Bless Our Native Land,"  "The Battle Hymn of the Republic," "Faith of our Fathers," and "God of Our Fathers."
The annual Memorial Day Parish Cookout will follow the 10 a.m. Mass, and will take place on the church terrace. Hot dogs, hamburgers and a full compliment of "American food" will be served, and although there's no fixed cost, donations will be accepted to defray expenses.
Then, beginning at 1 p.m. there will be a jazz concert by the St. Luke's Trio - pianist Steve Sandner, drummer Floyd Roberson and bassist Steve Douglas.
The trio will entertain throughout the afternoon, with various musicians "sitting in" with the band.    Billed as a Jazz Concert and Jam Session, the music is part of the parish's "Sedona Jazz at the Church Concerts."
Each Sunday two masses are celebrated - an 8 a.m. Holy Communion, which is a quiet liturgy with a  without music, and the principal service of the day is the 10 am Solemn High Mass, which includes hymns, a sermon, singing of the liturgy and the full ceremonial of the historic Church.
The 8 a.m. Mass is also streamed on the Internet in it's entirety, and can always be found on the parish website - www.episcopalnet.org.
St. Luke's is an Anglo-Catholic parish and a member of the Anglican Diocese of Arizona. Its bishop and rector is the Right Reverend David Gregory McMannes, who founded in parish in 1988.
The church is located on Highway 179 in the Chapel area of Sedona, between Back 'O Beyond and Chapel Roads.
For more information, telephone St. Luke's at (928) 282-7366. Information can also be obtained at the church's Internet domain at www.episcopalnet.org.
More like this story