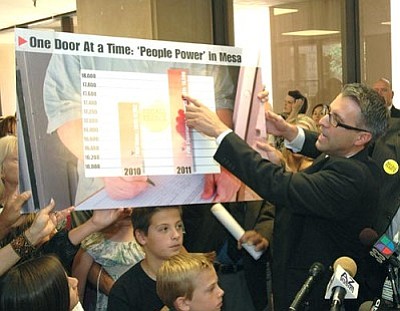 Originally Published: May 31, 2011 4:57 p.m.
PHOENIX -- Foes of Senate President Russell Pearce submitted more than 18,300 signatures Monday to force what would be the first-ever recall of a state elected official.
Mesa Republican Mary Lou Boettcher said part of the reason for the push to oust Pearce is related to his active role in crafting laws aimed at illegal immigration, including punishing companies that hire them and giving police more power to detain and arrest them. But Boettcher said that is only part of the picture.
"I feel that the state Legislature is listening to Russell Pearce and not using their own ideas," said Boettcher, who acknowledged she never voted for Pearce in prior elections.
"I feel there's too many things happened to education and to the health care within this state," she continued. "And, of course, (there are) some of the things in immigration that I don't approve of."
But Randy Parraz, one of the organizers of the recall, said the immigration issue has in many ways been the driving force.
"He has a fanatical obsession with one issue that he has pursued at the expense of everything else that's important to Arizonans," said Parraz. "The legislation he has pursued has been ineffective, has cost our state tens of millions of dollars to implement and defend in court, and has run hundreds of millions of dollars of business out of our state."
Pearce said many of the recall organizers, many, like Parraz, do not live in his Mesa legislative district. In fact, Parraz ran for U.S. Senate last year as a Democrat. And Chad Snow, the chairman of the recall effort, while a Republican, is from Peoria.
Snow conceded the point. But he said that many of those who gathered the petitions are Mesa residents. And all the signatures are supposed to come from Pearce's district.
Pearce said he believes many of the signatures will turn out to be from those who do not live in Mesa or are not registered to vote.
But the organizers appear to have a comfortable margin: It will take the county recorder's office to find just 7,756 of the signatures to be valid to force an election.
Less clear is how quickly that will occur.
The Secretary of State's Office has 10 days to review the petitions and turn them over to the county. Then the county has 60 days to verify the signatures.
If both offices take the full allotted time, that brings it to Aug. 9. State Elections Director Amy Bjelland said the recall election could occur in November if Gov. Jan Brewer calls the election by Aug. 10.
But Brewer, a political ally of Pearce, legally has 15 days to act. And if she chooses to delay her decision, the next opportunity for the vote is in March.
Gubernatorial press aide Matthew Benson said until the signatures are counted "it is premature to speculate on when the governor may order a recall election."
Pearce told Capitol Media Services he has not talked to the governor about the issue even though a March vote would come in the middle of the legislative session.
Bjelland said there has never been a recall vote in Arizona since statehood.
Backers did get enough signatures in 1988 to force a recall of Gov. Evan Mecham. But he was impeached, convicted and thrown out of office by the Legislature.
First elected to the state House in 2000, Pearce moved to the Senate eight years later before becoming president last year.
In that time he has been at the forefront of legislation aimed at illegal immigration, even bucking members of his own party in 2004 by spearheading an initiative to deny certain benefits to those not in the country legally. More recently he crafted the 2007 law to punish companies that knowingly hire undocumented workers -- a law just upheld by the U.S. Supreme Court -- and was the moving force behind last year's SB 1070 to expand the power of police to deal with those they suspect are illegal immigrants.
Pearce said he ultimately will win because the voters are on his side on issues including immigration and gun rights. And he lashed out at recall organizers.
"These are folks that are not pro-America," he said. "These are folks that a pro-lawbreakers over law-keepers, have no respect for the laws, have no respect for what Arizona's tried to accomplish, no respect for America in terms of the fact that across America they support what Arizona's done three to one."
Pearce acknowledged that the 18,315 signatures on the recall petitions is more than the number of votes he got in the last election. But he called that number meaningless.
"They had paid signature gatherers," he said. "People signed just to get rid of them in many cases."
A recall could have a different outcome than a regular election where each party chooses its own nominee, with those people facing off in the general election. That process generally favors the candidate from the party which has the edge in voter registration.
Here, if Pearce does not quit, he will face off against anyone of any party who can gather 621 qualified signatures on a nominating petition. The recall is a winner-take-all process, with the top vote getter serving out the balance of the term which runs through the end of 2012.
That means a candidate who could pick up all the Democratic and independent votes could easily overwhelm Pearce even if he holds on to all of the Republicans, as they amount to less than 42 percent of registered voters in the district.
But a wide-open single race also means that multiple candidates campaigning to oust Pearce could split the vote and allow him to win with less than a majority.
Snow said Pearce no longer commands the authority he once did, pointing out that several members of his own party would not support some of the legislation this session aimed at illegal immigrants.
"I think you're starting to see the sea-change in the Republican Party where people are no longer afraid to stand up to Russell Pearce," Snow said. "He's been such a bully."
Snow said the recall group will not back any specific candidate.
Pearce will have financial help with the election.
A campaign committee that has formed already is taking online donations to fight the recall.
"We will not sit back and let out-of-state and out-of-district special interests attempt to use recall to harass and intimidate Arizona's constitutionally elected officials,' said Matt Tolman who is chairing the anti-recall committee in a prepared statement. An aide said Tolman is a resident of Pearce's legislative district.
More like this story