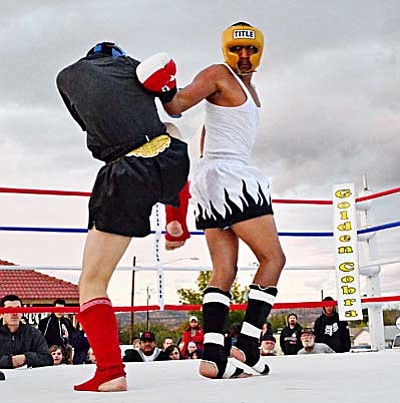 Originally Published: November 8, 2011 2:37 p.m.
COTTONWOOD-Golden Cobra needed to raise some money to offset travel costs for a trip to Sacramento for the IKF* West Coast Classic, so they did what they do best--fight.
Richard Williams and Golden Cobra raised about $1000 Saturday afternoon as many patrons paid to watch local fighters enter the plein air ring set up next to Avatar Tattoo on Main St. in Cottonwood.
Building a fighting culture takes a lot of time, but Golden Cobra appears well on their way to producing committed fighters that win.
Jesse Duran's progression coincided with the success of the gym; as Duran improved, so did the gym. Maybe it's just a coincidence, or maybe other guys saw his success and wanted some of their own.
Duran's Muay Thai fight highlighted the event Saturday. He lost the first round to free kicking J.J. Kim from Sitan Gym in Chandler, but Duran came back in the second and third rounds determined.
Duran has shown that quality in previous fights--he'll get knocked around a bit, but then flip a switch and employ a wide breadth of strikes.
By the end of the fight Saturday, Duran landed several spinning back fists and attempted at least one kick to the head. Kim was an evenly matched opponent, so the fight went the distance.
Duran won the decision.
Other GC fighters with success Saturday are 7-year-old Jase Briseno, who won his first fight, and 19-year-old 170-lbs. Shawn Rojas who dominated his fight.
*IKF stands for International Kickboxing Federation