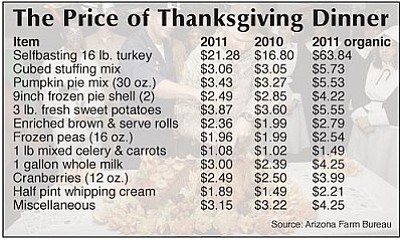 Originally Published: November 16, 2011 12:50 p.m.
PHOENIX -- Be prepared to dig deeper into the wallet this year to feed the hungry hordes coming over for Thanksgiving.
The latest annual survey by the Arizona Farm Bureau shows the cost of a typical traditional dinner is up sharply, by nearly $6, to $50.06. And most of that can be attributed to the price of that centerpiece: the bird.
But if you want to go all organic, be prepared to shell out more than twice as much, with everything being at least a bit more expensive -- and that organic turkey alone likely to set you back close to $64.
The Farm Bureau's Peggy Jo Goodfellow said that higher price tag is a simple matter of economics
"There is a strong consumer demand here in the U.S.,' she said of all items. And Goodfellow said that applies especially to turkeys.
At the same time, she said, the supply did not keep pace, as farmers opted to not raise as many of the birds.
"Farmers will base it on the previous year's demand,' Goodfellow explained. "And then they'll drop a percentage because they're always concerned they don't want to overdo it.'
There also has been a slow but steady increase all year in the price of milk in Arizona.
This is the first year the Farm Bureau has sent it shoppers out to price not only the regular items on the list but also organic versions. She said there are consumers who are willing to pay the difference, particularly among certain items.
"If they label it 'organic' in produce, they gravitate toward that,' Goodfellow said. "There's a perception that it's better.'
Personally, Goodfellow said she's not convinced that organic is necessarily better.
"There's just different types of farming and different needs of the consumers,' she explained.
"There are enough consumers now that show they're interested in that, they want that,' Goodfellow continued. "So farmers and ranchers naturally rallied and said, 'OK, we'll offer that,' and they do.'
But Goodfellow said even with that increased demand, fewer than 20 percent of Arizona farmers and ranchers produce organic products.
The prices in the survey are based on what Farm Bureau shoppers find available at grocery stores around the state. The totals reflect sales prices when available, but not other specials that stores might offer affinity card holders.
For example, Safeway is offering free turkeys, up to 16 pounds, for those Club Card holders who also spend $100 at the same time; a $150 purchase nets a free bird up to 24 pounds.
Goodfellow also said that savvy consumers can save even more by using coupons when available.
More like this story