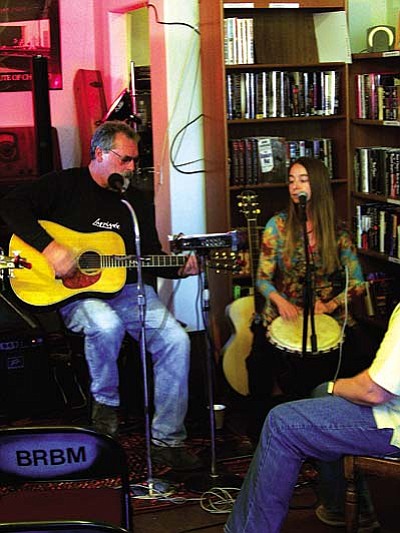 Originally Published: November 17, 2011 1:01 p.m.
Need Thanksgiving Pie?
Nov. 23
Support the Camp Verde United Christian School at their annual Pie Sale on Wednesday from 8 a.m. to 1 p.m. They will have a wide variety of homemade pies, from apple crumb and cherry to Bob's Famous Pecan Pie.
The sale will be in front of Bashas'. For more information, call (928) 567-0415.
Kiwanis Christmas trees to go on sale
Dec. 1
For more than 30 years, the Kiwanis Club of Camp Verde has sold Christmas trees as one of its major fund-raisers. They will arrive from Oregon by the first of December. There will be Douglas, noble, Nordmann and grand fir, from 2 feet to 9 feet tall. Price range from $20 to $60.
Hours are Monday-Friday, 1-6 p.m.; Saturday, 10 a.m.-6 p.m.; and Sunday, noon-5 p.m. at the Outpost Mall/Bashas' Shopping Center in Camp Verde. All proceeds benefit Kiwanis community projects like Key Club, Builders Club, Bringing Up Grades (BUGS), scholarships and more.
For more information, stop by the lot, join the Kiwanis for breakfast any Thursday at 7 a.m. at Denny's Restaurant, or call Dave Kaminsy at (928) 567-6203.
Weaver speaks at Red Rock State Park
Dec. 4
The popular First Sunday Program at Red Rock State Park will be at 2 p.m. in the Park Theatre. Dr. Donald E. Weaver Jr. will be presenting a fascinating program on the Archeology of the Red Rock State Park Area. He was one of the archeologists involved in exploring 19 sites in the area during the 1980s when Red Rock State Park was being developed.
Red Rock State Park is located at 4050 Lower Red Rock Loop Road. Reservations are recommended as seating is limited. The program is free with admission to the Park, which is $10 for up to four adults in a car. For additional information and reservations, please call (928) 282-6907.
Geology Hike at RRSP
Dec. 11
Join a volunteer on a guided geology hike at 2 p.m. at Red Rock State Park to learn why the rocks are red, where they came from, where they are going, and more. This hike includes the Eagle's Nest Trail for a great view of the Park and surrounding area. It is more than a guided hike. It is an interpretive experience for the beginner as well as advanced geologist, lasting two to two-and-a- half hours, with a 250 feet elevation climb. Our knowledgeable volunteer guide will explain the rock formations that create the scenic backdrop of Red Rock State Park. Bring water and wear suitable shoes or boots. 
Red Rock State Park is located at 4050 Lower Red Rock Loop Road. Reservations are recommended as seating is limited. The program is free with admission to the Park, which is $10 for up to four adults in a car. For additional information and reservations, please call (928) 282-6907.
Verde Valley Moose Food Collection for the Needy
Dec. 3
Verde Valley Moose Lodge will be collecting food for the needy at the Annual Cottonwood Christmas Parade. Please bring a non-perishable or canned food to the parade to be collected and given to area families in need this year.
For several years the Moose Lodge has adopted 550 local families to receive a food box and toys for every child. This year with the economy the need will be great.
Legion Post 135 prepares to 'warm the cold'
Nov. 22
For the past six weeks, members of American Legion Post 135 have been busily collecting coats and other warm clothing for community veterans and children. With nearly 250 pieces of clothing gathered, the post is ready to distribute them to those in need.
On Tuesday, veterans may claim a "new-used" jacket at the recently opened Cottonwood VA Community Based Outpatient Clinic located at 501 Willard St. Coats/jackets will be available 9-11 a.m. and are in various sizes/colors for both men and women. With limited quantities vets are restricted to one coat and encouraged to arrive early since they will be distributed on a first-come-first-served bases.
Children's "like new jackets" and other outerwear will be distributed on Nov. 26, at two locations. From 9 to 11 a.m., they will available at the Cornville Fire Station located at 1120 S. Page Springs Road. Later that same day, they will be offered at the Cottonwood Food City Store 1-3 p.m. or until supplies are depleted. Like the vets jackets, children will be allowed one coat and on a first-come-first-served bases. Or, rather than choosing a jacket, they may select two other outerwear items. Children's items are available to all ages and sizes as on hand.
Rabies vaccine clinic in Camp Verde
Dec. 3
There will be a rabies clinic 10 a.m.-2 p.m. at Montezuma Veterinary Services, 200 S. Montezuma Castle Highway, Camp Verde. It is hosted by the Camp Verde Marshal's Office.
Dog rabies vaccinations are $15.Cat rabies vaccinations available, call for pricing. All other vaccines will be available - call for pricing.
Licenses will be available for the Town of Camp Verde, and Yavapai County residents. License costs vary according to alteration and jurisdiction.
All dogs must be on leashes, all cats must be in carriers.
For further information contact the Montezuma Veterinary Services, (928) 567-5515, or the Camp Verde Animal Shelter, 567-7855.
Toys for Tots Zumba Turkey Burn
Nov. 25
The second annual Toys for Tots Zumba Turkey Burn starts at 9 a.m. at Light Body Pilates, Dance & Fitness, 2050 Yavapai Drive, Sedona (next to the Original Oak Creek Brewery). It is free. Come burn off all your Thanksgiving dinner calories for a good cause with a Zumba Master class. Everyone welcome. Get ready to sweat. Bring a toy.
For more information call (928) 274-7669 or visit www.lightbodyfitness.com.
Vertical Thunder Volleyball Club hosting tryouts
Nov. 19
The Vertical Thunder Volleyball Club is hosting try-outs for the 2012 season of the Arizona Region of USA Volleyball. Practices will begin in December, with tournament play beginning in January.
Vertical Thunder will be hosting try-outs for three junior girls teams: The National Team, the Regional Team and the Developmental Team. Try-outs will be in the gymnasium at the Clarkdale-Jerome Elementary School, as follows: Under 14 years of age - 1 p.m.; 14 years and older - 2 p.m.
All girls who are trying out must register in advance online with the Arizona Region of USA Volleyball at www.azregionvolleyball.org and bring your proof of registration/payment to try-outs. There is a $25 non-refundable registration fee in the on-line registration process.
For more information, feel free to contact Amy at amyi9@yahoo.com.
Wingfield Plaza Holiday Vendor Fair
Nov. 19
Wingfield Plaza in Camp Verde is hosting a Holiday Vendor Fair from 10 a.m. to 5 p.m. Merchants are required to have their booths set up by 10 a.m. and break them down no earlier than 5 p.m. Restaurants should be set up by 11a.m.
Please remember that this is meant to be a shopping experience not a marketing event. Bring ample merchandise to sell to shoppers. Restaurants are welcome to sell food or provide samples. Bring gift cards to sell. Space is limited! Please reserve your spot today.
Cost: A minimum $15 donation will go to help local families, a new unwrapped toy, or 10 items of non-perishable food items. (Please ensure that items are not expired)
Booth Information: Standard size will be approximately 6 feet. However varying sizes are available depending on your need/ product. Spaces will go on a first come first served basis.
Contact Alicia French of Camp Verde Family Chiropractic at (928) 567-0202 or CampVerdeChiropractic@yahoo.com.
Going for a record in litter pick-up
Nov. 19-20
You are invited to join the ADOT Adopt-A-Highway Permittees and many others on Scenic Highway 89A between Cottonwood (milepost 355) and Sedona (milepost 370) plus Highway 260 between Cottonwood (milepost 207) and Camp Verde (milepost 220). Saturday, Nov. 19 will be the primary date for this event, but activities will most likely occur on both dates. This is a rain or shine event since we all wish to honor our veterans as they have honored us in conditions far worse away from home.
This event is being used to establish a Guinness Book of World Records in three categories. First, to have the most one-mile sections of highway litter collected for the 29 miles of highway targeted for the activity. Second, to have the greatest quantity of litterbags collected on both dates. Third, to establish the greatest quantity of litterbags sorted by one individual who separates the recyclables from trash. The individual who performs the recycling is an adult with autism and his name is Jim; Jim loves his recycling job at Rusty's Morningstar Ranch-Cornville.
Both highways noted are currently being mowed by ADOT in preparation for a safe and successful November event. The ADOT Highway Maintenance Departments in Flagstaff and Prescott have provided out-of-the-box services to support the unique approach by our local ADOT Adopt-A-Highway participants for the past three years.
Contact Gary Chamberlain at FolksvilleUSA@gmail.com or (928) 202-1186 for details.
Gymkhana competition at Arena Del Loma
All ages and levels of riders welcome to participate in the upcoming schedule of the Camp Verde Gymkhana Association at Arena Del Loma in Camp Verde.
Age groups: lead line, 7 & under, 8-10, 11-14, 15-18, 19-34, 35-49, 50 & over
They also have a schooling membership & class if you don't want to compete.
Nov. 19 - 9 a.m. CAMO Barrels Hour Glass Ride a Buck
Dec. 17 - 9 a.m. Red/Green Poles Barrel Keyhole Turn and Burn
Jan. 21 - 9 a.m. CVGA Apparel Barrels Bend and Jump Wildlark
Feb. 18 - 9 a.m. Pink/Red Poles Pole Bending Cupids Arrow
March 17 - 9 a.m. Green/Clovers Barrels Hair Pin Ride a Buck
April 21 - 8 a.m. Pastels Poles Water Glass NONE
Visit mycvga.com or contact mycvga@live.com
UA Cooperative Extension offers Master Gardener volunteer training
Dec. 2
Applications are available for the 2012 University of Arizona Master Gardener Volunteer Training, to be held in Camp Verde, Wednesday mornings, Feb. 8 to May 16. Applications must be postmarked by Dec. 2, 2011. A maximum of 40 applicants can be accommodated. The course provides research-based information on basic botany, soils, fruit tree care, planting, staking, pruning, ornamental trees and shrubs, water/irrigation, wildlife in the garden, insects, integrated pest management, vegetables, turf care, natural resources, plant diseases, pesticide safety, forest health, and fire-wise landscaping. Applications and details are available at http://extension.arizona.edu/yavapai/master-gardener-program or call your closest Cooperative Extension office (Camp Verde 554-8990, Prescott 445-6590, ext. 221).