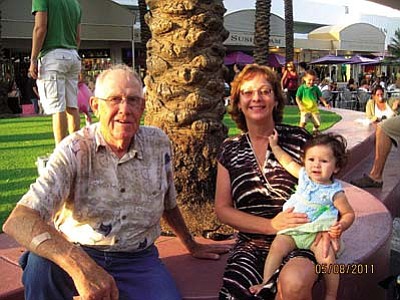 Originally Published: October 18, 2011 1:01 p.m.
Dwight Paul Gilliam, December 1936 - October 6, 2011, passed away peacefully at his home in Cornville, AZ.
He was born in Wenatchee, WA and raised in the beautiful Pacific Northwest. His adventurous spirit led him to join the Navy at age 17 and he proudly served his country as an Aviation Electrician for 13 years.
Dwight was one of five children born to the late Reverend A. D. Gilliam and Mildred Dyment Gilliam and was the significant other of Carla Bell for the last 10 years. He is survived by siblings, Lorraine Wenzel, Delbert Gilliam, Naomi Morgan, and Rachel Raboninowitz.
He was preceded in passing by his dearly loved sister, Esther Steward. Dwight will forever be remembered by his six children, Rebecca Kolterman, Susan Moretz, Janet Payment, Cheryl Schibel, Cindy Harney, Dale Gilliam, and countless grandchildren, great-grandchildren, nieces, nephews, and numerous friends who were blessed to know him.
Dwight was a colorful character and loved to tell stories about his life, of the knowledge he gleaned growing up in his grandfather's blacksmith shop, and how he "started pounding nails" when he was just 8 years old. He was an accomplished carpenter and took pride in quality workmanship. He especially enjoyed visiting with friends, drinking a cold brew, laughing, collecting valuable artifacts, and helping his neighbors.
He lived an extraordinarily full life and will be dearly missed.
Dwight's body was donated to medical science as he wished. At a future date, his ashes will be scattered over the Pacific Ocean, at the mouth of the Columbia River.
May your angles be with you!
Submitted by Carla Bell
More like this story