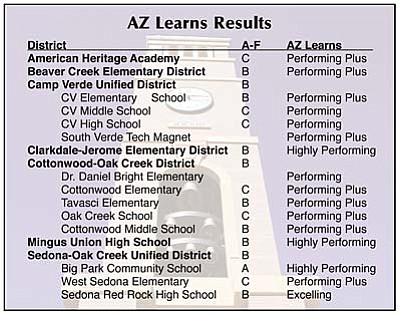 Originally Published: October 25, 2011 1:07 p.m.
There is more to the story of grading schools
The fact that Arizona's new A-F Accountability Letter Grade System for schools does not line up with the previous system of "performing" labels says something about the roving nature of labels.
State Education Superintendent John Huppenthal said the change came about to be more "fair and equitable." It was also a response to the reality that the performing labels were misleading. About 90 percent of districts were labeled "performing," which sounds good, even theatrical. Stick a C on that instead, and it does not sound so satisfactory.
So now schools get new labels (A-F) with new criteria.
But even Huppenthal advises parents that these letter grades are only one measure of a school. In other words, there is a bigger picture to be considered in every school.
This year, during the transition period, schools received both labels. As forewarned, it clearly has some apples-to-oranges comparisons. Districts that had schools earning just "performing" labels and districts that had schools that achieved "excelling" status all received B's. Sedona-Oak Creek was an interesting example of this. One school that was "performing plus" received a C, and one school that was "excelling" received a B.
That is the best proof that there is more to the story than a label.
Camp Verde principals Bob Weir and Debi Pottorff are stating a fact, not making excuses, when they say the AIMS-based labels are not a gauge of their students as complete individuals. Parents should note the A-F labels. Then they should decide for themselves if their school is advancing the way they wish and offering the well-rounded education they wish.
A school's ability to turn out informed, respectful, inspired citizens is not part of the labeling process. Important things are measured by these labeling systems - like math skills and reading comprehension - that can certainly build informed citizens. That is why the labels are valuable. It is also why the labels are only part of a school's ongoing story.