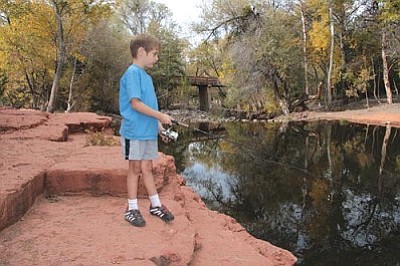 Originally Published: October 27, 2011 2:11 p.m.
CAMP VERDE - When the leaves turn on Oak Creek and the road down the canyon fills with out-of-state plates, we know fall has arrived.
It is a time to pack away the accoutrements of summer and mothball the camp trailer -- unless of course you have an elk or deer tag, at which point you have some time left.
But before you stow it all away consider leaving your fishing gear in an easily accessible spot.
Over the next five months, Arizona Game and Fish will release tens of thousands of trout in the valley's lakes and streams as part of their fall/winter stocking program.
Yes, you really don't have to freeze your worms standing on the shoreline a snow-bound rim lake if trout fishing is your pleasure.
Every year, AZGF stocks the Verde River, Oak Creek, Beaver Creek, West Clear Creek and the lakes at Dead Horse Ranch State Park with catchable (9-10 inch) rainbow trout, at a pace of a thousand or more every other week.
According to Cindy Dunn with the AZGF's Page Springs Fish Hatchery, the first stocking of the Verde River and Dead Horse will begin the week of Nov. 7.
From then until March, they will release approximately 32,000 fish at Dead Horse, 22,650 into the Verde River between Cottonwood and Camp Verde and an unspecified number along the other tributaries.
"Beaver Creek, Clear Creek and Oak Creek get stocked with trout almost year around. But the Verde and Dead Horse are stocked only in November through March," Dunn says.
Stocking has already taken place in the tributaries as well as Goldwater Lake, Fain Lake, Lynx Lake and Mingus Lake near Prescott.
As for the best way to catch a wily rainbow, Rory Aikens, editor of the AZGF weekly fishing report, suggests using night crawlers or power bait.
"Cast upstream and as the bait floats downstream keep taking up the slack so you know when you are getting a bite. Most of the fish will stay relatively local to where they are stocked, although some will make their way up or down stream," he says.
"For the adventurous, there are some trout that were stocked four of five years ago that have gone native, taking up residence in some of the more remote deep holes in upper West Clear Creek and Beaver Creek, that are worth chasing after."
For an up-to-date report on fishing around the region as well as the rest of the state, visit www.azgfd.gov/fishing.