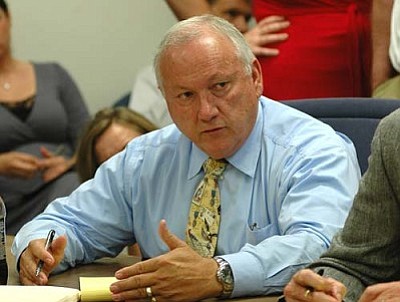 Originally Published: September 13, 2011 4:14 p.m.
PHOENIX -- Senate President Russell Pearce will have to defend his seat.
The Arizona Supreme Court on Tuesday gave the go-ahead for what would be the first-ever recall election of a state official. The justices rejected arguments by Pearce supporters that recall organizers had not complied with all the necessary laws in gathering and submitting the signatures to force the Nov. 8 special election.
They did not explain their ruling, promising details in the future.
Pearce, who was not immediately available for comment, has said all along that he does not fear the election. He said that voters in his west Mesa legislative district "know who I am.'
Two candidates have submitted sufficient signatures to run against Pearce in the election: Jerry Lewis and Olivia Cortes. Both, like Pearce, are Republicans in the heavily Republican district.
That three-way race could undermine the recall by splitting the anti-Pearce vote. In fact, recall organizers contend that Cortes, who submitted her signatures just this past Friday, is really there to help Pearce by splitting the opposition vote against him.
``What we're going to focus on are the people that signed the petition, inform them what's going on, it's a sham candidacy,' said Randy Parraz, one of the organizers. But he said that because the organization is not set up as a campaign committee, it cannot urge people to vote for -- or against anyone.
Instead, he said, it will ``educate' voters.
``We're going to show them the evidence we have,' he said. ``They can make the connection.'
That evidence from Parraz' perspective includes the fact that Cortes got help from Greg Western, chairman of the East Valley Tea Party. That group has backed Pearce because of his stance on tax and budget issues.
And Parraz noted that Cortes has so far not done any interviews with the media.
Pearce did not immediately return calls seeking comment on the court ruling.
Technically speaking, it was not Pearce who challenged the recall effort. But Pearce said he supported the move, saying he wanted to be sure that all legal procedures had been followed.
State and county officials said organizers submitted 10,365 valid signatures calling the special election, far more than the 7,756 needed.
But attorney Lisa Hauser argued the petitions were flawed. Some of that relates to the wording of the petitions themselves.
State law allows organizers to provide a 200 word statement on each petition explaining why they want to oust an elected official. And that statement contained complaints saying that Pearce was not representing the interests of Arizonans.
Hauser noted, however, it also said that, by signing the petition, "we publicly withdraw our support for Russell Pearce and what he represents.' That, she said, could mislead people into believing they were simply signing a petition of displeasure, not a legal document to force a special election.
That argument did not fly with Maricopa County Superior Court Judge Hugh Hegyi. He said there was no evidence anyone was misled and pointed out that the papers said "recall petition.'
Hauser also argued that petition circulators did not fulfill a constitutional requirement to sign an oath swearing that each signature on the pages was "genuine.' Instead the oath said that the signatures were made in the circulator's presence.
Hegyi also rejected that theory, saying that nothing in the constitution requires the use of the word "genuine' as part of the oath.
Pearce has gained national attention with his sponsorship of various measures over the years aimed at illegal immigrants. These range from successfully getting voters in 2004 to deny certain benefits to those not in the country legally to last year's SB 1070 designed to give police more power to detain and arrest suspected illegal immigrants.
But Randy Parraz, one of the recall organizers, said immigration issues played only a small role in the recall effort. He said that Pearce has ignored other state needs like education and health care.
More like this story