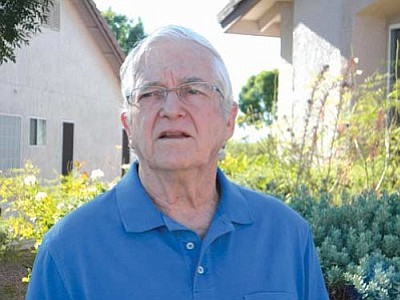 Originally Published: September 20, 2011 3:36 p.m.
The early part of the last century brought riches to the Verde Valley from copper mining. Everyone who knows the Verde knows the history and is aware of the development resulting from those riches.
Verde Valley families can point to relatives who worked in the Jerome mines or were born to mining parents.
The value of copper has seen a new resurgence, but there is little new exploration in the Verde Valley going on today. Other minerals, especially gold, have also stirred Verde interests. Perhaps the most interesting mining going on today is the demonstration processing of minerals that can be claimed from the 100-year-old copper slag pile that towering over Clarkdale, the remains of the United Verde smelting.
A couple of other attempts were made in the Verde Valley, but reaped no reward in oil and uranium.
Today, there are still relics of former attempts to find profitable uranium in the Verde Valley and people who will tell the story. There was not much to mine here though.
Paul Handverger is a geologist with a resume that spans many decades in Verde Valley mining and knows the insides of most mines.
"Commodities go up and down," he said. "I came up here for copper and never thought copper would go down and then you couldn't get a job in copper. And then uranium came in and now precious metals are in and copper is back again. They are drilling for copper below Squaw Peak in the Camp Verde area."
After the copper was closing down, Handverger went to work for United Nuclear Corporation and identified a number of radioactive hot spots across the state and the Verde Valley.
Handverger has advised the City of Cottonwood that the area of State Land, northeast of Cottonwood around the White Hills the city proposes to annex, is an area identified as having elevated uranium mineralization. He has warned Cottonwood to be cautious of drilling for new water resources there.
But that is not the only area. An area between Cornville and Camp Verde also shows elevated amounts of radioactive material.
Handverger said, at the time he was active in the late-'60s, a bonus was paid to prospectors who identified areas with an elevated presence of radiation. He began prospecting by looking at the federal records housed at Arizona State University to get some idea of past exploration.
What he found were hundreds of preliminary reconnaissance reports that were produced during explorations in the mid-'50s.
There have been three booms of uranium prospecting in Arizona. One was after the Second World War for the military, and then, expansions of the nuclear energy business in the '60s and '70s. Handverger did his surveys for United Nuclear Corporation in 1969.
He said using the material from earlier studies he would overfly areas at about 500 feet in Ersel Garrison's Cessna until he got a reading on his scintillation counter (similar to a Geiger counter).
He said the search was much like prospecting for copper in the earlier days. Everyone was crawling over the hills with a meter in their hands.
"I walked an outcrop from Cameron to St. Johns sampling areas looking for uranium deposits," Handverger said. "When I found something with a radioactive 'kick,' I would go to the nearest water well and take a sample to the nearest lab and once I found uranium would go back and drill it out. But it was not economic, not high enough grade.
"I didn't find any mines. We drilled different things, and came very close at a site north of Wickenburg. That was a similar type deposit to this one and was one of the highest-grade lake deposits. Most times, our success ratio was one out of a 1,000."
A competitor, Kerr-McGee, did more sampling in the Camp Verde area in 1976.
A 1993 Arizona state map produced by the Arizona Geology Society documents the areas of elevated radioactivity Handverger found. On that map, areas with a "cross" show areas of elevated radioactivity. The "G" on the map shows high concentrations in granitic rock and "V" stands for volcanic rock concentrations.
A large area of the Verde Valley is marked with an "L" showing Lacustrine rocks with high uranium concentrations.
Handverger explains that lacustrine is associated with the Verde Lake bed that occupied the center of the Verde Valley and spanned 400-500 square miles beneath what today is Verde Village to Montezuma Well.
With sedimentation, the shallow lake 2 million years ago would collect minerals and through evaporation deposits would be created. The salt mine area in Camp Verde is at the end of that lake, with a limestone deposit estimated at 3,000.
Handverger says he can only speculate about the source of the uranium. There was vulcanism in the region and there were thermal springs in the area of Montezuma Well. "And they somehow mobilized, moved, leached uranium and precipitated it."
While the Verde Valley was not able to produce commercial uranium, "I drilled in northeastern Arizona, I sat on drill rigs in northern New Mexico. Primarily, I found the deposits and plotted them on the map and I had a scintillation meter.
"And then I wondered, 'did I miss something?' because Kerr McGee came in."
Their activity was documented in the Verde Independent. But to confirm Handverger's findings, Kerr-McGee came up short as well.
"Uranium is everywhere, but we are not a uranium state," Handverger said.
Aubrey Godwin is director of the Arizona Radiation Regulatory Agency. He says he has not heard much about concentrations of radioactive material in the Verde Valley and there have been no complaints to his office. The agency is currently watching the proposals for new uranium mining on the edge of the Grand Canyon but mainly oversees medical, industrial and academic uses of radiation equipment.
The agency also monitors the Palo Verde Nuclear plant. It educates about radon and how to deal with it in the home. A statewide monitoring program, however, was shut down as part of the effort to help balance an earlier state budget.
But, Godwin says, many stores now offer inexpensive radon monitoring devices, and laboratories across the state will test water for a couple hundred dollars.
Radon occurs naturally as the decay product of uranium or thorium.
More like this story