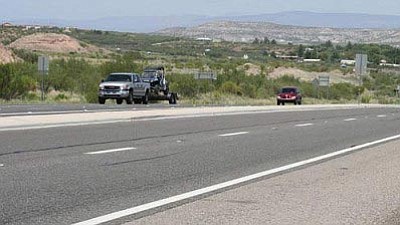 Originally Published: April 3, 2012 3:15 p.m.
The Five-Year Facility Construction Plan is facing public comment. Hearings will be held in Flagstaff during April and in Phoenix in May. With the budget still weak from the recession, much work remains in maintenance, but in the Verde Valley, ADOT is proposing work to improve the uncompleted section of SR 260 between Thousand Trails and Interstate 17.
The Five Year Plan serves as a blue print to identify where, when and how regional, state and federal funding will be spent for future projects. Projects are prioritized to determine which move forward first.
The five-year program is created through collaboration that begins with a "big-picture" visioning process. Next, a more realistic 20-year plan is developed and from there, the five-year program is created.
The program is updated each year. But, because budgets are uncertain, the first two years are always fiscally constrained, meaning they're based on an expected budget. The remaining three years are built on budget estimates. After a public hearing process, the State Transportation Board considers and adopts the five-year program.
A quick look at the 2013-2017 program
For 2013 through 2017, the total for the highway portion of the five-year program is tentatively set at $940 million a year to preserve, modernize and improve our state's highways. That is down from the $1.1 billion per year from the last five-year program, due primarily to the decline in funding resulting from a weak economy.
Of the total amount of funding estimated over the next five years, about half is designated for the Metro Phoenix region, in part because of the Valley's half-cent sales tax for transportation projects, approved by voters in 2004.
Approximately $126 million is designated for aviation projects in the five-year program.
Verde Valley picture
In the Verde Valley, perhaps the projects that will be closely watched are those on SR 260.
On SR 260, two projects are scheduled. Design and engineering are tentatively set beginning 2015 to reconstruct the highway between Thousand Trails and I-17. The notes call for "interim improvements" with $6 million in construction in that segment. There is still some indecision on the timing with the possibility that construction may not begin until 2018, instead of the scheduled 2016 timeline. A separate project, also scheduled 2016 calls for corridor reconstruction for 10 miles between Western Drive and Thousand trails. $1.4 million is budgeted for that line item.
The plan also includes pavement preservation projects on Interstate-17 between Dugas and Cherry Roads, between the junctions of SR 169 and Middle Verde Road, and between the Sedona Traffic Interchange and Stoneman Lake road.
Also on I-17, another section of the slope management program south of McGuireville scheduled in 2015. On SR 89A at MP 343, a rockfall mitigation project south of Jerome. In Cottonwood, ADOT plans to rebuild the junction of SR 260 with dual-right turn lanes with design beginning in 2013 and construction scheduled in 2014. 100,000 is budgeted to resurface Red Rock State Park roads next year.
Oak Creek Bank protection is budgeted through Oak Creek Canyon at MP 311.
ADOT wants to hear from you
You can get a complete look at the tentative five-year program now ... it's online and we welcome your feedback. You can email us at fiveyearconstructionprogram@azdot.gov. 
If you'd rather give your feedback in person, or you want to talk with an ADOT representative face-to-face, April 20 in Flagstaff and May 18 in Phoenix. The first hearing was held in Tucson March 16.
• April 20 - Flagstaff, City Hall Council Chambers, 211 West Aspen Avenue, Flagstaff, Ariz.
• May 18 - Phoenix, ADOT Administration Building Auditorium, 206 South 17th Ave., Phoenix, Ariz.
Members of the State Transportation Board will consider comments received by May 18 when they formally adopt the program in June.