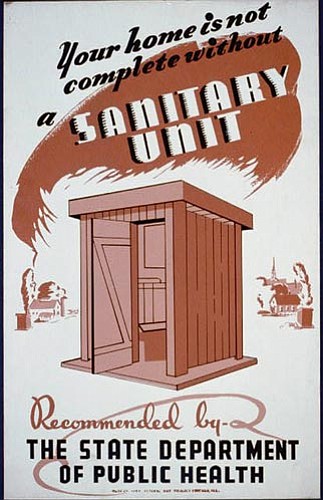 Originally Published: April 5, 2012 1:18 p.m.
CAMP VERDE - As historic architecture goes, it's crap. After all it was only an outbuilding.
But in its day it was a seat of business, essential to the health of the community, as a hole.
It was a duty hut, so to speak, a refuge from the strains of life and a stool of knowledge, where one could sit a while and read the daily poop sheet.
Those who are privy to such things tell us the great American "backhouse" rose to the top of pile, architecturally speaking, during the Great Depression, when Congress decided that a new and improved model should be made available to the nation, as a hole.
Steamed by the putrid economy, Congress (no surprise) gave birth to the world's first federally subsidized outhouse in 1935.
A movement ensued as legions of young men from the Works Progress Administration fanned out across the fruited plain, to bring hygiene to the masses.
But like all government projects, it became obsolete and soon petered out. With the acceptance of indoor plumbing these monuments of modern sanitation were deemed unfit for the job and flushed from the landscape.
There are few still out there, though, and one, a single holer, still survives in the Verde Valley. Appropriately, it sits outback of Fort Verde.
Waiting for the door to open.
Dan Mankies
"We're not sure how it got here, or where it was originally located. But what I'm told is, it is a Camp Verde original -- what the locals called a "Dan Mankie." We believe it the only one left around here and have been told it is one of only three left in Arizona," says Camp Verde Historical Society's Ron Brattain.
Mankie, according to Brattain, was the WPA foreman for the Camp Verde area. His crews built a lot of stuff while they were here, the most recognizable being the old jail on Hollamon Street.
They also built the river rock wall and the sidewalk in front of the town hall complex, a diversion dam at what is now the Clear Creek Campground, and laid pipe for the town's first sanitary sewer.
But as so often happens, the otherwise industrious Mr. Mankie's legacy became solidly attached to his outhouses.
The "New Deal"
Sanitary improvements, particularly outhouses, where high on the list of WPA projects. According to the book "Outhouses," by Holly Bollinger, the WPA built 2.3 million of them between 1935 and 1943.
The objective, besides putting men back to work, was to provide better, healthier outhouses for rural America. How many were built in Arizona is not known, but if Arizona was like the rest of the country, there would have been thousands of them.
FDR's "New Deal" for rural communities worked like this -- if you wanted one of these modern marvels, you bought the materials. A single seater would cost between $13 and $17 dollars. FDR and the WPA provided the labor.
Although the lone survivor in Camp Verde is a single seater, two seaters were more popular, because they offered double the lifespan, not because they would be occupied simultaneously.
It has been reported that upon request and adequate funding, Dan Mankie's crews would build an affluent recipient a three seater. One can only imagine the neighborhood envy.
A modern marvel
At the time, the WPA privy employed the best technology of its day, with the noted exception of the indoor, flush toilet.
They had concrete floors with a poured concrete vault beneath the seat. The seat was turned a jaunty 45-degree angle. Why? More legroom, it is assumed.
They also employed a vent pipe with a screen at both ends, to vent off obnoxious odors and to keep flies from carrying yesterday's meal back to the house.
And, at least as far as Dan Mankies were concerned, they were sided in one by twelve boards and battens, and painted in a harmonious pale shade of green, similar to that still used by the U.S. Forest Service.
Looking for a new purpose
The lone unit in the CVHS's possession hides between the Hance House and the surgeon's quarters at Fort Verde, embarrassed, no doubt, by its state of disrepair.
According to Brattain, the society has contemplated restoring it more than once and even considered putting it back to use, offering wedding parties at Clear Creek Church a rustic and solitary experience.
"We don't know what we are going to do with it," says Brattain, "We've been told it's worth more than the property it sits on.
"I'm not sure that's true but we would like any experts around the area to get in touch. We do feel it still worth fixing up and returning it to its seat of honor in the community, so to speak."
More like this story