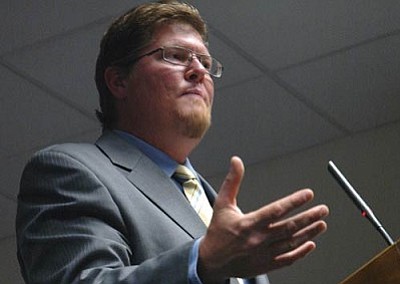 Originally Published: April 11, 2012 2:40 p.m.
PHOENIX -- Facing a near-certain expulsion by his colleagues, Daniel Patterson resigned abruptly Wednesday from the state House.
The move came just hours after the Ethics Committee voted unanimously that there was evidence he was guilty of "disorderly behavior' and recommended that he be ousted. Committee members rejected Patterson's apology and even his concession that some of his actions toward fellow lawmakers may have crossed the line.
"I just don't believe they rise to the level of expulsion,' he told the panel.
The move avoids what would have been the first House vote to expel a member since two Democrats were ousted in 1948.
Patterson told Capitol Media Services after the resignation he felt he had no choice.
He said Ethics Committee refused to allow him to present a full case of his own and cross-examine witnesses, violating its own rules. And Patterson said Rep. Ted Vogt, R-Phoenix, who chairs the panel, clearly was not interested in what he had to say, as shown by the fact Vogt already had a draft motion prepared to recommend ouster.
"At some point when it's real clear you're not in a fair fight ... I've got to consider what's best for me and my family,' he said.
The resignation also sets the stage for Pima County supervisors to choose a replacement.
By law, the board is required to select someone from the same political party. But it remains unclear whether Patterson, who was a Democrat until he became an independent earlier this month, re-registered as a Democrat immediately before resigning.
But this may not be the last word.
Patterson said some constituents -- he would not identify who -- are weighing whether to sue because the Ethics Committee ignored its own rules and deprived them of the person they chose to represent them.
Vogt said there's no basis for litigation.
Vogt said the committee did follow its rules, sort of. "This is a political question,' Vogt said.
"The (Arizona) Constitution gives the House the ability to make its own rules,' he continued. And he said one of those rules allows lawmakers to suspend or change those rules at any time with a majority vote.
He acknowledged that the panel's officially adopted rules do mention the right to a hearing. But Vogt said the committee effectively suspended those rules by voting Wednesday to instead allow Patterson to speak and answer questions -- but nothing more.
The committee vote was based on the findings of an investigative report by an outside law firm that found multiple instances where other lawmakers said they had been intimidated or harassed by Patterson.
In his written and verbal responses, Patterson conceded that at least some of the events had occurred. But he argued to the committee that nothing he has done rises to the level of meriting expulsion.
"I realize that sometimes my behavior has been intimidating,' he said.
"I never go to a member or anyone else here with the idea that I'm going to try to intimidate them even though I realize that sometimes my behavior can be interpreted as intimidating,' Patterson continued. " That has never been intentional. And I am working very hard to make sure that that does not happen again.'
But Vogt said everything in the investigative report counters Patterson's contention that he has learned from his mistakes.
"Everything you're talking about, (saying) you'll try harder, is prospective,' he said. Vogt said he does not believe that.
"It's been over a course of years here,' he said. "And your behavior has not been corrected.'
In seeking to discredit the investigative report, Patterson said much of what was found consisted of little more than anonymous comments and unsubstantiated allegations.
And Patterson specifically said it was improper for his colleagues to consider the four pending criminal charges of domestic violence charges pending in Tucson city court, the result of accusation of hitting his former live-in girlfriend. Patterson is due back in court at the end of the month. He is not only challenging the charges but also had been contesting the ability of City Attorney Michael Rankin to even pursue the charges while the Legislature is in session.
That is based on Patterson's argument that the Arizona Constitution provides immunity from arrest during the session except in certain circumstances. Now that he is no longer a legislature, that issue becomes moot.
But Rep. Eddie Farnsworth, R-Gilbert, a member of the Ethics Committee, said even discounting the anonymous comments and the Tucson criminal charges, there was more than enough to show a pattern of misconduct toward other legislators, including the statements of 14 lawmakers who either themselves were the target of Patterson's wrath or had witnessed his actions.
Patterson sought to deflect that, saying none of those statements were under oath. And he criticized the Ethics Committee for refusing his request for a full-blown hearing, including the right to cross-examine those mentioned in the report.
Rep. Debbie McCune Davis, D-Phoenix, said she did pay attention to that Tucson incident. She said even if Georgette Escobar did recant, and even though Patterson has yet to be tried on the charges, there is still the statement to Tucson police by a witness who said Patterson "backhanded' Escobar and "the strike was hard enough to knock the female to the ground.'
McCune Davis said that conduct "suggests the very same pattern of behavior we see here at the Legislature.'
Patterson's resignation came after Rep. Cecil Ash, R-Mesa, sought to negotiate a deal: Patterson would be censured and agree to stay away from the Legislature for the remainder of his term. Ash said the pact would include a requirement that Patterson get mental health treatment as a condition of keeping his salary.
But Ash, who had championed Patterson's demand for a full-blown hearing, said he could find little sentiment among his colleagues for anything less than outright expulsion.
Members of the Ethics Committee did question whether Patterson believes he has been the victim of some sort of bias because he is a white male.
Patterson said that claim was made a day earlier not by him but by the Rev. Jarrett Maupin who questioned whether Patterson would have been denied a hearing had he been a minority. But Patterson then went on to say he believes that the Arizona Democratic Party wants him out of the Legislature.
The reason, Patterson explained, is Democrats wants a Latino candidate to run in the revamped district following moving of the lines. He said while that is not the only reason for the move to oust him, "that's a contributing factor.'
And, invited by Vogt to say more, Patterson said he sees sinister motives.
"Some people might call it a witch hunt,' he said. "Others might call it a fishing expedition,' Patterson continued, saying he has been pressured by both Democrat lawmakers and party bosses "to get in line.'
Committee members also said it was irrelevant that Patterson was reelected in 2010.
"Voters of my district knew about this,' he said. "And I think that all of us probably believe the decision of voters should be nearly untouchable in Arizona.'
PHOENIX -- Pima County will begin the process of finding a replacement for Daniel Patterson.
But county officials say they will not know until this morning exactly what their options are. And the problem surrounds what was Patterson's political status when he quit.
Under state law, if a legislator quits, the replacement has to be from the same political party. And Patterson, elected in 2008 and again in 2010 from Tucson as a Democrat, reregistered earlier this month as an independent.
But Chris Roads, the deputy Pima County recorder, said Wednesday that Patterson told him he had changed his registration back to Democrat.
Here's the problem: Roads said Patterson said he made the move online at a web site operated by the state Motor Vehicle Division. That site allows people to not only register to vote but also make changes in their registration.
Roads said, though, his office will not get data from MVD until today. At that point, Roads said he will compare the time of Patterson's resignation -- which the House clerk's office pegged at when the afternoon session convened at 1:36 p.m. -- with the electronic time stamp on the new registration.
If the new registration came first, the process requires the chairman of the Arizona Democratic Party to notify all elected precinct committeemen. Within five days, they have to nominate three Democrats as replacements, with the final word up to the Board of Supervisors.
But if Patterson was an independent when he resigned, then the supervisors get to choose a citizens panel, all of whom have to be political independents. Those panel members then get seven days to select three nominees for the supervisors' consideration.
In either scenario, the supervisors then have five days to choose from the list.
Patterson would not comment Wednesday on whether he had, in fact, changed his party designation again.
Whether the new pick actually gets to serve remains unclear.
The Legislature, by rule, is supposed to quit by the Saturday of the week of the 100th day. That would put the deadline at April 21.
And, absent a special session, lawmakers' terms are up at the end of the year.
But legislators could quit earlier than that. Or they could remain stuck at the Capitol, especially if there is no deal between the Republican majority and Gov. Jan Brewer over a budget.
More like this story