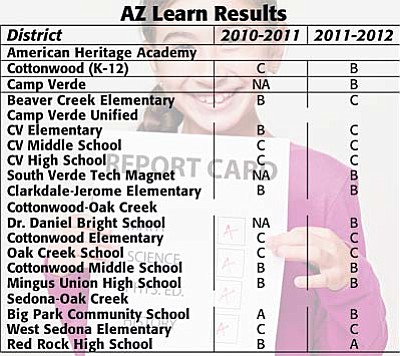 Originally Published: August 3, 2012 7:21 a.m.
VERDE VALLEY - Arizona schools are now being graded with an A through F letter system. With this system -- as opposed to the old system that labeled schools by performance - parents will see a system they are used to seeing several times each school year when their kids bring home report cards. The idea is to make it easier to understand how individual schools are performing.
Governor Jan Brewer signed SB 1286 into law in 2010. The first letter grades came out in the fall of 2011, and those were combined with the old labeling system.
The A-F letter grade measures total academic performance by evaluating both academic results and academic growth. According to the Arizona Department of Education (ADE), the letter grades take into account the student demographics of each school and the unique challenges those demographics raise.
Under the letter grade system:
"A" is for excellent.
"B" is for above average.
"C" is for average.
"D" is for below average performance.
"F" is given only when a school receives a D for three years in a row. That school is then put into an improvement program run by the ADE.
The letter grades were released to the media Wednesday morning and embargoed until 11 a.m. Thursday.
Clarkdale-Jerome School received a B for the second year in a row.
"We are all happy that our students are progressing," said Clarkdale-Jerome Superintendent Kathleen Fleenor. She said the teachers will be looking at the results and at the academic progress of each student.
She said the methods for scoring by the ADE have changed over the past four years and will change again next year as Common Core/PARCC assessments are incorporated into some areas of the testing.
"It has been a bit like following a moving target," Fleenor said. She said the Common Core/PARCC assessment will be a good thing when it is totally in place.
Mingus Union High School also scored a B for the second year in a row.
Principal Tamara Addis said the school had an increase in total points and an increase in its growth score. She said the administration is pleased with the growth score.
"We're very pleased," Addis said, "But we still have work to do."
Addis said she wanted to honor all of her staff for their hard work. She explained that the school's data is on a positive path and improving.
"We're getting closer to an A," Addis said. "We have a great deal of work to do."
She said most of the work involves the core departments, but is also tied to attendance and even parental support.
Beaver Creek Elementary is a single school district. The school's grade letter dropped from a B last year to a C this year.
"Preliminary data provided by the state differed from the final data determinations indicating academic growth of students," Superintendent Karin Ward said. "This final grade report took the district by surprise as we were pleased with the evidence of gains in student academic growth."
Ward said Beaver Creek looks forward to a transparent data system that will enable the district to verify all data the state uses to make determinations.
"As an example," Ward pointed out, "the district searched and found the ELD data to be inaccurate."
Beaver Creek continues to monitor individual student growth toward meeting and exceeding the academic standards, Ward explained.
"In June of this year the governing board voted to accept the recommendation to increase instructional staff with a full time principal and two additional interventionists for the coming year," Ward said. "This will expand services and support for our students."
Grades for Camp Verde Unified School District are:
Camp Verde Elementary, C.
Camp Verde Middle School, C.
Camp Verde High School, C.
South Verde Tech Magnet (9-12), B.
Administrator-in-Charge Amber L. Marchant-Lee said she is pleased with the Camp Verde District's letter grade.
"As we embark upon this new school year, we look forward to creating an atmosphere that inspires innovation and creativity to bring our district to the next level," Marchant-Lee said.
"We are committed to the process of continuing to refine our educational programs in an ongoing effort to provide the students of the Camp Verde Unified School District a high quality and well-balanced education."
In Cottonwood-Oak Creek School District letter grades are:
Dr. Daniel Bright School, B.
Cottonwood Elementary, C.
Oak Creek School, C.
Cottonwood Middle School, B.
Superintendent Barbara U'Ren said the Cottonwood-Oak Creek District's goal is to prepare students for high school, college and careers in their chosen fields.
"With the release of the letter grades for every school in the State of Arizona, by the Arizona Department of Education, districts across the state are analyzing the data in order to help teachers continue to have a laser focus on student achievement," U'Ren said.
She said the Cottonwood-Oak Creek District schools use this data and other data indicators to set their goals, strategies and actions for the school year.
"It is the intent of Cottonwood-Oak Creek School District to increase scores and ensure that each student and every school has the necessary tools to succeed in the 2012-2013 school year," U'Ren said.
American Heritage Academy (K-12) in Cottonwood earned a B, and the American Heritage Academy (K-8) in Camp Verde also earned a B.
Ron Miller, who has served as assistant principal in Camp Verde and now serves as principal in Cottonwood, said the grade report was good.
"It's positive," he said. "It reflects the hard work that our students and teachers put in."
Miller explained that as a small school, one or two kids can make a difference. He said it is really different for small schools.
"Our students and teachers obviously worked very hard to make that grade," Miller said.
More like this story