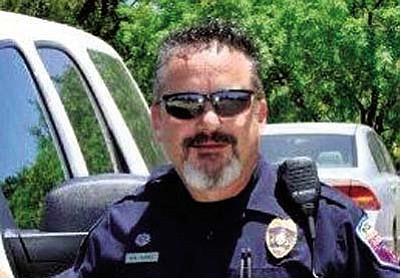 Originally Published: August 9, 2012 1:01 p.m.
David B. Zanot, age 49, of Clarkdale passed away on Monday, August 6th at the Good Samaritan, Marley House Hospice in Prescott after a valiant 23-month fight with Brain Cancer.
Dave was born to the late Jimmy Zanot and the late Anne Gleason Zanot of Flagstaff. He was a career Soldier in the Arizona National Guard for over 21 years. He also served the citizens of Arizona as a Law Enforcement Officer for over 25 years in Flagstaff, Bullhead City and most recently Sedona where he was the first Patrol Officer hired when the city incorporated in 1988. He responded to the first call for service (complaint of loud music) that came to the department on October 31, 1988.
He worked as a K-9 Officer, Bicycle Patrol Officer and a Mounted Patrol Officer during his career. While in Sedona, he served as a Patrol Officer, a Field Training Officer, a Detective, the School Resource Officer Program Supervisor and retired as a Sergeant from Sedona Police Department in April 2010. Officer Dave was also the School Resource Officer/D.A.R.E. Instructor for the Sedona Oak Creek Unified School District for four years from 1997 to 2000.
He served many fellow Law Enforcement Officers from throughout the state at the Northern Arizona Regional Training Academy (NARTA) from 2000 to 2010 where he taught Criminal Law, Firearms and Driving. As the "Go-to-guy" on the Sedona PD, Dave was also a member of the Serious Accident Team, the Long Range Precision Rifle Team (Sniper) and an Instructor at the Sedona Police Department's Citizen's Academy.
Dave is survived by his loving wife, Mary Teresa of Clarkdale; children Thomas of Phoenix, Davis of Flagstaff and Molly, Kyleah and Isaiah all of Clarkdale; brother Michael (Betty) of Flagstaff and sister Debbie of Atoka, TN. He also leaves behind numerous nieces, nephews, other family members and a multitude of friends that love and miss him dearly.
A Celebration of Dave's Life will be held at Emmanuel Fellowship, 1580 E. Fir Street, Cottonwood at 11 a.m. on Saturday, August 11, 2012. Lunch will follow. Attire: Dave-style casual. Dave's cremains will be interred at the Veteran's Section of the Flagstaff Citizen's Cemetery at a later date. Donations may be made in lieu of flowers to Love 4 Amanda at www.facebook.com/love4amanda.
An online guestbook is available to sign at www.ruffnerwakelin.com.
Information provided by survivors.
More like this story