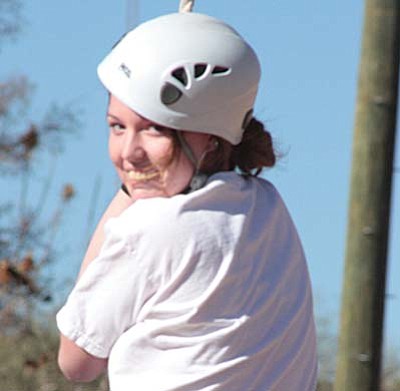 Originally Published: December 10, 2012 6:50 a.m.
It's been an event-filled semester for the 80 students enrolled at South Verde High School, the technology magnet school for Camp Verde Unified School District.
From the expected (sports) to the unexpected (murals), the charter school on Main Street has been busy in and out of the classroom. As the semester started, the school was greeted with strong academic-growth numbers from testing during the previous school year (second best rate in the state). Now, they are expecting good test numbers to come from this semester's efforts, according to Principal Steve King.
This fall, the students went on a field trip to the Musical Instrument Museum in North Phoenix. Many students also challenged themselves and overcame their fears in the high ropes course at a nearby ranch. During Halloween, they again sponsored the Spook House on Main Street, this time at Boler's Red Barn. The event's proceeds go to adopt a family for Christmas.
SVHS also has an artist-in-residence program with local painter Joan Borque, who leads students twice a week in creating small- and large-scale murals around the school, including in the nursery. Borque started the program last year, partially funded by Arizona Commission on the Arts, and students were reluctant to try it out until they saw the art being produced. This year about 15 students have been painting the walls, both individually and as groups.
"It's not mandatory," Bourque said, "but they do get credit. I've just seen so much growth."
Bourque said they are now making plans for 10 of the students to travel to the island of Saba in the spring to participate in an art project on "Symbiosis," or how animals work together. Needing about $1,300 per student, they are planning fund-raisers like bake sales and calendar sales.
There are also plans for five of the students to be art mentors at Camp Verde Elementary.
The school's daycare for teen mothers working on their diplomas continues to be a bright light at the school, as well.
After a successful volleyball season, SVHS has begun a busy basketball season with boys and girls teams that will carry over into 2013.
King said next semester will include a geology field trip to the Grand Canyon as well as to vocational schools in the Phoenix area like Le Cordon Bleu cooking school.
More like this story