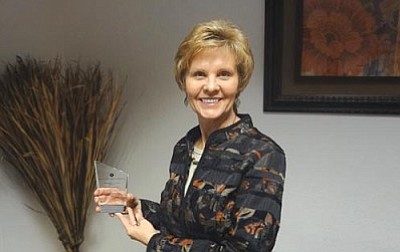 Originally Published: February 28, 2012 2:37 p.m.
Peggy A. Nies, Director of the Community Health Center of Yavapai, received the Distinguished Service Award for 2011 from the Arizona Association of Community Health Centers.
The award is given to an individual who has proven long-term commitment and leadership to the community health center movement. It is intended to recognize the special accomplishments of an individual who, through their dedication, has assisted vulnerable citizens to receive health care in the Community Health Center arena.
Peggy is also a nominee for "Women of the Year" Leadership Award through the Prescott Area Leadership organization.
The Community Health Center of Yavapai has a new website which provides up-to-date information on the many services offered at all three locations, as well as a patient guide and hours of operation.
The Community Health center accepts most insurance, and for those without insurance, offers a sliding fee scale based on income.
For more information, visit www.chcy.info
More like this story