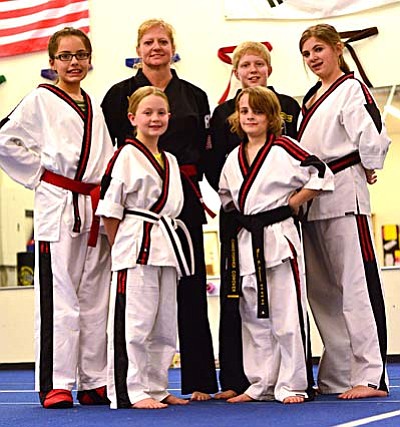 Originally Published: January 26, 2012 3 p.m.
The State Championship Banners hanging in the studios of KC's Family Tae Kwon Do mark the winning achievements of KC's martial artists over the past five years since the school began.  The banners average approximately 12 names on them per season, a good showing by any standard.
This year the new banner will blow out all previous years and hang to a much longer position, as KC's kicked, flipped, and punched their way to 19 State Champion students crowned, winning in 29 divisions at the AZMARRS State Championship Tournament on Saturday.
The Championship was held in Gilbert, AZ at Mesquite Junior High School and the martial artists competed on stage to a packed house of fans.  Only those ranked in the top eight in the State by belt level and age were invited to attend this final tournament.  "I was just proud that we had 30 people there competing.  We told our students beforehand that just being there made them Champions in our book, no matter what the outcome," said Mr. Chuck Conover, Instructor at the KC's Cottonwood school.  The students certainly made him proud and the school had a great day all around.
In the Black Belt Divisions, KC's youngest Black Belt, Christopher Conover shined.  At only Age 9, he competed in a Musical Forms Division that included kids up to 13 years old, yet he still came out on top.  "That kid is a dynamo," said the Head Judge.  The judge went on to say that his skills are far beyond what they usually see for a youth competitor of his age.  Christopher became the first person of the night to be crowned State Champion and went on to win in all three of his other divisions - Open Forms, Weapons and Traditional Forms.
The KC's Advanced Belts were highlighted by the ladies being crowned Champion.  Patty Jonas, whose son Luke won in three Black Belt Divisions, garnered her first State Champion title winning in two divisions, Open Forms and Sparring.   
Red Belt Sierra Romero, Age 10, won in Musical Forms last season, but her passion and skill lie in Sparring. This year's Championship came down to a match with a girl who beat her all season and bested her at Championships last season. This time it went down to the wire.
Championship Sparring continues for 2 minutes or until one person is up by 5 points.  In Saturday's match, they went all the way to the end of two minutes and the judge announced the score - TIE.  So, it was the next point wins.  The audience erupted in support of their fighters, and as the judge called "Spar!" the girls circled each other, with Romero faking a high hand technique then jumping in for a quick back punch to the body while at the same time her opponent tried to score a kick.  As the Head Judge yelled "Break" and the ringside judges all held out their hand with the call, it was Romero who won the point, the match and the State Championship.  
In the Intermediate Belt Division for KC's, the standout was clearly KyLeigh Teague, Age 7.  "KyLeigh has always been a solid competitor, but never actually won first place very often.  Today, she blew kids away, winning in all three of her divisions.  I was so happy for her." said Chad Tucker, one of the Coaches of the KC's Competition Team, a smaller group of KC's students that trains specifically for tournaments. KyLeigh had tough competition in Open Forms, Weapons, and Sparring but came out on top in all three, winning by a narrow margin, and shining as KC's youngest competitor at States.
The Beginner Belt Divisions were dominated by students from KC's Family TKD.  "The beginners always make me nervous.  Since it's usually their first time at a Championship, I want them to have a good experience win or lose.  Well, today most of them won and if they didn't, everyone had smiles at the end of the day," said Head Instructor, Karen Conover.  They showed tremendous skill in the divisions of Open Hand Forms and Sparring.  And, the greater group from KC's all banded together to support the Beginners throughout the day in KC's "Family" style.  Even when husband and wife team, Jay and Bonnie Pond, had to compete against each other, cheers engulfed the auditorium as Jay was announced the winner and the first thing he did was kiss his wife before accepting his award.
KC's is looking ahead and plans to move into a new circuit of competition next season called AZ Elite Sport Karate Association (AZESKA).  This new circuit includes National Ranking thru NASKA, professionally trained judges, and promotes an even higher level of competition, where martial artists try to take their skills and tricks to new innovative levels on par with what the "pro's" in the sport are doing. "It's my hope that we will continue to grow in our martial arts in this new circuit and that we will also see success through to next year's Championships." said Conover.  And, as the school's new Team sweatshirts bear the word "Innovo", which means Innovate in Latin, the Verde Valley will watch and wait to see where the dreams of the KC's Family Tae Kwon Do competitors may lead them.
KC's STATE CHAMPIONS:
Luke Jonas, Age 13 - Black Belt Weapons, Open Forms, & Boys Sparring
Kirsten Conover, Age 13 - Black Belt Girls Sparring
Christopher Conover, Age 9 - Black Belt Musical Forms, Weapons, Traditional Forms, & Open Forms
Cody Zellner, Age 16 - Black Belt Boys Sparring
Sierra Romero, Age 10 - Advanced Belt Girls Sparring
Patty Jonas, Adult - Advanced Belt Open Forms and Women's Sparring
Emilee Due, Age 16 - Intermediate Belt Girls Sparring
Cypress Sallee, Age 9 - Intermediate Belt Weapons
KyLeigh Teague, Age 7 - Intermediate Belt Weapons, Open Forms, & Sparring
Ariel Allen, Age 12 - Intermediate Belt Weapons
Sidney Burns, Age 11 - Intermediate Belt Girls Sparring
Greg Brown, Adult - Intermediate Belt Men's Sparring
Junior Queen, Adult - Beginner/Intermediate Belt Musical Forms, Mens Sparring
Ilana Ballew, Age 11 - Beginner Belt Open Forms
Kelsea Freeman, Age 13 - Beginner Belt Open Forms
Jay Pond, Adult - Beginner Belt Open Forms
Preston Chalmers, Age 11 - Beginner Belt Boys Sparring
Siiri Goodwin, Age 17 - Beginner Belt Open Forms
Harlie Bouwman, Age 11 - Beginner Belt Girls Sparring
OTHER TOP-8 QUALIFIED COMPETITORS:
Larry Kelly, Kestrel Gorlick, Dustin Queen, Amy Romero, Tim Moser, Isaiah Fulton, Marie Huff, Malia Romero, Bonnie Pond, & Dathan Wimer