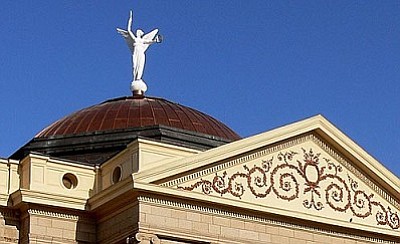 Originally Published: January 26, 2012 3:44 p.m.
PHOENIX -- State senators began crafting a new budget Tuesday.
But the chairman of the Appropriations Committee said he is not particularly interested in hearing testimony from those who are affected.
Sen. Don Shooter, R-Yuma, told colleagues that the purpose of Tuesday's meeting was to hear from the directors of two major state agencies about how they operate and their funding needs for the coming year. Both of those agencies -- health and economic security -- operate various programs that provide direct services to the public.
"It's a shame we're not providing the public an opportunity to testify today on such an important part of what we do down here,' complained Sen. David Lujan, D-Phoenix.
Sen. Linda Lopez, D-Tucson, questioned the reason for limiting testimony.
"I think a couple of 14-hour committee meetings last session had a great deal to do with my decision,' Shooter responded. Those long hearings often included hours of individuals and lobbyists from special interests each pleading for their own share of the state's resources.
Lopez said barring testimony now, with lawmakers crafting a new budget for the coming fiscal year, makes no sense.
"I don't know how we as a body can make really important policy decisions without hearing from the residents of the state,' she said.
"There are people who travel here from all over the state to provide testimony,' Lopez continued. "And for us to not hear from them, I think is unconscionable.'
Shooter said Lopez was overreacting.
"I don't know about your situation,' he said.
"But I hear from constituents every day, all the time, and I'm glad to have that input,' Shooter said. And the senator said he takes those comments into account.
"So it's not like we're without ways for them to influence us,' he said.
Sen. Ron Gould, R-Lake Havasu City, said the Democrats were just seeking to score political points "in front of the TV cameras.' A Democratic staffer had earlier in the day sent out notes to reporters suggesting they be at the hearing.
And Gould said that public testimony on budget bills is not always allowed.
Lopez protested that was not the case in the state House where she served through 2008.
"Welcome to the Senate,' Gould shot back.
More like this story